Related keywords
Paris City Hall has given the go-ahead for the installation in the gardens of the Petit Palais of a giant statue by the US artist Jeff Koons, called 'Bouquet of Tulips', which he presented as a gift in tribute to the victims of the 2015 terrorist attacks in the capital, but which has been slammed by art world professionals over the cost of its installation.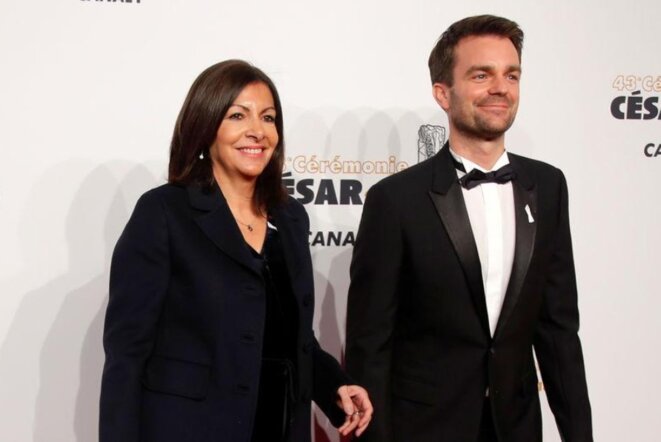 Paris mayor Anne Hidalgo with deputy Bruno Julliard in March 2018. © Reuters
The deputy mayor of Paris, Bruno Julliard, this week resigned from his post in a blistering attack on the French capital's socialist mayor Anne Hidalgo, for who Julliard had previously been a close political ally. It was the latest significant blow for Hidalgo who hopes to be re-elected to the prestigious and politically strategic post in 2020. In this detailed report, Pauline Graulle and Ellen Salvi went behind the scenes at the Paris City Hall to hear from insiders their divided opinions on Hidalgo's management of the riverside Hôtel de Ville, which increasingly appears like a ship taking on water.     
British and Egyptian tourists were among seven people stabbed on Sunday night in a popular canal-side location in Paris by a man believed to be an Afghan national who was chased and overpowered by members of the public, notably pétanque players who reportedly threw their iron balls at the assailant's head. 
Police said as many as 18,500 protesters took to streets in Paris while non-governmental organisations estimated turnout at up to 50,000.
Paris City Hall's 'Project Oasis' is a programme to transform by 2040 all of about 800 concrete schoolyards of the capital into cool spots for respite in periods of extreme heat, and perhaps even bring down temperatures across a city with the lowest proportion of green spaces of any European city.
Paris mayor Anne Hidalgo attacked the 'shameful demonstration of homophobia' shown by attack on plaque commemorating executions in 1750.
More than 12,700 participants from 91 countries are expected at the contest, which involves athletes who are  male and female, straight and gay.
Paris mayor Anne Hidalgo tweeted support for 22-year-old architecture student Marie Laguerre who stood up to man who harassed her in street.
The Paris public prosecutor's office has opened an investigation after CCTV footage from a café was published on social media showing a young woman being assaulted by a man she had objected to after he made lewd comments and gestures while pasing her in the street. 
Mirroring scenes in towns and cities across the France, the Champs-Elysées avenue and other thoroughfares in central Paris were filled on Sunday evening by tens of thousands of jubilant and chanting supporters of the national football team after its victory over Croatia in the World Cup final in Moscow.
The traditional July 14th military parade along the Champs-Elysées avenue in Paris, which involved more than 4,200 military personnel, was not all smooth going on Saturday, when two gendarmerie motorbike riders collided and the jet flypast spreading the tricolour smoke ribbon of the French national flag mixed up the colour coordination. 
Exceptional security measures are in place around the French capital to deal with a potential terrorism threat as vast crowds are expected to turn out for Bastille Day celebrations on Saturday and at fan zone sites for watching the football World Cup final between France and Croatia on Sunday.
The motives of a 26-year-old Moroccan man arrested after taking staff at a PR agency in central Paris hostage during a four-hour siege which ended without bloodshed when police stormed the building remained unclear Monday evening, according to official sources.
Israeli Prime Minister Benjamin Netanyahu met with French President Emmanuel Macron in Paris on Tuesday, when the two swapped opposing views over the Iranian nuclear programme deal and the move of the US embassy to Jerusalem, but did agree on concerns over Iran's growing leverage in the Middle East.