The US Secretary of State and French counterpart Laurent Fabius underlined that important obstacles remain before the talks close on Monday.
Fall follows anti-crime crackdown by French police at top attractions such as the Champs Elysées, Notre Dame and the Louvre.
The influential Observatoire Français des Conjonctures Économiques (OFCE), known as the French Economic Observatory in English, has just published a powerful critique of French government economic policy. In cautious but bleak language it charts how austerity is sapping France's economy while pointing out that the government's massive hand-outs to companies will contribute only a meagre stimulus to growth. Its grim conclusions match those of other economists, but this study differs by also showing how austerity choked off a recovery back in 2010 that could have delivered nearly 2.4% growth instead of the anaemic, near-zero growth since. It is, argues Mediapart's Laurent Mauduit, a damning indictment of President François Hollande's economic strategy.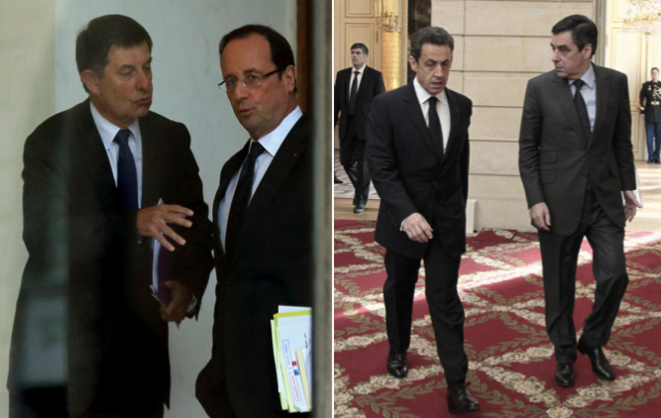 Jean-Pierre Jouyet et François Hollande, Nicolas Sarkozy et François Fillon © Reuters
The fallout from a private lunch between President François Hollande's chief of staff Jean-Pierre Jouyet and former President Nicolas Sarkozy's prime minister François Fillon last summer is threatening to develop into a full-blown scandal. At the meeting on June 24th Fillon is said to have asked the socialist administration to speed up legal investigations into his former boss and now political rival Sarkozy. Jouyet, who served in Fillon's right-wing government but who is a close personal friend of Hollande, later told two journalists of the conversation. When the reporters published the story in a book last week Jouyet at first denied the claim then backtracked and insisted that Fillon had indeed asked him to intervene in the affair. Fillon, however, who like Sarkozy wants to be the Right's 2017 presidential candidate, has angrily accused Jouyet of "lies" and says he is suing for defamation. Once more, say Stéphane Alliès, Ellen Salvi and Mathieu Magnaudeix, the Elysée finds itself at the centre of an embarrassing affair, this time with the president's right-hand man in the firing line.
For a growing number of French drivers, owning a car is now seen as a burden and a vehicle as merely a service.
Former French president says if he becomes head of the UMP he will start from scratch and seek to unite people with similar ideas.
Anne Hidalgo tells president to hold his horses after François Hollande backed the idea during prime-time live TV interview.
The patient, who contracted Ebola while working to combat the epidemic in Sierra Leone, has been placed in isolation in a military hospital.
French prime minister says union needs to explain itself as CGT rents flat outside Paris and refurbishes it for secretary general Thierry Lepaon.
President François Hollande inaugurated the refurbished mansion which houses one of the biggest collections of the Spanish painter's works.
The butler to British Embassy in Paris takes the BBC on a tour of the almost-300-year-old building, once the scene of much oh là là.
The green inflatable object resembling an anal plug was removed from the plush Place Vendôme on Saturday after an attack by vandals.
Foreign minister Laurent Fabius says new climate aid pledges to poor countries are an 'absolute precondition' for next year's summit.
Dip in attendances in 2013 left theme park near Paris with €27.5m operating loss though it is still France's biggest attraction.