Upmarket house prices in Paris fell 3.4% in the first half of 2012 after two years' growth, says property sales company Savills.
The security firm GPIS runs a much-envied service safeguarding many of Paris' most difficult social housing estates. But this flagship organisation, which has top-level political links and is funded with public money, stands accused of artificially increasing the number and extent of injuries suffered by its agents in the line of duty in order to increase its budget. Former and current staff also talk of a "climate of fear" and stress at the heart of the organisation and of a management culture that systematically encourages false witness statements in legal proceedings. Louise Fessard investigates.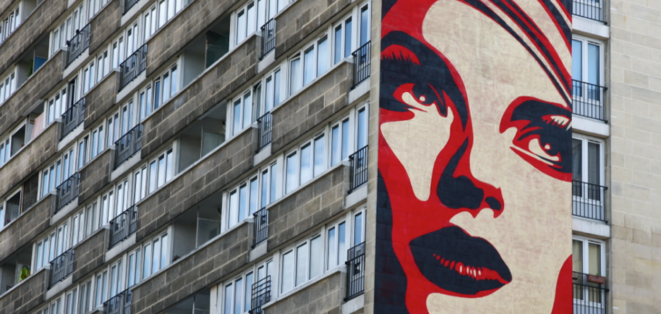 Shepard Fairey is one of the most celebrated street artists today, a pioneer of the underground urban movement and famous worldwide for his 'Hope' poster created for Barack Obama's 2008 election campaign, now a permanent feature in the US National Portrait Gallery. This summer he visited Paris to mount a 40 metre-tall slice of his graphic oeuvre in the capital's 13th arrondissement (photo), when Mediapart caught up with him, camera in hand, to follow the American artist at work. Hugo Vitrani reports on a man who seems incapable of escaping controversy, arrest and a constant desire to re-paint the urban jungle (video report and interviews available on article pages).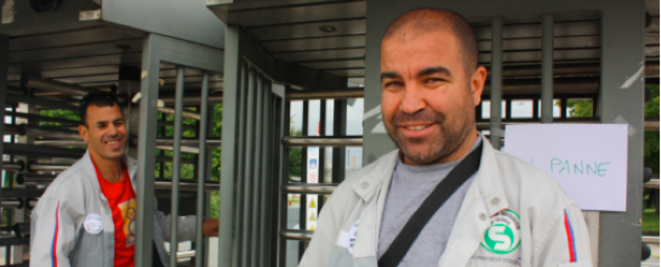 A l'entrée de l'usine. © (dr)
It is the first big social test of President François Hollande's new government. The giant French carmaker PSA Peugeot Citroën has announced it is shedding 8,000 jobs, including the closure of a plant at Aulnay-sous-Bois on the outskirts of Paris. Unions have described the news as a "declaration of war"and workers have pledged to fight the factory closure all the way. President Hollande has said the cuts are "unacceptable" and told Peugeot to re-negotiate with employees. But the new government has itself come under fire from workers and unions for not putting enough pressure on the car manufacturer. Mediapart's Rachida El Azzouzi and Ellen Salvi went to Aulnay to meet the workforce.
A combination of mistakes by inadequately trained pilots and faulty equipment caused an Air France jet to plunge into the Atlantic in 2009.
Disgraced former IMF chief Dominique Strauss-Kahn and his wife Anne Sinclair now live separate lives, reports a French magazine.
During talks in Paris Francois Hollande failed to win the backing of Vladimir Putin for tougher U.N. sanctions aimed at ending violence in Syria.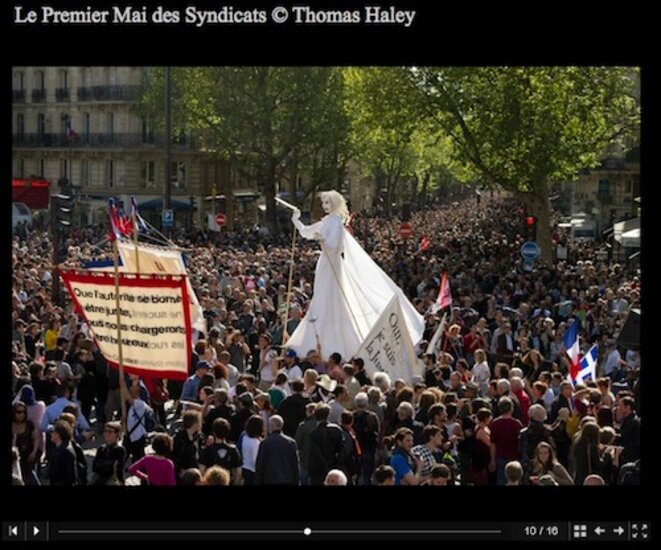 Pour voir le portfolio, cliquer sur l'image © Thomas Haley
The traditional May Day marches across France to celebrate International Workers' Day brought out 750,000 people nationwide, according to the country's principal trades union, the CGT. The largest rally was held in Paris, where the union claimed 250,000 turned out – 48,000 according to the police. While the real figure most certainly lies somewhere between, observers agreed that it was a larger number than showed up in 2011, encouraged at least in part by the clement weather and the final stage of the Left hopes will be a victorious presidential election campaign. American Paris-based photographer Thomas Haley, who has been following the French presidential election campaign with a series of picture reports for Mediapart, joined the festive crowds marching through the capital.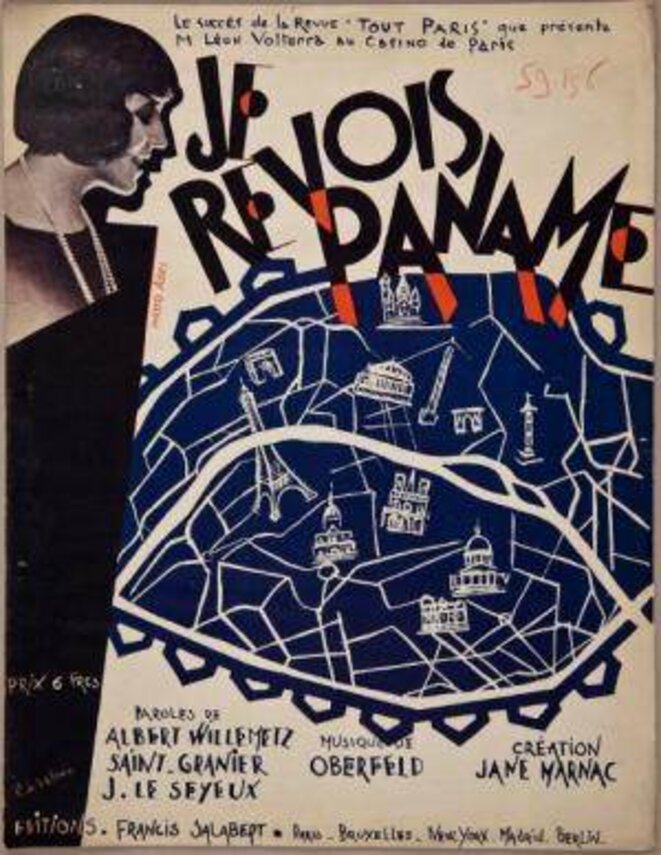 Paris is arguably the most sung about city in the world and now, for the first time in its history, an exhibition in sound and picture has been dedicated to the hundreds of songs and ballads about the capital reaching all the way back to the 16th century. Illustrating the enduring crush of generations of musicians for Paname, the popular nickname for Paris recurrent in 20th-century songs, the show is mirrored on an internet site that offers a virtual singing tour of the capital. Antoine Perraud reports.
Police hunt a serial killer after a series of murders in suburban Paris in which the victims were shot with the same arm by a man on a motorbike.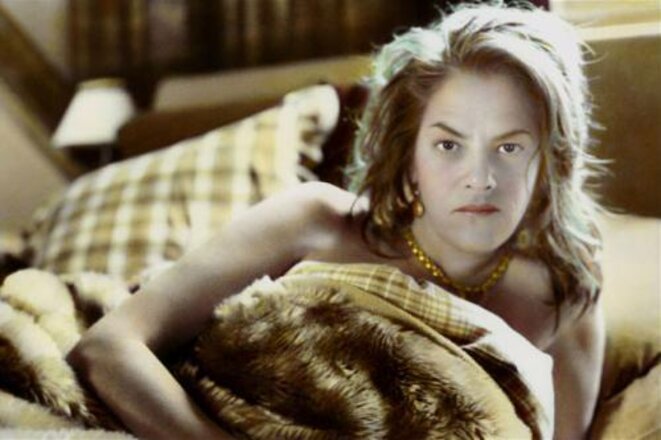 © YN
The works of New York-based Egyptian artist Youssef Nabil are a stunning mix of photography and painting. He uses a technique of hand colouring monochrome photographs, learnt from specialists in his native Cairo, to produce haunting portraits ranging from Yemeni fishermen to cinema stars. Often meticulously staged, as if telling a story, his carefully-crafted pictures contain an unusually intense and captivating quality. A retrospective exhibition of his works is now on show for the first time in Paris, at the Maison Européenne de la Photographie. Hugo Vitrani reports.
Paris has come first in a ranking of the world's 50 best cities for students, head of "expensive" London in second spot.
A Muslim diplomat in wartime Paris risked hsi life to help thousands of Iranian Jews escape from Nazi persecution, according to a book just published.
Paris has launched an electric car hire scheme to cut air and noise pollution on city streets, with 250 cars available now and 2,000 by next summer.
UK Prime Minister David Cameron is to meet French President Nicolas Sarkozy in Paris on Friday for talks centred on the eurozone crisis.