The French parliament on Sunday approved the introduction of emergency legislation that gives the government special powers including restriction of people's freedom of movement and to rule by decree to requisition certain goods and services as part of the effort to contain the Covid-19 coronavirus epidemic.
France has moved independently from the European Union with the approval by its parliament on Thursday of a 3 percent tax on sales of more than 25 million euros generated in the country by technology companies, which would notably include US giants such as Google and Facebook, and which the White House said it was investigating as it could amount to an unfair trade practice.
Presenting the second stage of legislative reform of his goverment after two years in power, French Prime Minister Édouard Philippe has told parliament that environmental issues and 'social justice' will be at the forefront of future policy-making over the remaining three years of its mandate, and also announced that it will end a ban on IVF for lesbian couples and single women.
In a speech to Germany's parliament, French President Emmanuel Macron said Europe must not become 'a plaything of great powers' and that 'in this global order [...] our true strength lies in unity'.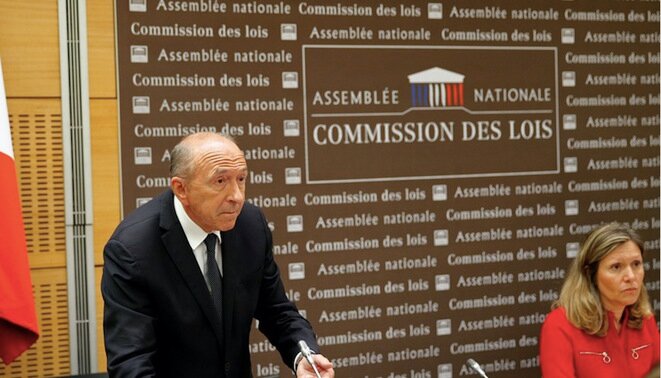 French interior minister Gérard Collomb appearing before MPs on Monday. © Reuters
The French parliament commission of inquiry into the scandal sparked by media revelations last week of the vicious assault upon a May Day demonstrator by President Emmanuel Macron's personal security advisor, Alexandre Benalla, who was illegally allowed to take an active part in policing May 1st crowds dressed with police insignia, began its first hearings on Monday, when it quizzed interior minister Gérard Collomb and Paris police prefect Michel Delpuech. In their testimony, both men clearly placed responsibility for what increasingly appears as a far-reaching cover-up at the door of the presidential office.
French President Emmanuel Macron, who for several days has dodged answering questions about his security advisor Alexandre Benalla caught on video assaulting May Day demonstrators, has cancelled a public appearance with crowds along the Tour de France cycle race scheduled for Wednesday, while his interior minister Gérard Collomb was quizzed by MPs about the May 1st events.  
Draft legislation which allows for a magistrate to ban publication of information during electoral campaigns that appears false or 'implausible'  has met with fierce criticism as debating began in the French parliament, with MPs from Left and Right denouncing dangers of censorship and abuses by 'thought police'.
French President Emmanuel Macron's proposed legislation to open up the state-run railway system to private competition and remove the special employment status of rail staff has been passed by a massive majority in the lower house, the National Assembly, as he insisted he would not back down on his sweeping raft of pro-business economic and social reforms aimed at liberalising France's economy.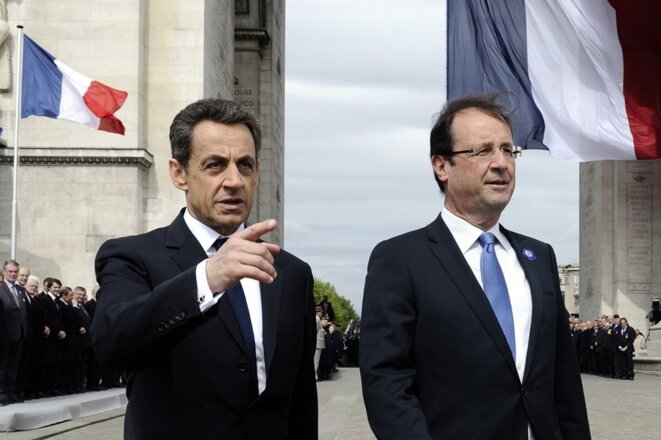 Nicolas Sarkozy with then-president François Hollande at a ceremony marking V-E Day on May 8th 2013. © Reuters
The placing under investigation of Nicolas Sarkozy on Wednesday for corruption, embezzling public funds and illegal electoral funding by the regime of late Libyan dictator Muammar Gaddafi has come about as the judicial investigation is in its fifth year, and seven years after Mediapart first revealed the former conservative president's dealings with Tripoli. During the entire period, which includes five years of socialist government, the political powers have regularly turned their backs on the disturbing questions raised by the mounting evidence of Sarkozy's dubious relations with the dictator, and also the circumstances of France's subsequent military intervention in Libya, to the point of dismissing repeated calls for a parliamentary inquiry. Antton Rouget reports.
The French lower house, the National Assembly, on Wednesday approved a bill of law containing measures aimed at introducing greater probity in public office by 412 votes to 74, sealing a troubled passage of legislation promised by President Emmanuel Macron during his election campaign.
The new Members of Parliament have taken up their seats in the National Assembly following the Parliamentary elections and they consist of new faces, new groups and a new social demographic. Many of them are from a non-political, civic society background, with their own habits, customs and beliefs and bringing with them, too, a desire to circumvent the old political obstacles and delays of the past. But, says Hubert Huertas, this new group may themselves soon end up personifying those very same old political ways.

The four-month enquiry, launched after secretly-filmed video was released of cruel practices and unhygenic conditions in several French abattoirs, also recommended veterinary officers be present in large abattoirs to remove staff's impression of 'virtual impunity'.
The fourth extension of state of emergency, first introduced after the November 13th terrorist attacks in Paris, prolongs the wide-ranging powers until January.
The fourth polongation of state of emergency likely to last until 2017, giving police sweeping powers for searches and facilitating house arrest orders.