Keyword: Patricia Cahuzac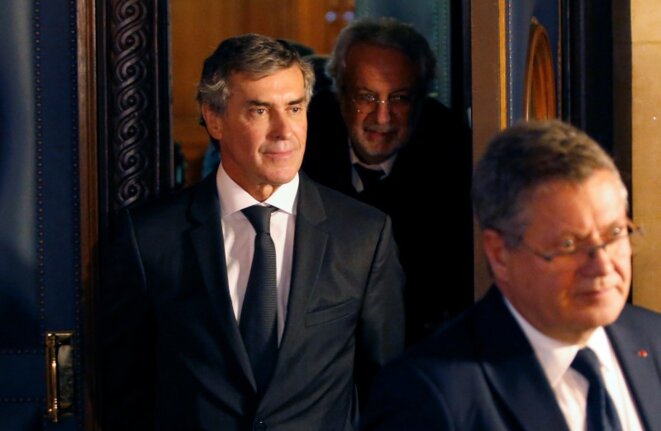 Jérôme Cahuzac (centre) at his trial in September. © Reuters
Former French budget minister Jérôme Cahuzac and his ex-wife Patricia were on Thursday found guilty by a Paris court of tax fraud and moneylaundering the proceeds of the tax fraud. The socialist politician was sentenced to three years in prison and banned from holding electoral office for five years, against which he immediately appealed. Patricia Cahuzac was handed a two-year prison sentence. The verdict was announced almost four years to the day since Mediapart published the first revelations about the secret foreign bank account belonging to Cahuzac, who was then in charge of a crackdown on tax evasion. Michel Deléan reports.
Close to the end of a two-week trial, the prosecutor demanded that Jérôme Cahuzac, who was exposed by Mediapart for holding a tax-evading bank account abroad, be also barred from elected office for five years and that his wife be sentenced to two years in jail.  
Jérôme Cahuzac. © Reuters
Former French finance minister Jérôme Cahuzac will next month stand trial on charges of tax evasion and money laundering. The trial follows a two-year judicial investigation which was itself prompted by Mediapart's revelations that Cahuzac held a secret bank account abroad, which he first denied before finally confessing in April 2013. Mediapart has gained access to the concluding report by the magistrates which details the evidence for sending Cahuzac for trial. Fabrice Arfi reports.
Budget minister was forced to resign in 2013 after Mediapart revealed that he held a secret Swiss bank account.
Patricia Cahuzac, wife of former minister Jérôme Cahuzac, who earlier this year confessed to having an undeclared Swiss bank account, has been placed under formal investigation for alleged tax fraud and laundering the proceeds of tax fraud. The move is part of the wider investigation into her husband's hidden account. Michel Deléan reports.