French parliamentarians on Tuesday voted in favour of giving sugar beet farmers, whose crops were diminished this year, a special derogation to use neonicotinoids, a form of pesticide, against rampant aphids and which environmentalists say disrupts bees' reproduction modes and sense of orientation.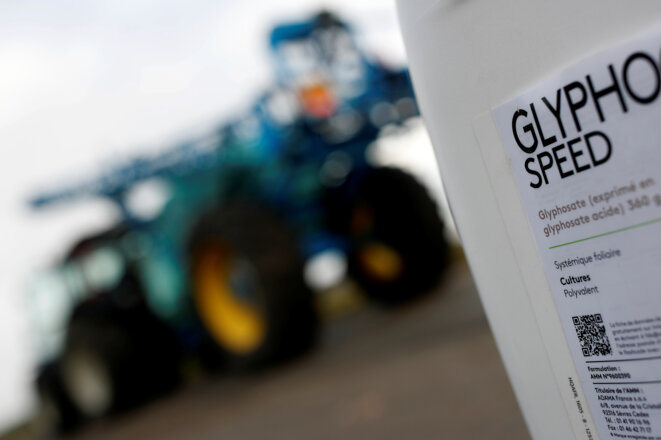 A total ban on the use of products containing glyphosate is due to be introduced in France on January 1st 2021. © Archives Reuters
A growing number of French mayors have issued by-laws this year banning the use of chemical pesticides and herbicides in their communes. But these have been regularly overturned by local administrative tribunals which have ruled the measures to be illegal as only central government has the power to issue such prohibitions. Earlier this month, however, a tribunal upheld the by-laws issued by the mayors of two Paris suburbs, ruling that the government had failed in its responsibilities to protect public health. With nationwide municipal elections due next spring, the issue is fast developing into a political hot potato for President Emmanuel Macron who has insisted that the rebel mayors must abide by the law.
French medical reasearchers have denounced the ending of an official investigation into several instances in three geographically distanced rural communities of babies born without all their limbs, which some suspect is due to the use nearby of agro-chemicals.  
Move to ban five so-called neonicotinoids hailed by beekeepers but farmers warn it could leave them all but defenceless in protecting crops.
Two scientific studies have found that the bird population in France has fallen by as much as a third over the past 15 years, and in some regions by two-thirds, a situation described as 'catastrophic' by one biologist involved in the research and which is believed to be due to the decline in insect numbers due to the use of pesticides.
The European Union on Monday gave the go-ahead to extend the licence for sales of the herbicide glyphosate, recognised by the World Health Organisation as "probably carcinogenic to humans", for a further five years. The French government, which voted against move, has decided to unilaterally limit the licence to market glyphosate to three years. But France remains Europe's biggest user, by volume, of agrochemicals, including many considered by scientific studies to present a health risk. Mediapart, in partnership with online journal Mediacités, details here, region by region and with interactive charts, their sales in France by volume, which in turn provides an indication of where they are most employed.
Édouard Philippe reconfirmed ban on neonicotinoids hours after agriculture minister Stèphane Travert had said he wanted to soften it.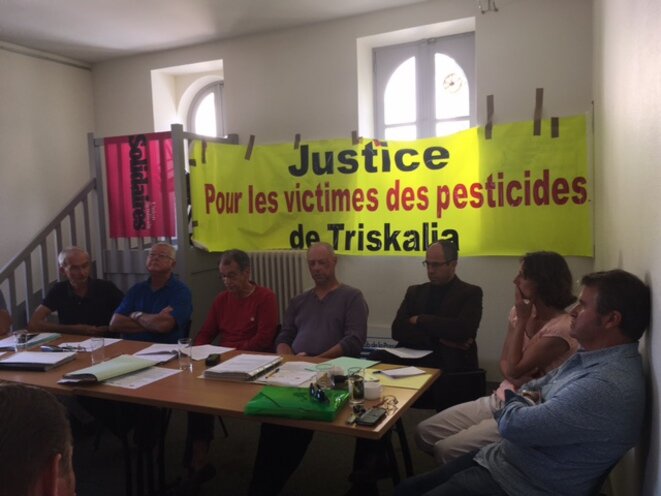 Press conference by former Triskalia workers at Rennes, September 9th, 2016. © JL
In a legal first in France, a court has awarded damages to two ex-employees of a Brittany animal feed firm after they were exposed to pesticides at work. The award is a milestone because it recognises that what is known as 'multiple chemical sensitivity' from pesticide exposure is an occupational disease, and lays the blame squarely with the employer. The ruling also recognises that agricultural workers can be affected even if they do not work in the fields. Jade Lindgaard reports.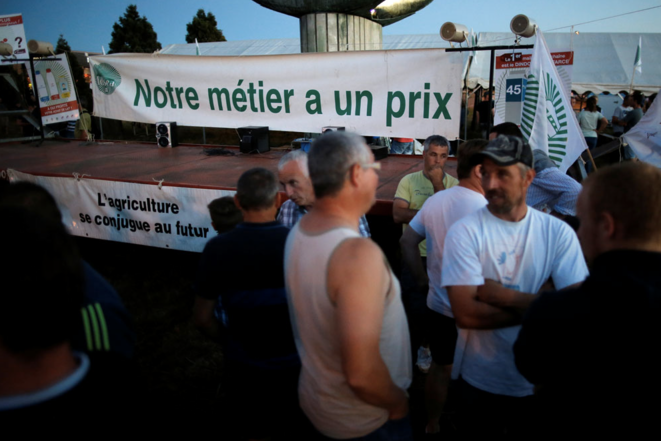 Farmers protesting outside the headquarters of dairy firm Lactalis, at Laval, central-west France, August 23rd. ©Reuters
As European farm ministers met earlier this month at a château in France's Loire Valley to reframe EU agricultural policy, a detailed study of European farm aid has revealed a major contradiction right at the heart of that policy; that the most polluting farms actually receive the most cash from subsidies. And amid French farmers' protests against falling prices and shrivelling incomes, the study also showed that in the current economic context, the usual strategy of continually boosting production is no longer an option. Jade Lindgaard reports.
The woman has won a lengthy legal battle for recognition that she developed debilitating illnesses after tending to vine spraid with pesticide.
Officials move to stop use of Cruiser OSR pesticide, which is used to treat rapeseed, after scientists suggested it could pose a danger to bees.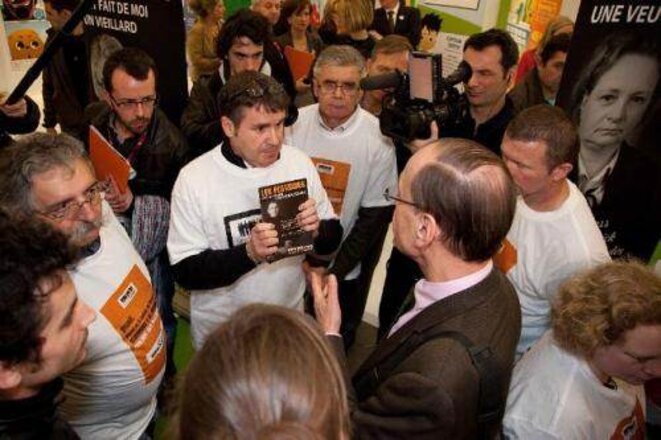 © Reuters
Last month, French cereal farmer Paul François, 47, won a lengthy legal battle against US biotech giant Monsanto in a landmark ruling by a court in Lyon that could open a floodgate of complaints by farmers for chemical poisoning. François was found to have become severely handicapped as a direct result of his contamination by Lasso, a powerful herbicide produced by Monsanto. France is Europe's biggest user, by volume, of pesticides, and worldwide only India and the United States use more. For François and other campaigners seeking to alert farmers to the dangers of chemical-based phytosanitary products, their battle targets not only the clout of the industrial lobby and a reluctance of the medical profession to recognise the illnesses caused by pesticides, but also a silent taboo among the farming community itself. Claire Le Nestour reports.
A French court has found the US biotech giant Monsanto legally responsible for the poisoning of a farmer who inhaled a powerful weedkiller.