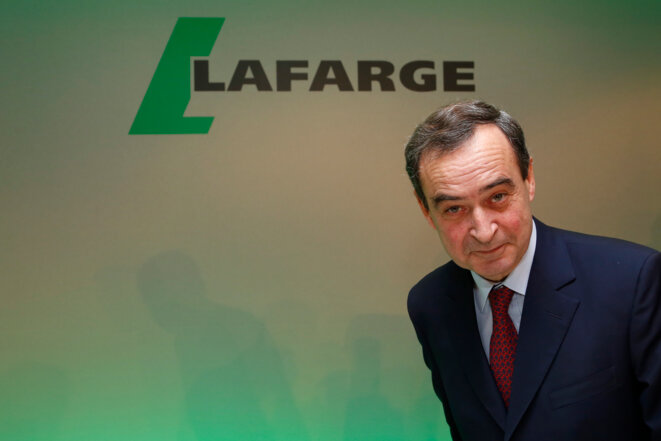 Bruno Lafont when he was CEO of Lafarge, on February 18th, 2015. © Reuters
An intercepted telephone call involving the former boss of French cement firm Lafarge, which is accused of funding terrorist group Islamic State to keep its Syrian cement plant in production, shows the extend of the "worry" that has gripped the company, which has since become a Franco-Swiss multinational. Just how far – and to whom – will the current judicial investigation extend? Fabrice Arfi reports.
Last week France's top appeal court heard an appeal by former president Nicolas Sarkozy against the validly of an official investigation into him for alleged "corruption" and "influence peddling". He faces claims he tried to induce a senior magistrate to hand over confidential legal information. A great deal hinges on the judges' verdict, which is due on March 22nd, 2016. For as Mediapart's legal affairs correspondent Michel Deléan reports, if the appeal fails it is likely Sarkozy, who hopes to be the French Right's candidate at the 2017 presidential election, will be forced to stand trial over the allegations.

German Chancellor Angela Merkel's mobile phone features on a list of interception targets on a database of the US National Security Agency (NSA), Mediapart can reveal. In an investigation mounted with whistleblower website WikiLeaks, Mediapart details here how more than 50 phone numbers within the German chancellery, including voice and fax landlines into Merkel's office and those of her senior staff, were for years the target of interceptions by the NSA. The revelations come just one month after German prosecutors dropped an investigation into earlier claims that the NSA tapped Merkel's mobile due to what they said was a lack of evidence. Jérôme Hourdeaux and Mathieu Magnaudeix, in collaboration with Julian Assange of WikiLeaks, report.
The revelations that the United States has been tapping the phones of presidents and others senior figures in the French state have provoked a major controversy. Politicians from all parties queued up on Wednesday morning to denounce the spying, revealed in leaked documents obtained by WikiLeaks and published by Mediapart and Libération. President François Hollande, himself revealed to be the target of phone taps in 2012, called a meeting of the government's defence committee and met a delegation of 20 Parliamentarians at lunchtime to discuss the spying crisis. The Elysée meanwhile issued a statement describing the reported spying as "unacceptable". But the spying will have come as no great surprise to the authorities in Paris who have known about or suspected such espionage for years. But France has never previously made a major public fuss about the issue for the simple reason that it, too, is part of a vast network involving exchanges of information between intelligence services around the world. And because it, too, cheerfully snoops on its friends. Moreover, the revelations came on the eve of the final vote on the government's new and highly-controversial snooping legislation. Lénaïg Bredoux and Mathieu Magnaudeix report.
The United States has eavesdropped on at least three French presidents and a whole raft of senior officials and politicians in France for at least six years, according to secret documents obtained by WikiLeaks and revealed here by Mediapart. The top secret reports from America's National Security Agency (NSA) show that the phones of presidents François Hollande, Nicolas Sarkozy and Jacques Chirac were all tapped. But they also show that the espionage carried out on a supposedly key ally of Washington's went even further and deeper, and that senior diplomats, top civil servants and politicians also routinely had their phones tapped. The documents seen by Mediapart reveal proof of the spying on the French state that took place from 2006 to 2012 but there is no reason to suggest that this espionage did not start before 2006 and has not continued since. The revelations are certain to spark a major diplomatic row and highlight once again the uncontrolled and aggressive nature of American spying on friends and foes alike, as first revealed by NSA whistleblower Edward Snowden in 2013. Mediapart's Fabrice Arfi and Jérôme Hourdeaux and Julian Assange of WikiLeaks report.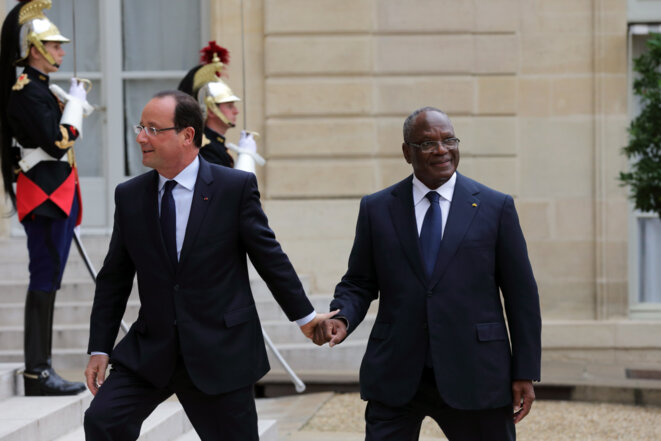 MM. Hollande et Keita, à l'Elysée. © Reuters
The conversations of two African heads of state have been eavesdropped by French police during a major investigation into alleged corruption by a French businessman. The transcripts of the phone-tapped conversations involving Mali's president Ibrahim Boubacar Keita, known as IBK, and Gabon's Ali Bongo reveal a vast system of gifts and favours apparently provided by controversial Corsican businessman Michel Tomi, who has been dubbed the "godfather to the godfathers". As far as the judges investigating the case are concerned, the phone taps reveal corruption. And for French president François Hollande the content of the transcripts involving IBK will come as a devastating and embarrassing diplomatic blow. For much of Hollande's African policy has been based on the symbolic success of his old socialist friend IBK, who was voted in as president of Mali just months after Paris sent in troops to end an Islamic insurgency there. IBK's election was supposed to usher in a fresh start for Mali and a new era of French diplomacy in Africa. That narrative now looks to be in ruins. Fabrice Arfi, Ellen Salvi, Lénaïg Bredoux and Thomas Cantaloube report.
Former French president has failed in his legal challenge against phone tap evidence in which he discussed judge prid-pro-quo deal with lawyer.
The probe into former president's alleged attempt to corrupt a judge is held up by his legal challenge that revealing phone taps were unlawful.
Former French president tries to get probe quashed, claiming phone taps used to gain evidence were improper.
Latest leak of tapped phone conversations appear to show that Sarkozy offered to get a judge a plum job in return for favours.
Beleaguered former president hits out angrily in TV interview at those parts of the judiciary he says are seeking to humiliate and destroy him.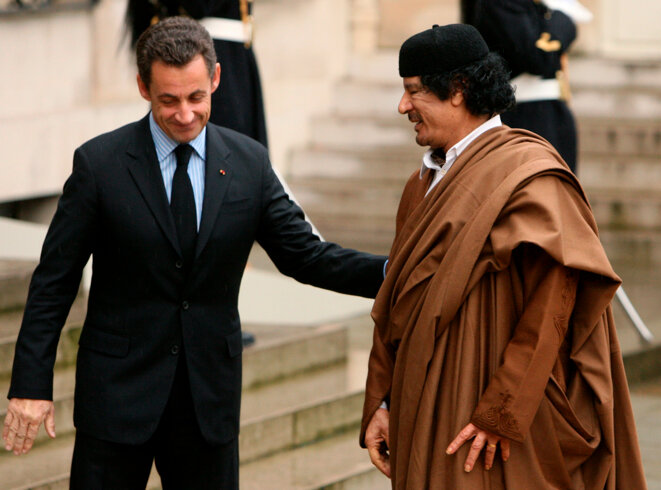 Dans la cour de l'Elysée en décembre 2007. © Reuters
Mediapart can disclose the content of more phone taps concerning former president Nicolas Sarkozy that show how he and his entourage have sought to glean information on the state of judicial probes from senior state officials. One conversation reveals that the ex-head of state was worried about the "loyalty" of the new head of France's domestic intelligence service, from whom he was trying to extract key details. Judges investigating the Libyan funding of Sarkozy's 2007 presidential campaign also believe they may have uncovered the identity of one of the former president's "moles" in the intelligence services. As Fabrice Arfi reports, the revelations provide further evidence about how far Nicolas Sarkozy and his aides seem willing to go in order to find out how judicial investigations are progressing.
Barely two days after Mediapart revealed the content of the phone taps placed on Nicolas Sarkozy, the former president has responded with an extraordinary outburst in the right-wing Le Figaro newspaper. In an angry comment article Sarkozy likened the actions of judges and the police in placing the phone taps to those of the notorious Stasi secret police who operated in communist East Germany. The ex-head of state also mocks the interior minister and justice minister for saying they knew nothing of the bugging, and says the French Republic's "fundamental principles" have been "trampled underfoot". The government has been swift to respond to allegations that are unprecedented for a former head of the French state, with one minister accusing Sarkozy of a "verbal coup d'état".
Angry former president likens eavesdropping to actions of former East German police and says Republic's principles have been 'trampled' on.