A Paris court has refused a public prosecutor's demand that the latest issue of French weekly Paris Match be withdrawn from sale over its publication of gruesome CCTV images of the 2016 Bastille Day terrorist attack in Nice when a truck ploughed into seafront crowds, killing 86 and injuring hundreds more, but has ordered the magazine not to republish the photos.
The Paris public prosecutor's office has asked for a court order to remove the weekly magazine from sales points in France on Thursday over its publication of gruesome images from CCTV footage of the terrorist attack in the Rivierra city in July last year when a man acting in the name of Islamic State drove a truck into seafront crowds killing 86 people and injuring more than 450 others. 
Photos of a Muslim woman surrounded by police and stripping off her shawl have prompted protests from French Council of the Muslim Faith.
Parents told they could be sued by their grown-up children for posting photos of them on social networks, leading to fines or imprisonment.
A photographer and staff of magazine Closer received suspended fines for publishing photos of Julie Gayet at the steering wheel of her car.
The magazine must pay 15,000 euros for breaching Julie Gayet's privacy with photos revealing her relationship with the French president.
Leading French chefs have expressed outrage over a trend of posting photos of their 'intellectual property' on social media.
LIFE magazine republishes a selection of photographer Ed Clark's compelling black and white portraits of a city exhausted by war.
British royals sue for breach of privacy over bare-breasted photos of holidaying Duchess of Cambridge published by French magazine Closer.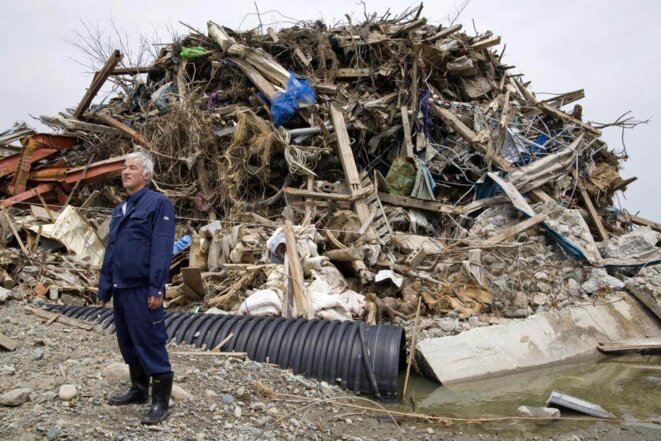 © Antonio Pagnotta
Nearly a year and five months after the combined effects of an earthquake followed by a maximum-level tsunami led to nuclear meltdown and radioactive leaks at Japan's Fukushima Daiichi atomic power plant, the 20-kilometre exclusion zone (photo) established around the plant remains a desolate place. Beginning in April 2011, photo-reporter Antonio Pagnotta made several clandestine visits to the zone over a period of 11 months, producing a series of insightful and eery reportages which Mediapart is publishing in a thematic series. Here he tells Sophie Dufau and Michel de Pracontal about his chilling experiences and what he sees as Japan's state of denial about the dark consequences of the disaster.