Unions claim 70% of pilots are involved in the four-day pilots' strike, to end Tuesday, but airline says 85% of long-haul and domestic flights will operate Monday.
The strike, in protest against proposed wage cuts and working hours, which will last until Tuesday, joins separate protest strikes by rail and waste collection workers.
Two unions, together representing about 75% of pilots, have called a strike June 11th-14th over pay and which they say could be extended.
The company's largest pilots' union said no date had yet been decided for the strike, which was decided 'in principle' over pay demands.
The airline's proposed deal to SNPL union would see pilots work up to 10% more on same pay, while an extra 600 pilots would be hired by 2020. 
Caribbean country targets three people it says helped the two pilots flee following drugs conviction, including a far-right French Euro MP.
The two pilots had arrived last week in France after fleeing Dominican Republic where they were appealing conviction for drugs smuggling.
The two pilots, convicted of cocaine trafficking but free pending appeal, have 'left a country where justice does not exist' says lawyer.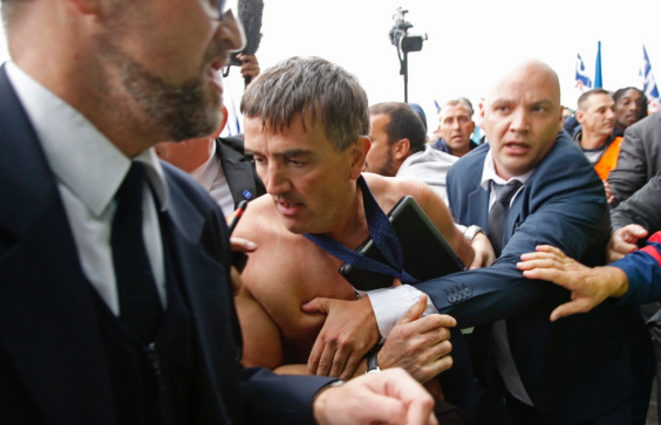 Le DRH d'Air France violemment pris à partie par les manifestants © Reuters
The physical attacks upon two Air France executives on Monday by a small group of airline staff protesting a plan of job losses has been widely condemned by trade unions, management and government. The assaults, in which the Human Resources director and the long-haul flight manager had their clothing ripped off, dramatically underlined the high tensions within the struggling airline over its announcement it is to shed 2,900 jobs over the next two years. Mathilde Goanec and Dan Israel report.
Decision to announce cuts next week comes after breakdown in talks with pilots' unions to trim €170 million annually over three years.
The debt-ridden carrier said it will cut some routes to Spain, Italy, Norway and Malaysia, and sought 'to postpone delivery of long-haul aircraft.'
After a lengthy strike earlier this year, pilots narrowly voted in favour of plans to develop the airline's low-cost operator Transavia.
Talkss between pilots and the airline were blocked Saturday after the latter, and the government, rejected calls for appointment of a mediator.
The airline and pilots are still at loggerheads after an 11-day strike that the company says causes a daily operating loss of 20 million euros.