Keyword: place de la République
Related keywords
Could 'NuitDebout' movement, which started in Paris as protest against labour law reforms, become French equivalent of Spain's Indignados?
Around 2,000 people submitted to security checks to get into Place de la République event, which paid tribute to terror victims in 2015.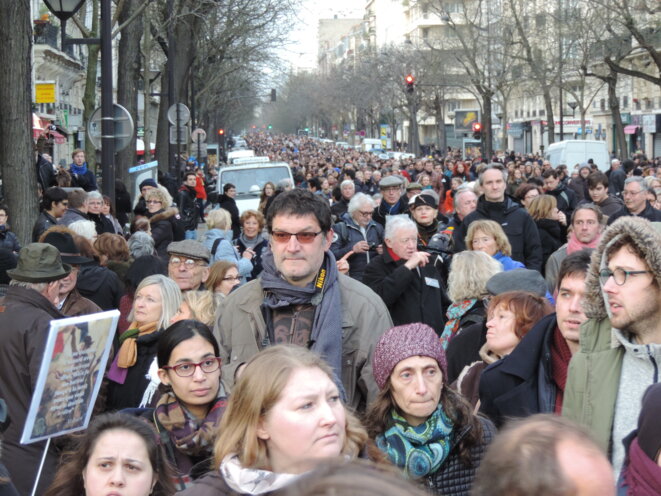 © Graham Tearse
Four days after the massacre at Charlie Hebdo magazine, followed by the murders of two police officers and two bloody sieges which saw four people executed in a Jewish supermarket, the people of France have taken to the streets in record numbers - 3.7 million - in a day of solidarity with the 17 victims of the attacks. For the first time in a quarter of a century the French president marched with the people as François Hollande joined more than 40 world leaders on the streets of Paris which he said had become the "capital of the world" for the day. But the most moving part of the massive march between two major squares in Paris, the place de la République and the place de la Nation, part of the biggest public gatherings seen in France since the Liberation in 1944, was the volume of ordinary citizens who turned out to show support for the victims' families and their determination that people's freedoms should not be undermined by terrorists. Mediapart reports on the turnout in words and pictures (updated Monday).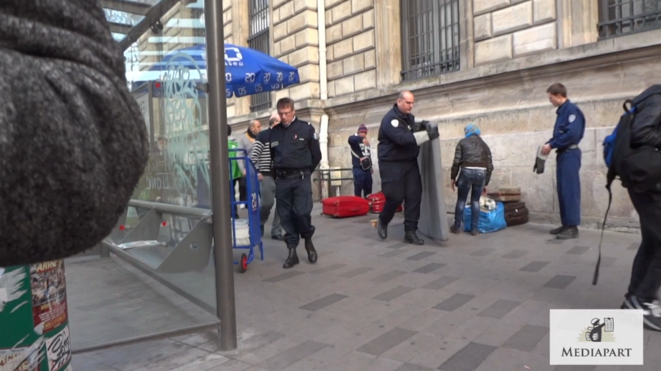 Vidéo dans l'article
A video obtained by Mediapart shows three police officers removing a mattress from members of a Roma family who are living rough on a Paris street. The incident passed off without incident or even raised voices, either from the family or the officers. Indeed, the episode happened so quickly and so calmly that many passers-by walked on with barely a second glance. But as Carine Fouteau reports, with no clear legitimate reason to take the mattress, the officers are perilously close to being guilty of theft. The incident, which took place at a time when the police in a nearby district were being instructed to "evict" Roma people "systematically", highlights what some call the regular "harassment" endured by such families.