Prosecutors have opened a preliminary investigation after videos filmed during a 'Yellow Vest' anti-government protest in the French capital on January 18th showed a man with a bloodied head being held down on his back by a helmeted officer, who then strikes him hard in the face.
Public prosecutor Rémy Heitz said that after investigations into 174 incidents, police officers would be sent before the courts by end of the year.
Paris prosecution services have opened an investigation into reported jibes aimed at police by anti-government 'yellow vest' protestors in Paris on Saturday in which they allegedly shouted 'kill yourselves' in a reference to a police union revelation last week that 28 officers have committed suicide since January 1st.
Israeli police interrupted an event at an official French cultural centre in Jerusalem on Thursday, claiming it intended to host an event organized with a women's association 'sponsored or financed by the Palestinian Authority' and 'without authorization'.
Two men sentenced to seven years for the rape of Emily Spanton - who chose to waive her right to anonymity - at Paris police HQ.
A lawyer for Jérôme Rodrigues, a high-profile militant with the 'yellow vest' protest movement who was struck in the right eye when police fired weapons at demonstrators during disturbances in central Paris on Saturday, said his client has been left permanently disabled by a police rubber bullet, in the latest case of dozens of life-changing injuries recorded among demonstrators in recent weeks.  
French interior minister Christophe Castaner has announced that French police on crowd control operations are to use body cameras to record the circumstances of their use of weapons, notably rubber bullets, following an increasing toll of serious injuries caused by the bullets and stun grenades during the ongoing 'yellow vest' street protests over falling living standards for low- and middle-income earners.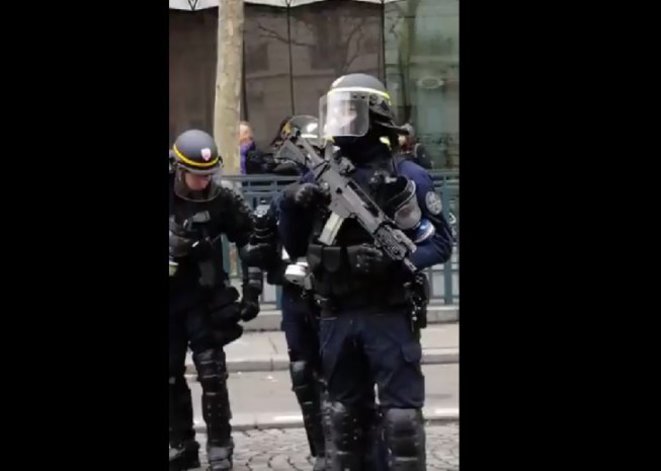 CRS riot police with HKG36 assault rifles in central Paris on January 12th. © DR
A document obtained by Mediapart reveals that the national director of France's CRS riot police ordered the deployment of Heckler & Koch G36 assault rifles during nationwide demonstrations on January 12th by the 'yellow vest' movement. The militarisation of policing tactics during the recurrent demonstrations, in protest over falling living standards for low- and middle-income earners, includes an almost systematic use of rubber bullets and stun grenades that have caused numerous serious injuries. Karl Laske reports on the arsenal employed and the dramatic consequences of the escalating violence.
Two police officers from the Paris 'anti-gang' squad went on trial on Monday accused of raping a Canadian tourist at their headquarters in the French capital in 2014, after they met her in a nearby Irish pub.
Online campaigns began after former professional boxer handed himself in to police after he was filmed punching officers during protest in Paris.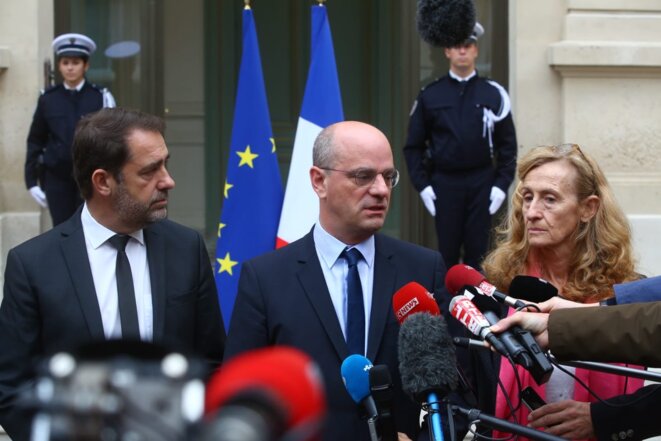 Interior minister Christophe Castaner, left, education minister Jean-Michel Blanquer and justice minister Nicole Belloubet. © @Twitter @jmblanquer
A recent video showing a pupil pointing a pistol – later discovered to be fake - at his teacher in a school in France went viral. The government called an urgent meeting of senior ministers to work out a plan of action to tackle violence in France's schools, amid talk that the police might be asked to patrol in some establishments. Detailed policies are expected to be announced soon. But as Manuel Jardinaud and Faïza Zerouala report, this tough rhetoric, which recalls the days of Nicolas Sarkozy's presidency, has not gone down well with many teachers.
New plans are set to be announced by interior minister Christophe Castaner following a string of violent incidents in country's classrooms.
Charities distributing food to homeless migrants in the French port allege 600 acts of intimidation by officers, including teargassing.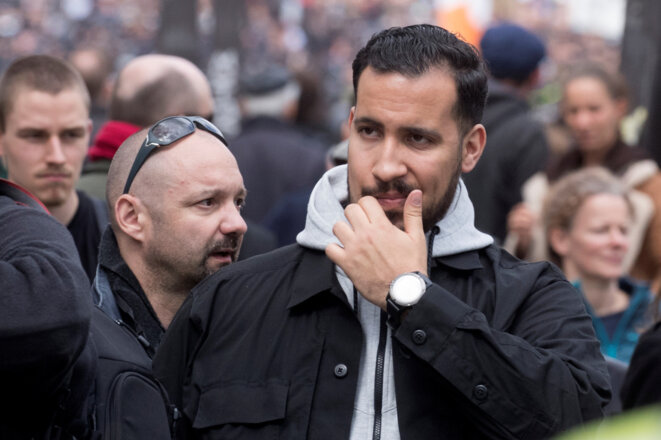 Alexandre Benalla (foreground) during the May Day marches in Paris on May 1st. © DR
The unfolding scandal prompted by videos of the vicious assault of a man during May Day disturbances by President Emmanuel Macron's private security aide Alexandre Benalla now includes the revelation that confidential police CCTV footage of the events in a Paris square were published on Twitter by supporters of Macron's party in an attempt to denigrate Benalla's victim. Screenshots obtained by Mediapart show the images, apparently from a CD copy of the footage given to Benalla by police officers, and which Benalla said he immediately handed to the Élysée Palace, were posted on social media just after Benalla's thuggish behaviour was revealed by French daily Le Monde – before being removed just hours later.Karl Laske, Pascale Pascariello and Lénaïg Bredoux report.