Constitutional Council said that MPs who passed the controversial legislation had not set out clearly enough what would constitute a breach of the law in such situations.
Amid widespread outrage in Ferance over video images of an apparently racist and fierce assault by Paris police of black music producer Michel Zecler last weekend, President Emmanuel Macron released a statement on Facebook describing the attack as 'shameful', adding that 'those who apply the law must respect the law'.
Proposed legislation to ban the dissemination on social or traditional media of police officers' faces, justified as protecting the safety of police staff, and which would apply to civilians and journalists alike, has prompted street protests in Paris and other cities across the country over what demonstraors say is a law which would gag disclosure of police abuses. 
Freelance reporter Valentin Gendrot spent two years as a junior police officer, eventually posted to a north Paris police station where, he details in a book published this week, he says he witnessed racism and gratuitous violence by a minority of officers but who were covered by their hierarchy, and which has prompted an internal police investigation into his claims.
Family of Cédric Chouviat, who died of asphyxiation, say the manslaughter investigation is too lenient.
Police forces across Europe have carried out hundreds of arrests, seizing cash, drugs and weapons after listening in on an encrypted communications network used by criminal gangs which was cracked by French police in 2017.  
The 24-year old died a year ago after disappearing during a police charge at a Fête de la Musique party in the city in west France.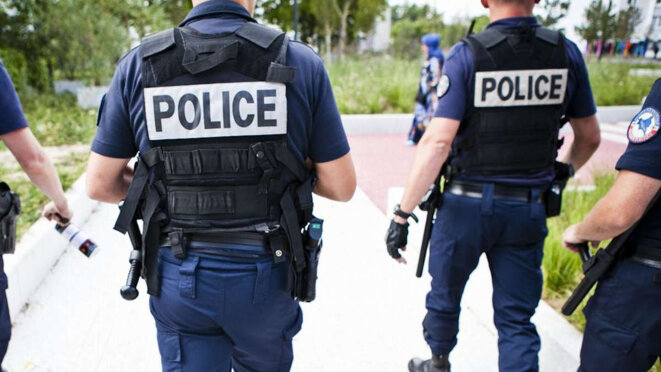 France's national police force: while officals talk of a few 'rotten apples' others see systemic racism. © AFP/Valery Hache
Amid a mounting debate over accusations of systemic racism within France's police force, this joint investigation by Mediapart and ARTE Radio reveals the vile exchanges between police officers on a WhatsApp chat group, in which they talk of "enemies of the white race" and of "niggers", describe women as "whores", Jews as "sons of bitches" who "govern the country", and gay men as "poofs". Camille Polloni reports on a case that came to light only due to the courage of one of their black colleagues and how, five months after his formal complaint, the men were still in their posts.
Protests around France continued on Thursday over alleged racist violence by police, prompted by a campaign by the family of Adama Traoré, a 24-year-old man of Malian origin, for a full investigation into his death in police custody allegedly from asphyxiation, and the outrage over the death in the US of George Floyd, 46, an Afro-American who was suffocated by a police officer during his arrest in Minneapolis.   
The French government's spokeswoman called for calm on Wednesday after violent scenes at a demonstration by around 20,000 people on Tuesday evening against what they claim is a cover-up over the 2016 death of Adama Traoré, 24, who suffocated while he was pinned down by gendarmes during his arrest in July 2016, a case which the protesters likened to the killing in the US of George Floyd.
French interior minister Christophe Castaner has announced that police are to no longer use an highly explosive tear gas grenade until now used in crowd-control situations, notably during the past 12 months of rolling 'yellow vest' demonstrations over social grievances, and which has been one of the arsenal of police weapons that have left many people with serious injuries and amputations.
Prosecutors have opened a preliminary investigation after videos filmed during a 'Yellow Vest' anti-government protest in the French capital on January 18th showed a man with a bloodied head being held down on his back by a helmeted officer, who then strikes him hard in the face.
Public prosecutor Rémy Heitz said that after investigations into 174 incidents, police officers would be sent before the courts by end of the year.
Paris prosecution services have opened an investigation into reported jibes aimed at police by anti-government 'yellow vest' protestors in Paris on Saturday in which they allegedly shouted 'kill yourselves' in a reference to a police union revelation last week that 28 officers have committed suicide since January 1st.