New plans are set to be announced by interior minister Christophe Castaner following a string of violent incidents in country's classrooms.
Charities distributing food to homeless migrants in the French port allege 600 acts of intimidation by officers, including teargassing.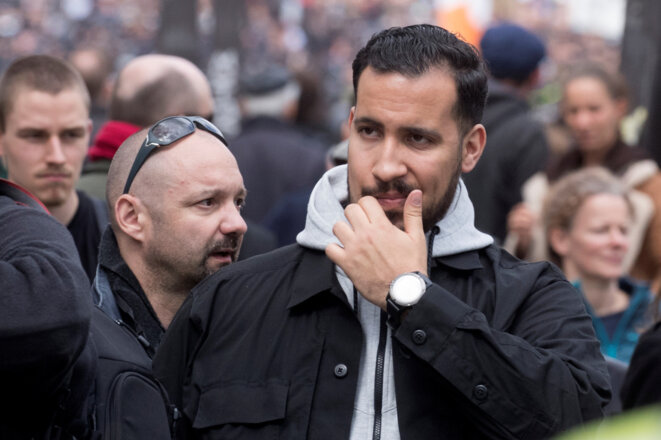 Alexandre Benalla (foreground) during the May Day marches in Paris on May 1st. © DR
The unfolding scandal prompted by videos of the vicious assault of a man during May Day disturbances by President Emmanuel Macron's private security aide Alexandre Benalla now includes the revelation that confidential police CCTV footage of the events in a Paris square were published on Twitter by supporters of Macron's party in an attempt to denigrate Benalla's victim. Screenshots obtained by Mediapart show the images, apparently from a CD copy of the footage given to Benalla by police officers, and which Benalla said he immediately handed to the Élysée Palace, were posted on social media just after Benalla's thuggish behaviour was revealed by French daily Le Monde – before being removed just hours later.Karl Laske, Pascale Pascariello and Lénaïg Bredoux report.
A report published by NGO Oxfam says its interviews with migrant children trying to cross from Italy to France on the Riviera border found complaints of being 'physically and verbally abused, and detained overnight in cells without food, water or blankets and with no access to an official guardian', and also claims that some children had the soles of their shoes cut off before being sent back to Italy.
French police on Tuesday arrested 16 people, including two women,  over their suspected involvement in an attack on two officers attempting to disperse an unauthorised wharehouse party in a Paris suburb last December 31st, when video published on social media showed a policewoman being kicked by a mob after she fell to the ground.
At least three people were murdered and several others wounded in a series of attacks, described by officials as terrorism, by a lone gunman near Carcassonne, in south-west France, which ended when police shot him dead during a supermarket siege.
French president's plans include creation of 'daily security' force within police, a plan to combat radicalisation and reforms to asylum procedures.
An amateur video recording has emerged of police officers shooting at a car driven by an allegedly armed man, who was later found dead, after he refused a summons to step out of his vehicle on a housing estate near the town of Montargis, south of Paris, and who sped off after ramming a police vehicle.
One policeman was lightly injured in the attack outside Notre Dame cathedral in Paris, during which assailant shouted: "This is for Syria."
Judicial sources said a 23-year-old man has been placed under investigation for aiding the gunman who murdered a police officer and wounded two others on the Champs-Elysées avenue last month, after his DNA was found on the weapon used by Karim Cheurfi, who was shot dead by police.
At least one police officer was killed and two others wounded when a gunman, who was subsequently shot dead in return fire, attacked a police vehicle on the popular Champs-Elysées avenue in central Paris using what the interior ministry described as an 'automatic weapon'.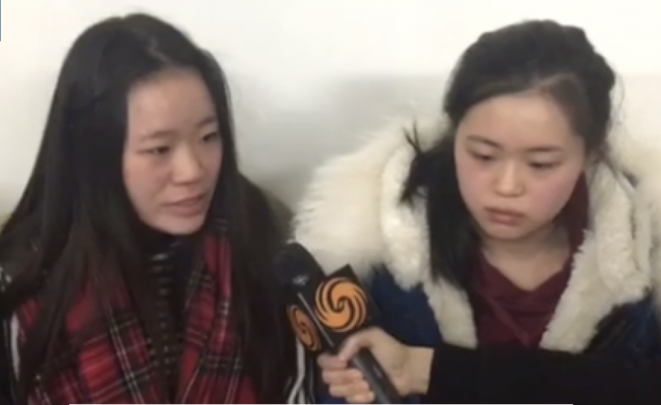 Screen grab from Facebook of the victim Shaoyo Liu's family. © DR
Two investigations have been opened after a 56-year-old Chinese national was shot dead by a police officer after an altercation at his home in Paris. The death of father-of-five Shaoyo Liu in the 19th arrondissement sparked protests in the French capital and an diplomatic intervention from Beijing as family members disputed the official version of events that led to the shooting. As Michaël Hajdenberg reports, the case also highlights how rare it is for police officers who kill citizens to be held in custody even when there are suspicions that they committed a grave mistake.
China has formally complained and called on France to protect its nationals after 56-year-old Liu Shaoyo was shot dead on Sunday night.
President was inaugurating a new stretch of railway in western France when gunfire was heard and a waiter and a worker were slightly wounded.