Family of Cédric Chouviat, who died of asphyxiation, say the manslaughter investigation is too lenient.
Police forces across Europe have carried out hundreds of arrests, seizing cash, drugs and weapons after listening in on an encrypted communications network used by criminal gangs which was cracked by French police in 2017.  
The 24-year old died a year ago after disappearing during a police charge at a Fête de la Musique party in the city in west France.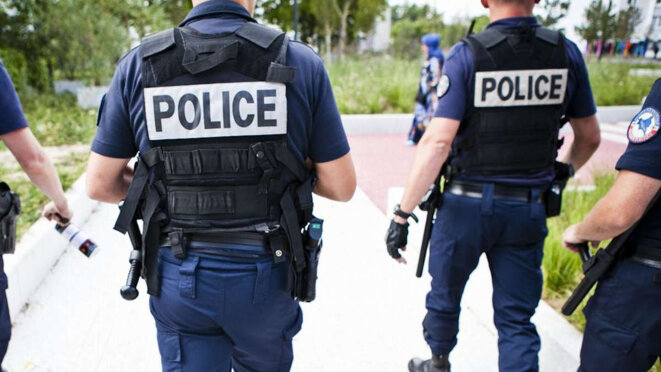 France's national police force: while officals talk of a few 'rotten apples' others see systemic racism. © AFP/Valery Hache
Amid a mounting debate over accusations of systemic racism within France's police force, this joint investigation by Mediapart and ARTE Radio reveals the vile exchanges between police officers on a WhatsApp chat group, in which they talk of "enemies of the white race" and of "niggers", describe women as "whores", Jews as "sons of bitches" who "govern the country", and gay men as "poofs". Camille Polloni reports on a case that came to light only due to the courage of one of their black colleagues and how, five months after his formal complaint, the men were still in their posts.
Protests around France continued on Thursday over alleged racist violence by police, prompted by a campaign by the family of Adama Traoré, a 24-year-old man of Malian origin, for a full investigation into his death in police custody allegedly from asphyxiation, and the outrage over the death in the US of George Floyd, 46, an Afro-American who was suffocated by a police officer during his arrest in Minneapolis.   
The French government's spokeswoman called for calm on Wednesday after violent scenes at a demonstration by around 20,000 people on Tuesday evening against what they claim is a cover-up over the 2016 death of Adama Traoré, 24, who suffocated while he was pinned down by gendarmes during his arrest in July 2016, a case which the protesters likened to the killing in the US of George Floyd.
French interior minister Christophe Castaner has announced that police are to no longer use an highly explosive tear gas grenade until now used in crowd-control situations, notably during the past 12 months of rolling 'yellow vest' demonstrations over social grievances, and which has been one of the arsenal of police weapons that have left many people with serious injuries and amputations.
Prosecutors have opened a preliminary investigation after videos filmed during a 'Yellow Vest' anti-government protest in the French capital on January 18th showed a man with a bloodied head being held down on his back by a helmeted officer, who then strikes him hard in the face.
Public prosecutor Rémy Heitz said that after investigations into 174 incidents, police officers would be sent before the courts by end of the year.
Paris prosecution services have opened an investigation into reported jibes aimed at police by anti-government 'yellow vest' protestors in Paris on Saturday in which they allegedly shouted 'kill yourselves' in a reference to a police union revelation last week that 28 officers have committed suicide since January 1st.
Israeli police interrupted an event at an official French cultural centre in Jerusalem on Thursday, claiming it intended to host an event organized with a women's association 'sponsored or financed by the Palestinian Authority' and 'without authorization'.
Two men sentenced to seven years for the rape of Emily Spanton - who chose to waive her right to anonymity - at Paris police HQ.
A lawyer for Jérôme Rodrigues, a high-profile militant with the 'yellow vest' protest movement who was struck in the right eye when police fired weapons at demonstrators during disturbances in central Paris on Saturday, said his client has been left permanently disabled by a police rubber bullet, in the latest case of dozens of life-changing injuries recorded among demonstrators in recent weeks.  
French interior minister Christophe Castaner has announced that French police on crowd control operations are to use body cameras to record the circumstances of their use of weapons, notably rubber bullets, following an increasing toll of serious injuries caused by the bullets and stun grenades during the ongoing 'yellow vest' street protests over falling living standards for low- and middle-income earners.