Related keywords
French interior minister Gérald Darmanin told a parliamentary committee that when he hears talk of police violence 'I choke', causing widespread outrage and notably among the family of a man who died earlier this year after police arrested him using a suffocating stranglehold.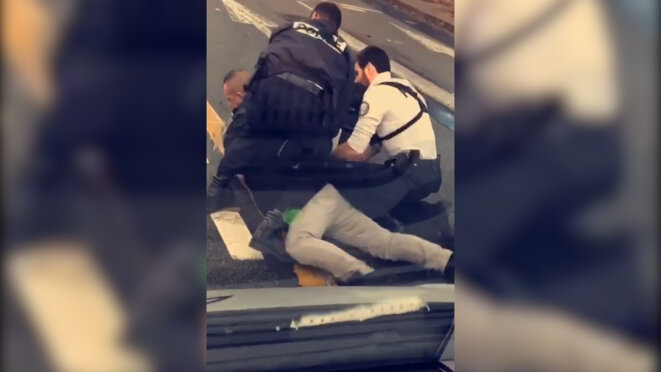 Cédric Chouviat, still with his helmet on, held on the ground by three police officers in Paris on January 3rd 2020. © Document Mediapart
Cédric Chouviat, aged 42, died after being arrested and held on the ground by police officers on January 3rd 2020 following a routine roadside check near the Eiffel Tower in Paris. The latest evidence in the investigation, which has seen by Mediapart and newspaper Libération, reveals not only the responsibility of the four arresting officers in the deliveryman's death, but also that of their colleagues and superior officers who became involved after the arrest. Pascale Pascariello reports.
A procession of around 15,000 people, according to official estimates, marched through central Paris on Saturday, along with several thousand in other cities and towns across France, protesting racism and police violence in the country and highliting the case of a black man who died in strikingly similar circumstances to Afro-American George Floyd in Minneapolis last month.
Olivier Marchal, who served more than ten years as a policeman before becoming a film and television director, railed at those in his own industry who offered opinions about the fierce current national debate over police violence and racism.
Tom Ciotkowski, a council worker from Stratford-upon-Avon in the UK, was violently arrested while filming riot police preventing humanitarian volunteers from distributing food to refugees in the northern French town of Calais in July 2018.
French interior minister Christophe Castaner said the case of Gabriel Djordjevic, 14, who sustained a fracture to his eye socket and four broken teeth after he claimed he was kicked by a police officer, was 'troubling'.
As protest demonstrations were again held around the world on Saturday in a gathering momentum following the death in the US of George Floyd, a black man suffoctaed by a Minneapolis police officer, thousands of people joined marches across French cities to highlight cases of police violence, including in Paris where two banned rallies blocked the centre of the capital.
This week has been marked by numerous demonstrations, both in the US and across the globe, in protest at police violence following the killing of George Floyd, the 46-year-old Afro-American who was suffocated to death by an officer in Minneapolis. In this op-ed article, Mediapart publishing editor Edwy Plenel argues why, when the police is gangrened by racism, it is because the powers in place, a ruling class and its elites, hold a silent hate of democracy, the people and equality – and that this applies as much to France as it does to the United States.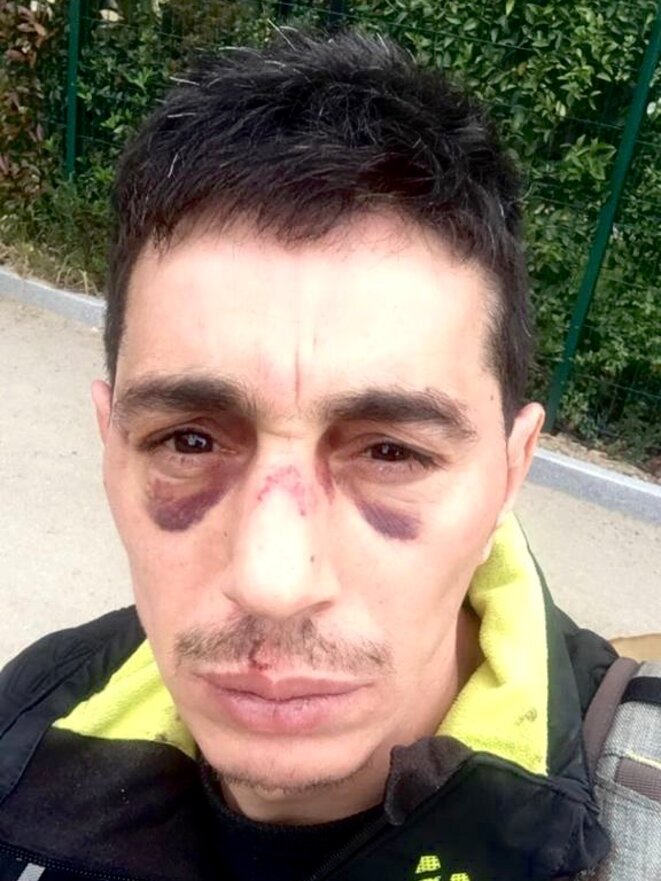 Mehdi Medjaheb, five days after his arrest.
Mehdi Medjahed has lived in France for 13 years, is a qualified fire safety security guard and is one of those "front line" heroes praised by French president Emmanuel Macron for working during the coronavirus epidemic. Yet when the 36-year-old was stopped by police and questioned over his immigration status, the situation not only developed into a violent confrontation, he was arrested, placed in custody and then a detention centre, and now finds himself the subject of a deportation order. Olivier Bertrand reports.
In common with other parts of the country, the potentially volatile La Reynerie district of the south-west city of Toulouse has seen flare-ups of violence since the start of the coronavirus lockdown in France on March 17th. On the ground, a combination of collectives, residents and associations have been trying to foster a sense of solidarity and set up support networks without waiting for a response from the city authorities who are only belatedly now trying to introduce measures to reduce local tensions. Emmanuel Riondé reports from Toulouse.
Tear gas and batons were used by police officers in the northern Paris suburb of Villeneuve-la-Garenne after a number of police vehicles and bins were set on fire.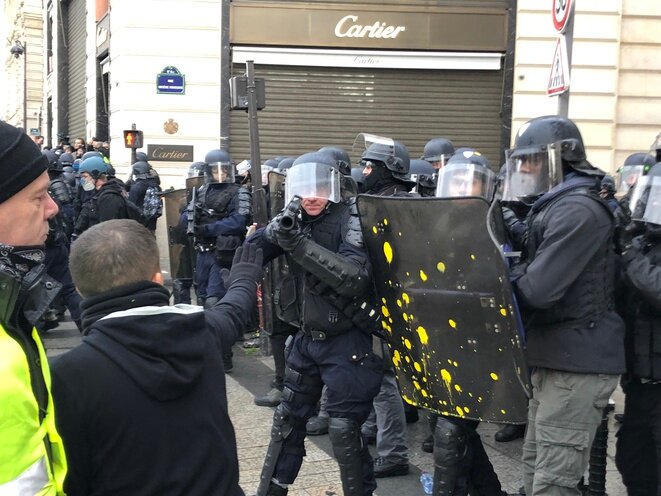 A police officer takes aim with a rubber bullet weapon during a 'yellow vest' protest in Paris, December 8th 2018. © Karl Laske
Visiting Poland this week, French President Emmanuel Macron slammed the country's government over its moves to take control of the judiciary, denouncing a "negation of European political principles". In a tit-for-tat move, Polish members of the European Parliament launched a petition denouncing French police violence in recent demonstrations as "unjustified brutality against protestors exercising their civil rights". The row has escalated through the week, and returned the spotlight to crowd policing methods in France, already the subject of outspoken concern from international bodies, and which over the past year have left hundreds injured, many seriously. Ellen Salvi reports.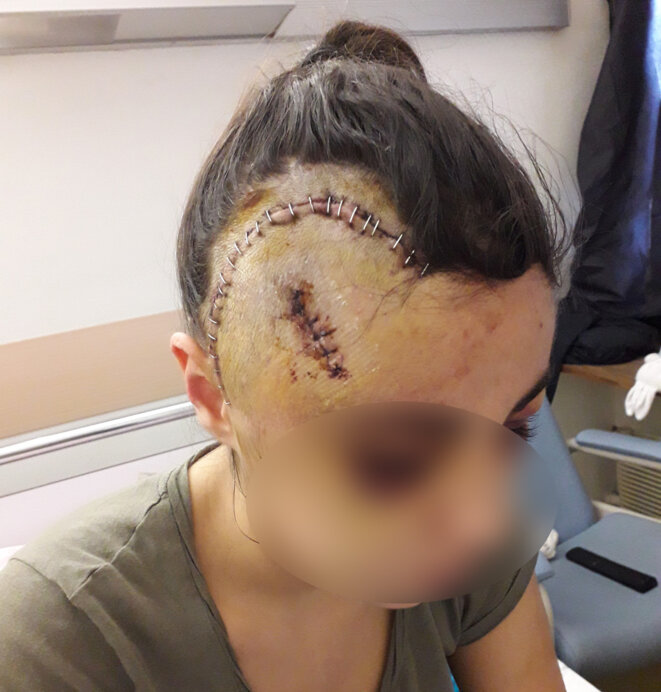 Maria, aged, 19, five days after she was attacked by police officers in Marseille on December 8th 2018. © DR
Earlier this year Mediapart reported how a 19-year-old woman had her skull fractured by police in Marseille, southern France, as she lay on the ground during a day of demonstrations. The same investigation has now revealed the existence of a new hybrid police unit that was created to take on the so-called 'gilets jaunes' or 'yellow vest' protestors in France. These officers were not trained in public order policing yet the initiative was backed by a memo from the Ministry of the Interior and superior officers who considered that in a time of "war" anything and everything is permissible. Pascale Pascariello reports.
Court hearing comes days after first anniversary of anti-government rallies, which were marked by clashes with police in Paris last Saturday.