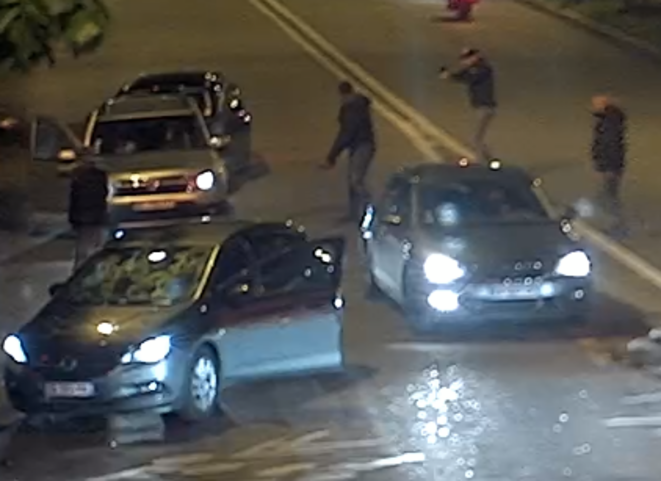 CCTV images captured the illegal arrests of six innocent young men in April 2019, and the moment one officer fired at their vehicle (full video in the article page).
As incidents of police violence and the failure of the authorities to effectively address the issue continue to occupy public debate in France, Mediapart reveals here, with video footage, the violent and illegal arrests in Paris of six innocent young men by gun-wielding officers, one of whom fired bullets into their car. In what has all the appearance of a cover-up, not only was one of the six victims sent for trial for violence, but the officer who shot at him without any justification is still on duty because, the police administration claimed, prosecutors concluded he acted in self-defence. Which is untrue. Pascale Pascariello and Armel Baudet report.
The measure known as 'Article 24', which is part of a "global security" law, would make it an offence to film and identify police officers online if there is intent to harm.
The four officers are reported to have been placed under formal investigation in connection with the beating of music producer Michel Zecler.
Official estimates reported a nationwide turnout of more than 130,000 people, including 46,000 in Paris, in demonstrations against draft legislation to introduce heightened security powers, including restricting the dissemniation of images of on-duty police officers, and in protest over police violence after shocking events this past week involving assaults by officers.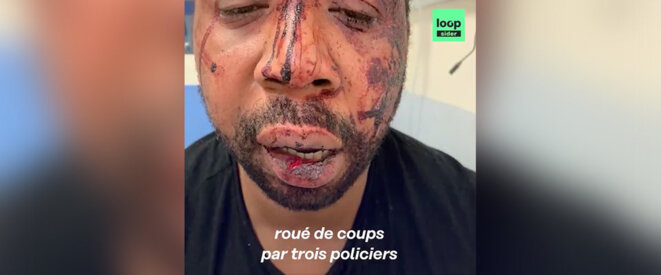 An image of Michel Zecler following the assault by three French police officers in Paris on November 21st. © Loopsider
There has been widespread outrage in France after video footage emerged of three police officers apparently gratuitously beating a black music producer in Paris, who was left with serious injuries from punches, kicks, baton blows and the explosion of a tear gas grenade in his studio last weekend. François Bonnet argues here that the events highlight how interior minister Gérald Darmanin has made a policy of flattering the most extremist fringes of the police, creating disorder amid heightened police violence. It is high time, he writes, for Darmanin to go.
Three police officers were suspended on Thursday after they were filmed by CCTV cameras following a black man from a north Paris street into his studio, where they can be seen punching him and beating him with a truncheon and, according to their victim, using racist language before then arresting him.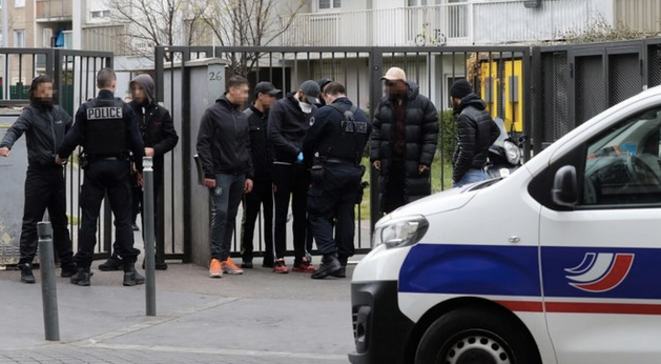 Officers from the CSI 93 police unit at Saint-Ouen north of Paris on April 2nd 2020 . © Ludovic Marin / AFP
A suspect detained by a group of French police officers north of Paris was kicked in the head, tasered and had excrement smeared on his jacket even though he was restrained at the time. Mediapart is publishing extracts from a report by the police watchdog which showed the scale of the violence meted out by the officers as well as the efforts they made to cover up their acts. Yet as Pascale Pascariello reports, only one of the five officers involved is due to face the courts over their actions.
French interior minister Gérald Darmanin told a parliamentary committee that when he hears talk of police violence 'I choke', causing widespread outrage and notably among the family of a man who died earlier this year after police arrested him using a suffocating stranglehold.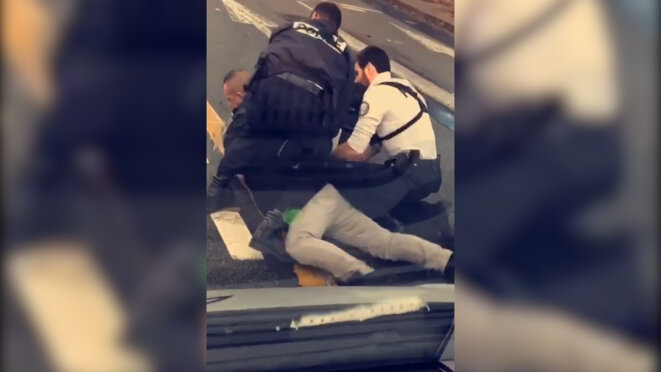 Cédric Chouviat, still with his helmet on, held on the ground by three police officers in Paris on January 3rd 2020. © Document Mediapart
Cédric Chouviat, aged 42, died after being arrested and held on the ground by police officers on January 3rd 2020 following a routine roadside check near the Eiffel Tower in Paris. The latest evidence in the investigation, which has been seen by Mediapart and newspaper Libération, reveals not only the responsibility of the four arresting officers in the deliveryman's death, but also that of their colleagues and superior officers who became involved after the arrest. Pascale Pascariello reports.
A procession of around 15,000 people, according to official estimates, marched through central Paris on Saturday, along with several thousand in other cities and towns across France, protesting racism and police violence in the country and highliting the case of a black man who died in strikingly similar circumstances to Afro-American George Floyd in Minneapolis last month.
Olivier Marchal, who served more than ten years as a policeman before becoming a film and television director, railed at those in his own industry who offered opinions about the fierce current national debate over police violence and racism.
Tom Ciotkowski, a council worker from Stratford-upon-Avon in the UK, was violently arrested while filming riot police preventing humanitarian volunteers from distributing food to refugees in the northern French town of Calais in July 2018.
French interior minister Christophe Castaner said the case of Gabriel Djordjevic, 14, who sustained a fracture to his eye socket and four broken teeth after he claimed he was kicked by a police officer, was 'troubling'.
As protest demonstrations were again held around the world on Saturday in a gathering momentum following the death in the US of George Floyd, a black man suffoctaed by a Minneapolis police officer, thousands of people joined marches across French cities to highlight cases of police violence, including in Paris where two banned rallies blocked the centre of the capital.