Several tonnes of dead fish were reported in the Aisne river in north-east France close to a Nestlé factory.
The EU Court of Justice said France had 'systematically and persistently' exceeded annual threshold for nitrogen dioxide since January 1st 2010.
An Italian-owned cargo ship carrying thousands of vehicles from Germany to Morocco when it caught fire and sank about 260 kilometres off France's Atlantic Coast on Tuesday, was also transporting 45 containers of "dangerous materials", French regional maritime authorities have confirmed.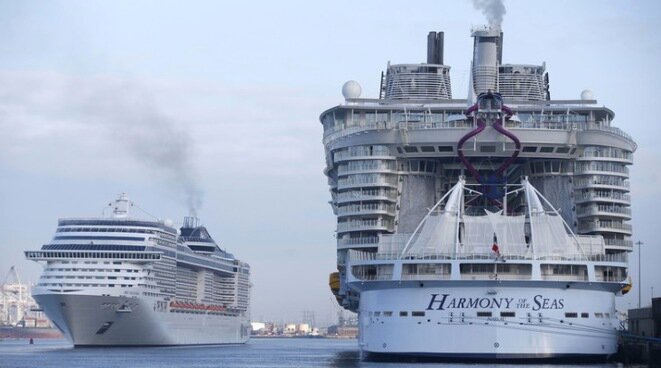 The fast-expanding cruise ship fleets are forecast to carry 17.2 million passengers worldwide in 2018. © Reuters
The expanding cruise ship industry estimates more than 27 million people worldwide will this year holiday on the giant vessels, some of which are longer than an aircraft carrier, often dwarfing the landscapes of the ports they dock in. Environmentalists warn that they also leave behind them a noxious blend of particulates and gases that represent a serious health risk to the populations of the locations they visit, the tip of the iceberg of the problem of pollution caused by maritime traffic. Dorothée Moisan reports on the dirty side of sea travel.
Paris City Hall said it is working towards a ban on petrol-powered vehicles in the capital by 2030, following its recent announcement of a similar ban on diesel-driven vehicles by 2024, in a drive to reduce chronic air pollution.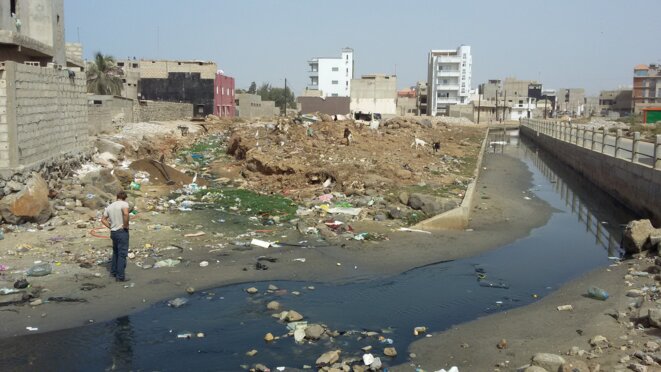 The Ngor Canal in Dakar flows into Soumbédioune Bay on the Atlantic coast. © DR
Despite the poor quality of its water, the Senegalese coast remains a popular destination. But the planned construction of a local desalination plant on the shores of the West African nation next year has roused opposition from locals who believe the project will do long-term damage to the environment. Fabien Offner reports from the capital Dakar.
Environment minister wants financial inducement to switch to a less polluting vehicle to be available to all owners of older cars from 2018.
French weather service issues a heatwave alert in 66 counties, warning people to avoid going out during the hottest hours of the day.
Clotilde Nonnez, a 56-year-old yoga teacher who has lived in Paris  for 30 years, claims that she suffers numerous health problems, ranging from chronic asthma to pneumonia, because of the French state's failure to contain pollution in the capital.
A new windscreen sticker scheme called Crit'Air which all vehicles must display and which grades them according to age and fuel type was introduced for the first time in a temporary ban of most-polluting categories from the French capital which is witnessing a particularly high level of pollution this week. 
The extreme levels of air pollution in the capital, exacerbated by many days of dry weather and little wind, have prompted a partial vehicle ban, free parking on public roads and free use of the city's public transport system.
The Sunday car ban covered larger part of the city than last year's event, closing off more than 400 miles of roads in fight against air pollution.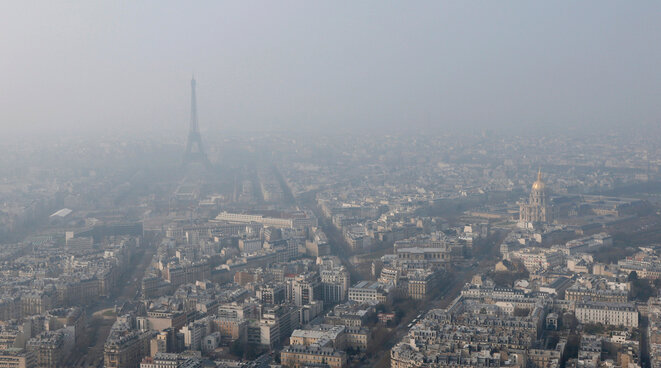 Pollution cloud over Paris, March 2015. © Reuters
Every year in France, atmospheric pollution causes the deaths of an estimated 48,000 people and annually costs the country's economy more than 100 billion euros. The authorities in Paris, where pollution has reached record peaks in recent years, this month introduced a programme to restrict access to the capital by most-polluting vehicles and incentives for inhabitants to give up ownership of cars. But, as Laurent Geslin reports, the plan has been attacked as discriminating for lower-income groups of the population amid wide disagreement between government, city authorities and political parties on how to tackle a growing health crisis.
The anti-pollution move concerns Monday to Friday daytime access and will become an outright ban in 2020, when access for pre-2011 cars will be restricted.