French Roman Catholic cardinal Philippe Barbarin, the archbishop of Lyon, who has appealed his conviction this month for failing to report allegations of abuse of boy scouts committed by a priest, said on Tuesday that Pope Francis has refused his offer to resign his post.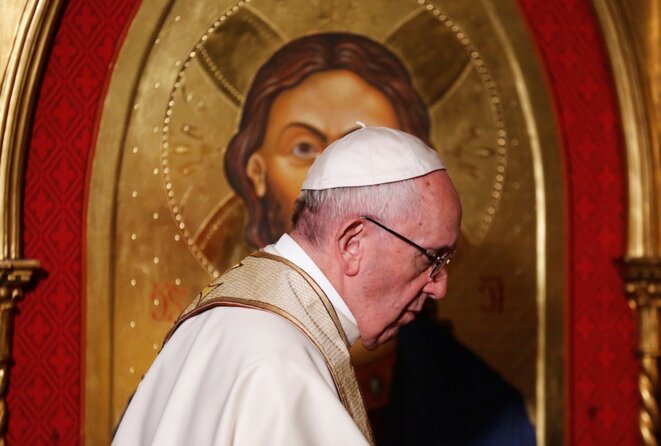 Argentine-born Pope Francis.
In 2010 when he was still Archbishop of Buenos Aires, Pope Francis commissioned a report that sought to exonerate a prominent priest who had been convicted of paedophilia. Now for the first time an Argentine judge has told Mediapart and TV documentary  Cash Investigation that a direct attempt was made by the church to influence his views ahead of the priest's appeal hearing. Martin Boudot, Daphné Gastaldi, Mathieu Martinière, Mathieu Périsse and Antton Rouget report.
An 'angry' Najat Vallaud-Belkacem said Pope had been 'fooled' if he thought French pupils are being taught that 'one can change one's sex'.
Archbishop of Rouen reveals that Pope Francis has waived the usual five-year delay before sainthood process for Father Hamel can begin.
The French president flew to Rome for a private audience with the head of the Catholic Church three weeks after terrorists murdered a priest in Normandy.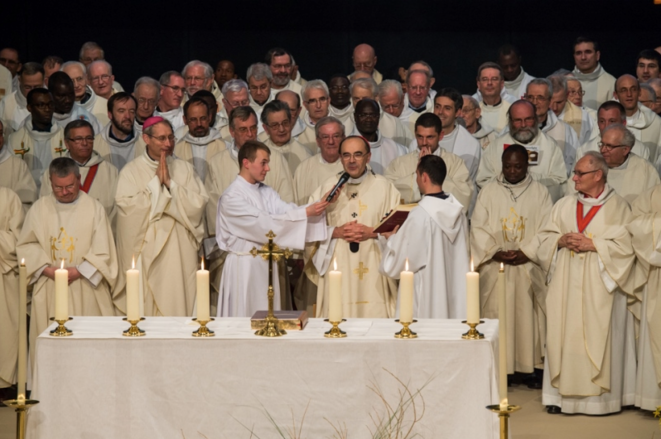 The priest involved in the scandal, Father Bernard Preynat, on far right in second row, at a church ceremony in Lyon in April 2015. © lyon.catholique.fr
In recent weeks a paedophilia scandal has engulfed the diocese of Lyon in eastern France. A Catholic priest is said to have abused dozens of boy scouts who were in his care, while the cardinal at the head of the diocese has been forced to deny covering up the affair. The scandal came to light largely thanks to the work of a group of victims who joined together and set up an association to break the silence surrounding the abuse. In the space of just three months this group has brought to light not just the scandal in Lyon, but has also unearthed other potential affairs. Daphné Gastaldi, Mathieu Martinière and Mathieu Périsse report.
Louis and Marie-Zélie Guérin Martin, were the parents of venerated 19th-century Saint Thérèse of Lisieux.
Convicted SocGen trader, returning after a long trek to Rome, has been ordered to attend a French police station where he is set to be jailed.
A small bomb exploded in central Rome near a French foundation and cultural building just hours before the French president's visit to the Vatican.