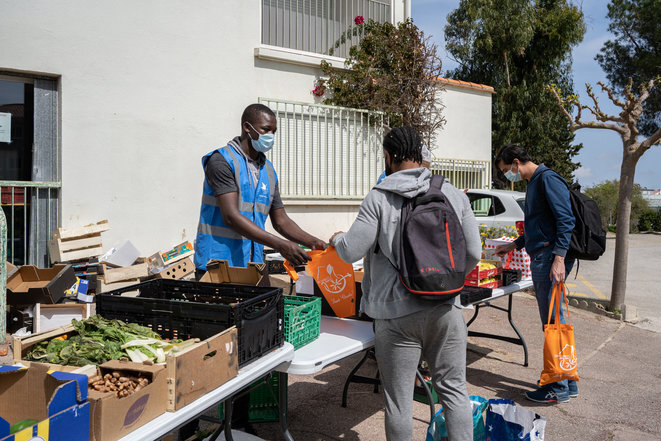 A food distribution point for university students in Perpignan, southern France. © Jeanne Mercier/Hans Lucas/Hans Lucas via AFP
The social repercussions of the Covid-19 crisis have deepened the conditions of poverty in which around 9 million people in France were already living before its onset, and has tipped a significant number of others below the poverty line, according to a study commissioned by the French government. Published this week, it warns of a 'timebomb' of pauperisation from the cumulative effects of the crisis which will endure even after a rebound in economic activity. Faïza Zerouala reports.
Call to address severe poverty and illegal immigration on the Indian Ocean island, ten years after it officially became the 101st department of France. 
Souleymane Bachir Diagne, a philosopher from Senegal who is currently living and working in the United States, has spoken out about the current global health crisis and the inequalities and prejudice that it has revealed and the outdated thinking it has exposed about Africa. In an interview with Mediapart's Rachida El Azzouzi the academic discusses why so many observers still only discuss the continent through the prism of disease and disaster. Souleymane Bachir Diagne explains that despite many of them having a colonial past, developed countries of the North do not really know modern Africa and the progress it has made in recent decades. He calls on African countries and people to proclaim their achievements to the rest of the world, and talks of the need to 'decolonise' our minds.
Charitable organisations traditionally providing emergency food centres report a new category of the needy under France's lockdown, and who are typically those involved in undeclared or part-time work and made redundant by the economic paralysis without any hope of finnacial support.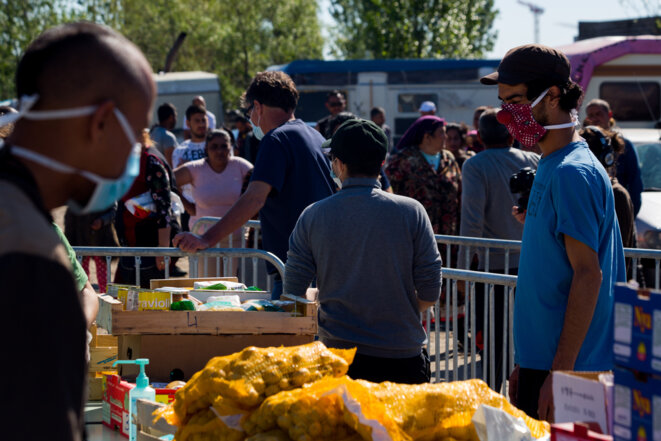 Volunteers hand out food at Bordeaux in south-west France on April 10th 2020. © Hans Lucas via AFP
Families who usually rely on casual work to make ends meet have been unable to earn money since the lockdown began in France on March 17th. As a result their children are starting to go hungry. On May 15th the French state will pay "emergency aid" of an extra 150 euros to families who already receive welfare benefits. But voluntary groups say this is not soon enough and that help is needed now. To fill the gap left by the state, local support groups have meanwhile been springing up across the country, in some cases led by teachers. Faïza Zerouala reports.
For the third day running, French university students continued to mount protests on Wednesday over poor living conditions, prompted by the self-immolation of a student in Lyon who had cited his financial problems as the reason for his act.
According to estimations published this month by France's national institute of statistics and economic studies, INSEE, social inequalities in the country rose to a higher level in 2018 than at any time since 2011 while, in parallel, the numbers of those in poverty also increased. Mediapart's economics correspondent Romaric Godin analyses the gloomy figures and concludes that they are the direct result of the economic and budgetary policies of President Emmanuel Macron's government.
French President Emmanuel Macron, whose reform policies, notably tax breaks for the wealthy and public spending cuts, have earned him the nickname by opponents of 'president of the rich', on Thursday unveiled a drive to reduce poverty in France, which affects an estimated 14% of the population, costed at 8 billion euros over four years.
A report released this month by an independent research body on social exclusion calculates that up to one million more people in France fell below the poverty line between 2005 and 2015. While the financial and economic crisis is largely responsible, the slight recovery of growth has had little, if any, effect on easing the numbers of poor, one third of who are children. Laurent Mauduit analyses the data.
In 2012 the Left attracted its biggest shares of votes in the presidential election from the poorest sectors of society. But after François Hollande's presidency that support has dwindled. In the regional elections in 2015 this electorate turned instead towards the far-right Front National, headed by Marine Le Pen. The signs are that large numbers of France's poorest voters will also back Le Pen in the first round of the presidential election in April. Academic and Front National specialist Nonna Mayer analyses the figures.
In its latest study on household income and capital, France's statistical agency INSEE notes that the median standard of living in France fell by 1.1% between 2008 and 2013, a drop not seen since records began in 1996. For the 10% worst-off families the fall was even greater, with their income falling by 3.5%. The agency writes of an "unprecedented worsening of poverty in France". Laurent Mauduit reports.
Almost a third of the 60,000 population of Vénissieux, close to France's second-largest city Lyon, in south-east France, live under the poverty line. Every year, its mayor, Michèle Picard, signs municipal decrees to prevent the ordered evictions of dozens of families from their homes, and the cutting off of water and energy supplies to hundreds of others. The decrees are just as regularly challenged in court by the local state authorities of the prefecture, which habitually find favour from the presiding magistrates. This week Picard was back in court to defend her case, just as a new series of evictions get underway. Michaël Hajdenberg reports.
The charity Oxfam recently sounded the alarm about an explosion in wealth inequality across the world. Academic Patrick Savidan says that France, which once resisted this trend, is now in the same boat as other developed nations as the gap between wealthiest and poorest grows wider. Savidan, who co-founded a commission to monitor inequality, explains in an interview with Mediapart's Dan Israel that while the rich have long been getting richer in France, the latest development is that the poor are now getting poorer too.
On Monday July 7th the French government began the third of its so-called 'social conferences' in which employer and worker representatives debate plans to tackle the country's social and economic problems. At stake this time is President François Hollande's much-vaunted but controversial 'Responsibility Pact' aimed at giving a 40-billion-euro incentive to the country's bosses to hire staff and thus cut the jobless total. Here Mediapart looks at the main economic and social indicators which all illustrate the challenges faced by the government; rising unemployment, growing poverty and financial hardship, and the destruction of industrial jobs. Yannick Sanchez and Thomas Saint-Cricq report.