According to many financial experts, last year marked a turning point in which the world finally began to put the financial crisis behind it. But if 2013 was the year when stock and property markets recovered to pre-crisis levels, it was also a period when the gap between the super rich and everyone else widened to levels not seen for practically a century. In the United States, as much as half of national income went to the very rich, a concentration of wealth last seen in 1917. In Europe poverty has made a comeback, and the most disadvantaged are scrambling to feed themselves and their families. Martine Orange reports.
A discount bakery has opened in southern France which only sells day-old leftovers - a novelty for a country which prides itself on freshness.
This week a major national conference has been taking place to highlight the crippling level of poverty on France, which affects around 8.6 million people. Ministers, officials, trade unions representatives and workers from local voluntary associates have been meeting to thrash out a plan of action. Mediapart's Rachida El Azzouzi travelled to Calais in north-west France to see the reality of poverty at first hand. In one area of the town she found that all that is handed down from generation to generation is poverty and unemployment.
President Hollande to call for a single programme for tackling poverty and promoting sustainable development at this week's Rio+20 Earth summit.
Until now, slumlords operating in the poor suburban neighbourhoods surrounding Paris have notoriously escaped legal action through a combination of inertia on the part of local authorities, the fear and lack of alternative accommodation on the part of tenants, and the phantom-like existence of these cash-paid proprietors. But two suburban town halls, in Clichy-sous-Bois and Gennevilliers, have now undertaken a vigorous combat against slum property owners, and are succeeding in bringing them to court. Ellen Salvi reports on a case heard earlier this month, and which reveals a tale of desperate squalor and exploitation that is the daily predicament of thousands living around the capital.
French NGO Médecins du Monde (MdM), which provides healthcare to the needy across the globe, originally opened its clinic in Athens to provide help for destitute immigrants and asylum seekers. But now the debt crisis has changed all that. Suddenly, its free-of-charges medical centre has seen a dramatic influx of Greek patients, who include public sector workers, former small business owners, young mothers, the elderly and rising numbers of the homeless, all unable to pay standard medical fees. "Some are so ashamed that they speak in English to pass off as migrants," explains Christina Samartzi, head of MdM's programme in Greece, in this interview with Carine Fouteau. "They are desperate, without hope," adds Samartzi, "they think that things are only going to get worse."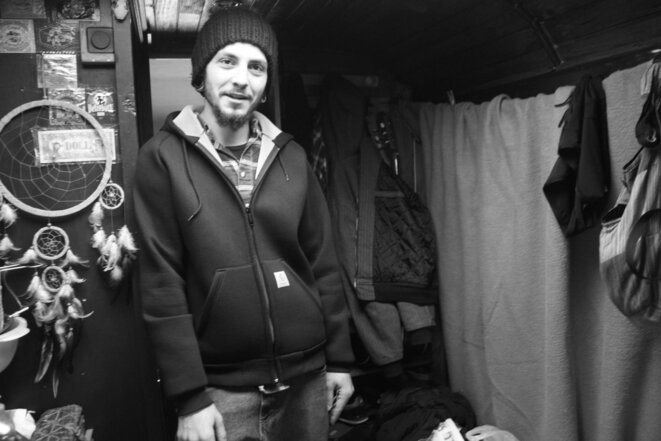 "Habiter un camion et travailler, c'est une bonne solution pour vivre en France" © E. Berthaud.
A quarter of a million people in France are homeless, or live in precarious living conditions according to a report published this month by the French National Institute of Statistics and Economic Studies, while another 2.9 million live in "uncomfortable" accomodation. Mediapart's Elodie Berthaud has travelled France meeting with students, tradesmen, unemployed and seasonal workers who have reached the last rung of the social ladder.