Keyword: Presidential election
The resignation of economy minister Emmanuel Macron from François Hollande's government on Tuesday to further his own electoral aspirations has dealt what looks like a fatal blow to the French president's already dwindling hopes ahead of next year's presidential election. But as Mediapart's editor François Bonnet argues, it also illustrates how an entire political system, that of France's Fifth Republic, is coming to an end.
Traditionally, incumbent French presidents do not take part in primary elections when standing for re-election and are simply anointed as their party's natural candidate. And up to now France's socialist president François Hollande has insisted he saw no need for such a contest on the Left ahead of next year's presidential election. However, out of the blue the Socialist Party has just announced plans for a primary election in January 2017 in which Hollande will take part. Hubert Huertas considers whether the surprise move will give Hollande's dwindling re-election prospects new hope - or will simply finish off his chances altogether.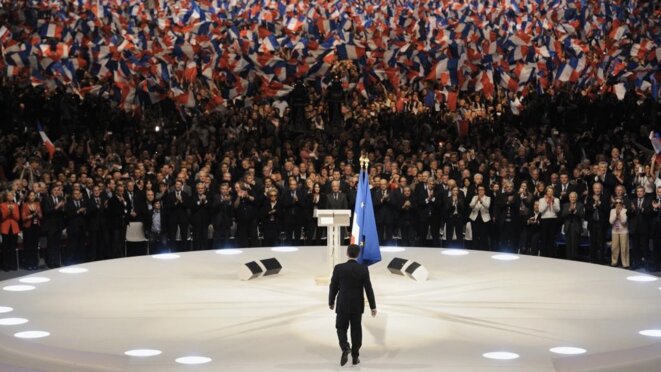 Nicolas Sarkozy's 2012 election campaign spent nearly 46 million euros. © Reuters
An expert report has revealed for the first time the full extent of the massive overspend by Nicolas Sarkozy's failed election campaign in 2012. The document, seen by Mediapart, shows that the former president's campaign spent a total of nearly 46 million euros – double the fixed ceiling for a presidential candidate. The overspend includes a 'forgotten' 8.2 million euros whose existence only came to light late in 2015. Mathilde Mathieu reports.
The French Socilaist Party primary process that now pits François Hollande against Martine Aubry reaches the second round, final vote on Sunday.
The French presidential elections are now less than a year away, and official campaigning will begin in earnest this autumn. A slightly tongue-in-cheek Antoine Perraud, proving that a journalist is never at rest even while travelling the Paris Metro, sees a message behind the station ads that points to the tone of the political debate ahead.