Keyword: presidential elections
Related keywords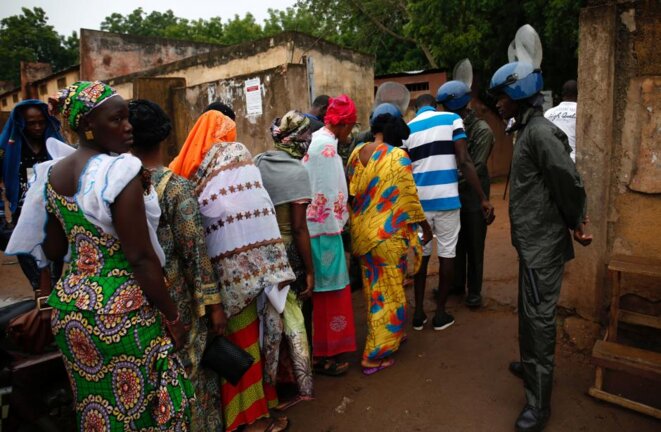 Security checks as voters line up in Mali's capital Bamako on Sunday. © Reuters
The first round of presidential elections was held last Sunday in Mali, the former French colony in West Africa which has become a key centre of the battle, led by France, against jihadist groups operating in the Sahel. Outgoing president Ibrahim Boubacar Keita, 73, hoping for re-election, is roundly attacked by his rivals for having failed to bring security to the country, despite France's military intervention against jihadists in 2013 and the continued presence of thousands of UN peacekeepers. In this analysis of the enduring instability in Mali, Rémi Carayol details how it was fuelled by the toppling of the Gaddafi regime in Libya.
François Hollande, who has been outspoken in his criticism of Donlad Trump during the US presidential election campaign, said the billionaire's victory 'opens a period of uncertainty' in the world.
The former socialist economy minister who left government after criticising austerity policies said François Hollande's presidency left 'a feeling of waste'.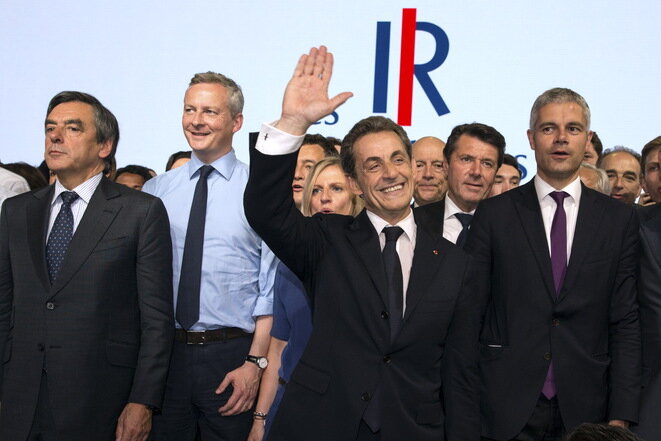 Best of enemies: the Republican candidates © Philippe Wojazer - Reuters
France's conservative opposition party, Les Républicains, is gearing up for its primary elections in November. These will decide who will be the party's candidate in presidential elections to held in May next year. There are 12 declared runners for the party's nomination, with widely varying chances of success, and one notable as-yet undeclared candidate, Nicolas Sarkozy, but who is certain to join the race. Aurélie Delmas looks at the policy propositions from the front runners, who all promise an undiluted dose of neoliberalism, spelling attacks on public sector workers, the middle classes and those who depend on welfare benefits.
Arnaud Montebourg, 53, who lost his ministerial post for outspoken anti-austerity criticism of socialist government, has announced his return to political fray.
Nicolas Sarkozy's hopes of returning to the Elysée suffered a potential blow on Tuesday when France's top court approved the use of telephone taps that led to the former president being formally investigated for "corruption" and "influence peddling". The decision by the Cour de Cassation to reject Sarkozy's appeal means that he could soon face charges and be sent for trial over the allegations, which concern his alleged attempts to obtain confidential information about another legal affair that involved him. Though he has not formally announced his candidacy for the Right's autumn primary ahead of the 2017 presidential election, it is widely expected that Sarkozy will stand. But the electoral road is likely to be tougher for Sarkozy if he is facing a trial on corruption charges. Michel Deléan reports.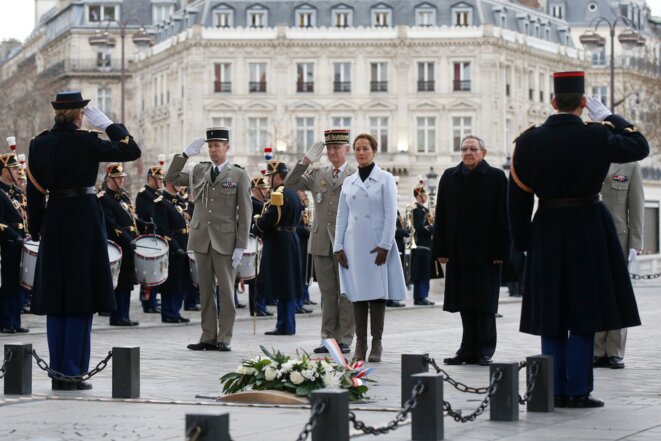 Ségolène Royal with Cuban President Raul Castro at a ceremony in front of the Arc de Triomphe in Paris, February 1st. © Reuters
Ségolène Royal has led an up and down political career over three decades. After serving three ministerial posts and three terms as an MP, she lost, as socialist candidate, the 2007 presidential elections to Nicolas Sarkozy, narrowly lost her 2008 bid to become Socialist Party leader, was humiliated in the 2011 socialist primaries, and lost in legislative elections in 2012. But, retaining a power base as a local council leader in mid-west France, the 63-year-old former wife of President François Hollande is now back in the stable of power. Made environment minister in 2014, her ministry emerged from this month's government reshuffle with added powers, including her role as president of post-COP 21 UN climate talks. But she is also regarded as a key figure for Hollande's hopes of re-election in 2017. Mathieu Magnaudeix reports.
Conservative presidential election rivals did not attend the opposition party leader's keynote speech at the end of weekend policy meeting.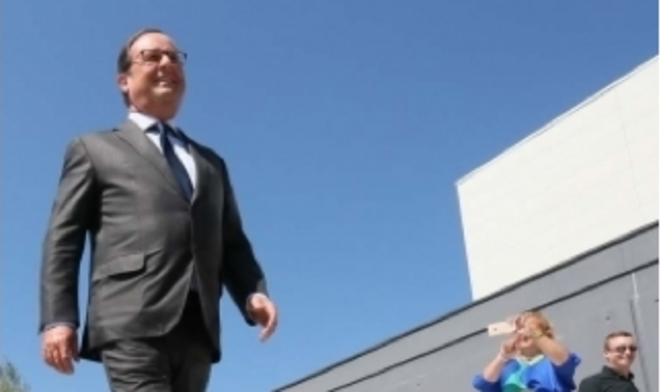 Hollande le 20 août.
While many of his opponents and rivals have begun losing ground, frought by party infighting, the horizon towards a re-election as French president in 2017 is now clearing for François Hollande. In a remarkable turnaround from the calamitous situation just 12 months ago, a drubbing for the long-unpopular president is no longer certain, and a new term in office has become plausible, even a certainty for some of his entourage. But, Mediapart editor François Bonnet argues here, that is to underestimate the political boomerang that represents the profound social crisis in France that marks his presidency, and the unprecedented and developing European crises he has failed to address.
Strauss-Kahn came second in poll out of a group of Socialist Party figures regarded as potential candidates for France's 2017 election.
Former French president Nicolas Sarkozy appeared in a television interview on Sunday in his first public appearance since announcing his bid to become head of the conservative opposition UMP party, in a move to return as the party's candidate in presidential elections due in 2017. Apart from his predictably harsh attack on President François Hollande's record in office, Sarkozy on Sunday made a clear attempt to soften his image, not least among his own ranks, as an abrasive and self-centred figure, admitting to past "errors", including the belief that "one can succeed alone". For after his defeat in 2012, a number of members of his former government rounded on Sarkozy as being, variously, "impulsive", "narcissistic", "cut off from reality", and "obsessed by money". Ellen Salvi reports on the less-than-flattering appreciations of Sarkozy by those who knew him well, and the surprising turning of coats since his return to the fray.   
Jean-Marc Ayrault was commenting on Mali's first presidential elections since France chased Islamist groups from their occupation of the country.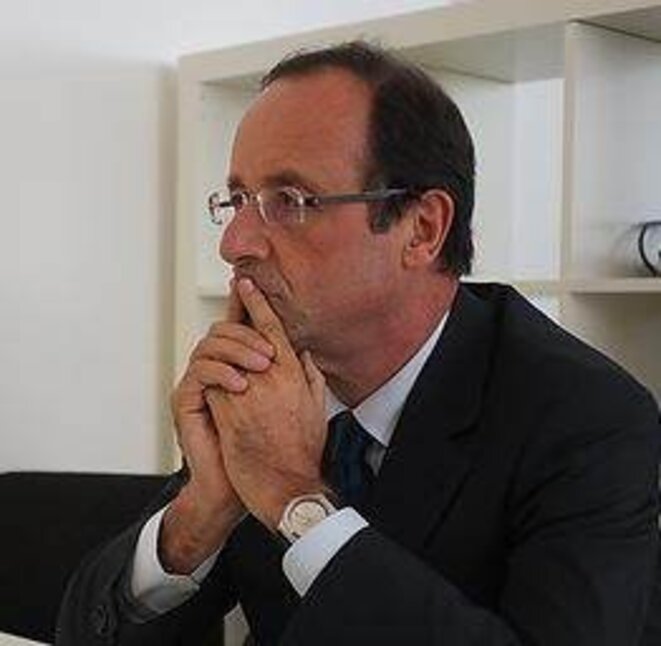 © TC/MP
With 100 days to go before the first round of the French presidential elections, Socialist Party candidate François Hollande (pictured) is still baffling observers and rivals alike. In the wings for over a year now, Hollande has pulled off a tour de force by imposing his slow tempo on the political debate, displaying a singular virtuosity in the art of fuzziness. Stéphane Alliès takes a closer look at the strategy of the man who hopes to become France's first socialist president since 1995.
As France approaches presidential elections, held over two rounds in April and May, both the mainstream Left and Right are threatened with a significant desertion of their core electorate among the country's low- and middle-income earners, struggling to survive the devastating effects of the economic crisis and revolted by a series of major scandals among the political elites. Rachida el Azzouzi and Mathieu Magnaudeix report from Crepoil and La Ferté-sous-Jouarre, two dormitory communities just east of Paris, where hope in the future has turned to rage against broken promises.