Related keywords
François Ozon's film Grace a Dieu (By the Grace of God), which tells the real-life story of how Catholic priest Bernard Preynat sexually abused young scouts the 1980s and early 1990s, opened in French cinema theatres on Wednesday after a Paris court ruled against a last-minute attempt by Preynat, who has yet to be tried, to halt its distribution, and also against a demand by a psychologist and member of the Lyon diocese that her name should be removed.  
Footage shows 89-year-old priest ordering the infant he is holding at a baptism to 'be quiet' before sharply slapping his cheek.
Parishioners gathered for ceremony reopening church in northern France where Father Hamel was killed by teenage jihadists two months ago.
Guy Coponet, forced by killers to film murder of Father Jacques Hamel in church at Saint-Etienne-du-Rouvray, says: 'I can't get over it.'
French interior minister was among mourners for Normandy priest who had his throat cut when two jihadists stormed his church during Mass.
Cardinal Barbarin had been accused of failing to remove a priest when he became aware he had sexually abused young boys 25 years ago.
Answering a call by religious leaders for the display of solidarity after the killing of a priest by Islamist teenagers, groups of Muslims joined Sunday Mass ceremonies.
A copy of the passport of the unidentified man was found at the home of Adel Kermiche, one of two men who murdered a priest in Normandy on Tuesday.
Adel Kermiche, 19, used encrypted messaging service Telegram to tell fellow jihadists 'You take a knife, you go to a church, you make carnage'.
Adel Kermiche, one of two men who attacked a church in Normandy on Tuesday morning and committed the horrific murder of an 86-year-old Catholic priest in the name of the Islamic State group, was at the time on conditional release from preventive detention. The revelation that he was wearing an electronic tag with permission to leave his home near to the church on weekday mornings has caused a storm of controversy in France, and fierce criticism of the judges who decided his release from prison in March, despite the objections of the public prosecutor's office. Mathilde Goanec hears from fellow magistrates of what they describe as a fine line in assessing the true danger individuals like Kermiche represent.
Man who carried out attack on church with Adel Kermiche is identified by DNA as Abdel Malik Petitjean, 19, and who was known to security services.
The suspected identity of the man who joined Adel Kermiche in the murderous attack on a Normandy church was found in Kermiche's home.
After meeting with President François Hollande, France's religious leaders called for solidarity in face of what Paris mosque rector called 'blasphemous sacrilege'.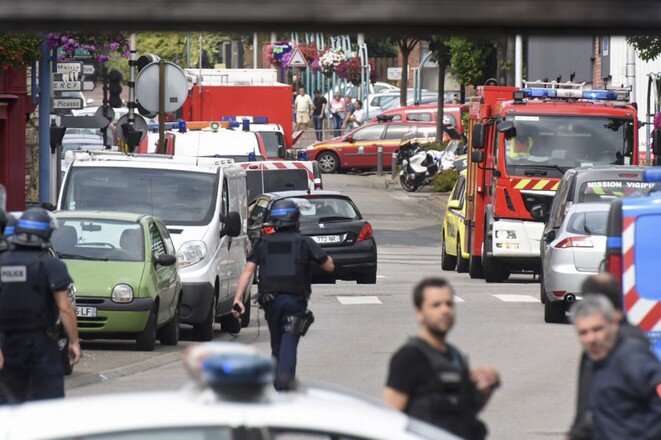 The scene close to the church of Saint-Étienne-du-Rouvray on Tuesday morning. © Reuters
A priest was murdered and one of his parishioners left in a critical condition by two knife-wielding men acting in the name of Islamic State group (IS) who attacked a Normandy church during a celebration of Mass on Tuesday morning. IS later claimed responsibility. The assailants, who had cut the 85-year-old priest's throat in front of a small group of nuns and worshipers, and who attempted to cut the throat of a parishioner, were shot dead by police as they came out of the church in what is believed to be the first attack on a Catholic place of worship in Europe by Islamic extremists. Paris public prosecutor François Molins provided further details about the attack on Tuesday evening. Graham Tearse reports.