Related keywords
The two rounds of voting in Socialist Party primary, which includes four party candidates and two greens, will be held on January 22nd and 29th.

Crushing win: former prime minister François Fillon will be the Right's candidate in next year's presidential election.
François Fillon will be the conservative candidate in the 2017 presidential election after a crushing victory over his rival Alain Juppé in this Sunday's primary election run-off. With most of the votes declared, the former prime minister has picked up two-thirds of the vote. This emphatic win on the back of a turnout of well over four million voters will give Fillon a huge springboard for next spring's presidential elections. For months Fillon languished in the polls, far behind his former boss Nicolas Sarkozy and the pollsters' favourite Juppé, the 71-year-old mayor of Bordeaux. But in the final days before last week's first round in the primary Fillon's support suddenly surged and he won that contest with more than 44% of the vote. This Sunday's stunning victory has confirmed that surge. In his victory speech Fillon said: "If in 2017 we take things firmly in hand then our country will go far, for nothing can get in the way of a people who want to take their future in their hands." But the 62-year-old faces tough questions ahead about his radical programme for government. These will likely focus on three main areas: his social conservatism, his economic liberalism – including his plan to axe half a million public sector posts – and his foreign policy and in particular his desire for closer relations with Russia. Nonetheless Fillon now stands a good chance of being France's next head of state, given the splits and divisions on the Left and the unlikelihood that France will ultimately vote for the far-right Front National's Marine Le Pen to be President of the Republic next May. Follow the results and reactions in this crucial primary election here.
Right-wing ex-PM who came from behind and is now favourite to win on Sunday dismisses 'tiny microcosm who think they know everything'.
Alain Juppé and François Fillon also clashed over labour laws in live debate, three days ahead of the conservative presidential primary run-off.
Poll suggests former premier François Fillon will win Sunday's second round contest with 65 percent of votes against 35 percent for Alain Juppé.
Ex-PM sets out plans, including cutting 500,000 public sector jobs, before runoff with Alain Juppé to be centre-right's presidential candidate.
Race to be Right's candidate for president now between two ex-prime ministers who both want big public sector cuts and business incentives.
An opinion survey following Thursday's live TV debate between the seven rivals to become France's conservative opposition party's candidate in next year's presidential elections gave former prime minister Alain Juppé a significant lead over second-placed Nicolas Sarkozy.
Ex-French president confirmed intention to step down as head of Les Républicains party before autumn vote on Right's presidential candidate.
Marine Le Pen, the head of France's far-right Front National has predictably welcomed Britain's vote to leave the European Union and has promised the French people a similar 'in-out' referendum if she is elected president. However, the idea of holding some form of referendum is also now gaining ground among presidential hopefuls on the mainstream Right, even if they are unwilling to give voters a straight choice between staying in or leaving the institution that France helped found. Aurélie Delmas reports on how the French Right is now extolling the virtues of national sovereignty in the wake of the Brexit vote.
Traditionally, incumbent French presidents do not take part in primary elections when standing for re-election and are simply anointed as their party's natural candidate. And up to now France's socialist president François Hollande has insisted he saw no need for such a contest on the Left ahead of next year's presidential election. However, out of the blue the Socialist Party has just announced plans for a primary election in January 2017 in which Hollande will take part. Hubert Huertas considers whether the surprise move will give Hollande's dwindling re-election prospects new hope - or will simply finish off his chances altogether.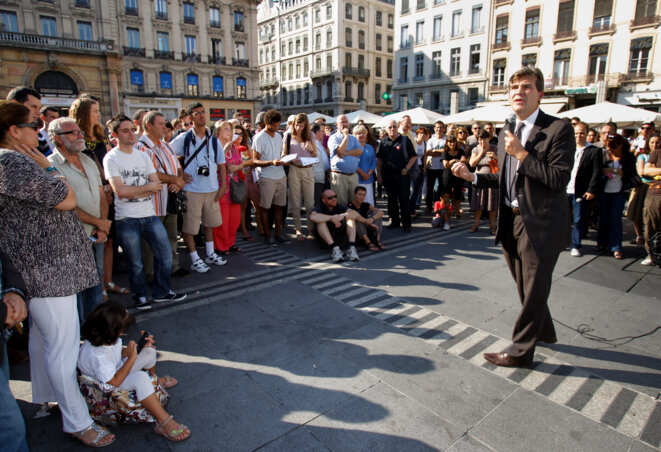 Heading for the Elysée? Arnaud Montebourg on the campaign trail back in 2011. © Reuters
He remains one of the most fascinating and colourful figures in French politics. Arnaud Montebourg was a high-profile figure in the government of President François Hollande, who as economy minister had a very public spat with a US business boss. In August 2014 he quit after disagreeing with the government's policies and went off to work in commerce. In the last 18 months Montebourg has kept a low public profile but has been assiduously meeting key figures and thinkers on the French Left. So is he, as many believe, discreetly preparing a bid for the French presidency in 2017? Lénaïg Bredoux reports.
The end of the regional elections in France last weekend was the starting gun for another contest – to choose the Right's candidate for the next presidential election. Already, ahead of this primary scheduled for the autumn of 2016, two clear ideological lines have emerged as have a host of competing candidates. Just one factor seems to unite them all and that is hostility towards their own leader, Nicolas Sarkozy, who is widely blamed for assisting the rise of the far-right Front National. Ellen Salvi reports.
The long summer holidays are over and on Tuesday this week French pupils went back to school. There are none of the major reforms and controversies that have greeted previous new academic years under President François Hollande. But there are still some changes for schoolchildren and teachers alike, notably new compulsory moral and civics lessons prompted by the terror attacks in Paris in January. Feriel Alouti and Lucie Delaporte report.