Fariba Adelkhah is now with her family in the Iranian capital, Tehran, her lawyer has said.
French social sciences researcher Roland Marchal, 64, who was released by Iran in a prisoner exchange last month after spending nine months in jail on spying charges, has described the harsh conditions of isolation he was held in after his arrest and that of fellow researcher Fariba Adelkhah, who remains in a Tehran prison.
The accomplices knocked a female guard to the ground and shot at the van in the town of Tarascon.
Rédoine Faïd, jailed for robbery in which a police officer died, was aided by armed men causing diversion outside prison while helicopter landed.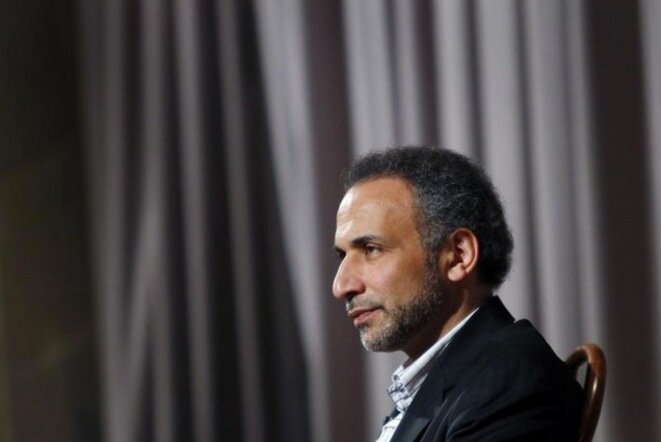 Tariq Ramadan, under investigation for rape and placed in preventive detention. © Reuters
Over the past two weeks a number of Muslim figures and organisations in France, together with anti-racist militants, have become increasingly vocal in calling for the release from preventive detention of prominent Islamic intellectual, scholar and preacher Tariq Ramadan, a professor of contemporary Islamic studies at the University of Oxford, who was earlier this month placed under investigation for two rapes. His supporters argue that he is subject to unusually harsh treatment, that his state of health has not been properly taken into account, with some also throwing doubt on the veracity of the accounts of his alleged victims. But, as Louise Fessard reports, the support leant to Ramadan has opened deep divisions among French Muslims, with questions raised over the motivations of the campaigners.
Two men, one of French nationality the other from Cameroon, due to be released this month from Fresnes prison near Paris after serving sentences for armed robbery and petty crime, have been placed under investigation for preparing to carry out terrorist attacks in France.
Billionaire Serge Dassault was called as a trial witness but said he was unable to attend. © Reuters
On Wednesday May 18th Younès Bounouara was jailed for 15 years after being found guilty of trying to kill a man whose secret recording helped expose alleged vote buying by industrialist Serge Dassault in the town where the latter was mayor for many years. The verdict will come as a major embarrassment for Dassault, who has had close ties with Bounouara for more than 20 years. The two men are currently under investigation over the alleged system of vote buying. Yann Philippin reports.
Inmates of Baumettes prison near Marseille ran a Facebook page that showed them posing with mobile phones, cannabis and fistfuls of cash.
Anne-Sophie Leclere is given a nine-month jail term and a 50,000-euro fine for likening France's black justice minister to a chimpanzee.
Jailed trader says Société Générale edited tape of interview they carried out with him after his losses were uncovered.
After Rome walk, convicted trader is refusing to set foot in France until President Hollande responds to plea for immunity for key witnesses.
Sabrina Bonner, 25, allegedly helped her schizophrenic boyfriend rape her four-year-old son during a prison visit
The letter written by Dreyfus, whose framing for treason in 1894 and subsequent pardon split French society, was sold despite family opposition.
With the country on heightened security alert, authorities are increasingly worried about home-grown militants emerging from France's own jails.