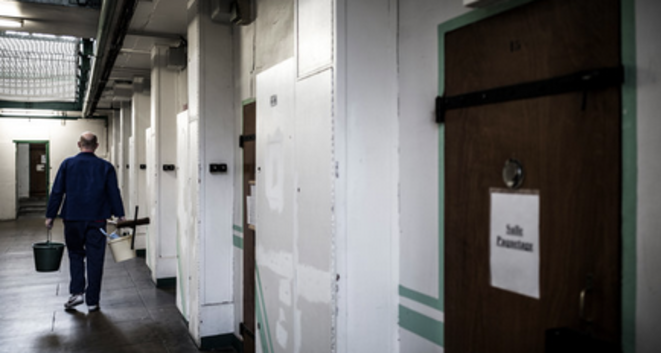 The prison in Fresnes, south of Paris. © AFP
Amid the galloping Covid-19 coronavirus epidemic in France, there is a particularly grave threat to the country's prison population, many of who are detained in overcrowded and insalubrious conditions. The dangers are such that measures are underway to reduce inmate numbers, with magistrates advised to deliver bail conditions instead of jail terms, and to approve unusually early release for prisoners nearing the end of their sentences. But many magistrates find themselves caught in a dilemma over both practical and ethical issues.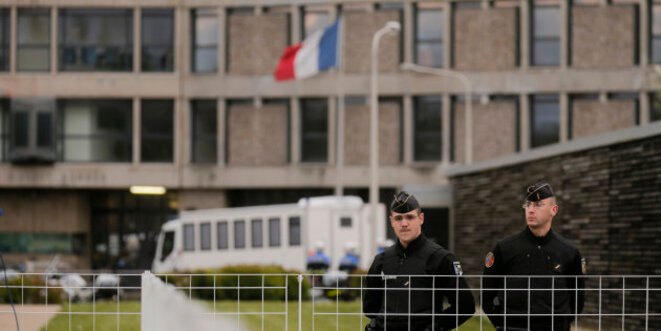 Police officers standing guard outside Fleury-Merogis prison south of Paris. © Reuters
The apparent suicide by hanging of a 48-year-old man found in his cell on August 7th at the Fleury-Mérogis prison south of Paris, the largest in Europe, brought the number of inmates reported to have taken their own lives there since the start of the year to 11 – more than the total number of suicides in the prison over the previous two years. The alarming figure highlights the recurrent problem of suicides among France's prison population, which are proportionally around six times more than among the general population according to prisoner rights associations which denounce the reluctance of successive governments to effectively tackle the problem.
The French government has announced plans to isolate militant Islamist prisoners in dedicated detention centres, partly in response to the demands of prison guards, and to also tighten the granting of licenses for private, religion-orientated schools.
Prison staff unions protesting against undermanning and insecurity in France's notoriously overpopulated jails vowed to continue with their blockades of penitentiaries, prompted by an attack by a prisoner that left three guards wounded last week, until their demands for improved working conditions are met.
Following the 2015 terrorist attacks in France, probation officers in the prison system have been instructed to inform the authorities about the "radicalisation" of prisoners. When one officer criticised the new system in a newspaper interview, claiming that being forced to work as "intelligence agents" undermined the trust between probation workers officers and prisoners, her job was threatened. Probation officers also fear that they will get the blame for not flagging a problem if former prisoners go on to commit terrorist acts. Maxime Grimbert reports.
Move by French authorities is bid to ease chronic overcrowding that officials say breeds conditions for Islamist radicalisation of prisoners.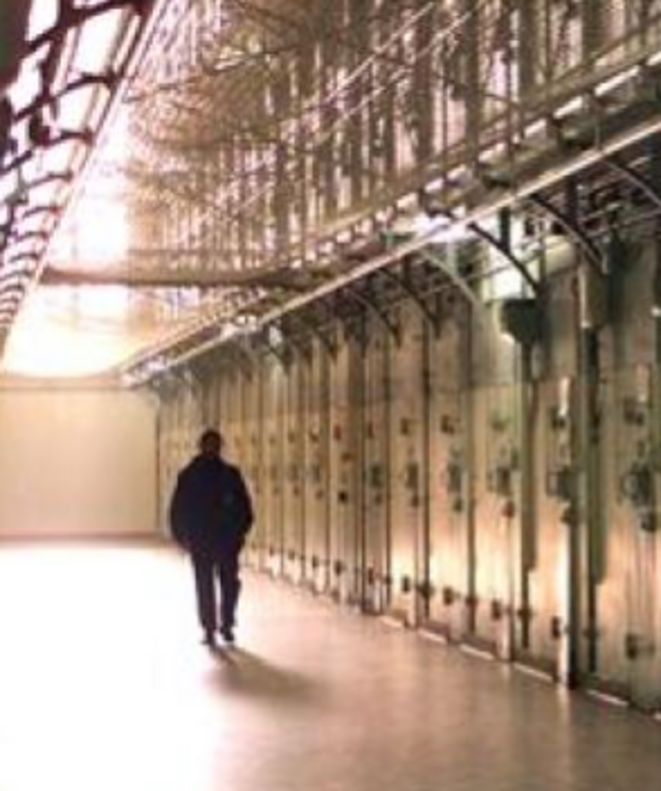 © Reuters
In the aftermath of the Paris terrorist attacks earlier this month, perpetrated in the name of Islam by three gunmen born and raised in France, there has been wide discussion in France about how hard-line Islamists succeed in enrolling a section of the country's disenfranchised youths into their midst. Beyond the influence of extremist networks that operate in public places, notably a number of mosques, the role that prison plays in the recruitment of potential jihadists has been highlighted, notably by French Prime Minister Manuel Valls. Shortly after the attacks, he suggested that jailed radical Islamists may be grouped together in special quarters in prisons to limit their current opportunities of converting fellow prisoners to their cause. Mediapart's Joseph Confavreux and Carine Fouteau sought out the opinion of Jean-Marie Delarue, who until July 2014 served for six years as France's general inspector of prisons. In this interview he argues why he believes the proposition is misguided and potentially dangerous.
Protesting prison staff blockaded the entrances to about 40 jails with police having to intervene at some to allow prisoners to be moved.
Thousands of cases to be reviewed after a French appeals court annulls a 2004 government decree that should have been voted by parliament.
The French prison population this month reached a record 68,569, more than 10,000 more than the official capacity of jails, according to the latest official figures released Monday.  While some prisons cope with an overpopulation of 200%, France's general inspector of prisons and detention centres, Jean-Marie Delarue, warned of the risk of violent rebellion among prisoners this summer. The government, meanwhile, is under attack by magistrates' unions for dithering over a decisive reform of what President Hollande himself described as his predecessor's "blind rush for all-out incarceration". Michel Deléan and Lorraine Kihl report.
The official watchdog for the maintenance of the fundamental human rights of people in detention in France presented its latest yearly report on Wednesday. The 326-page document is a compilation of its investigations and findings for the year 2011, in which it notably denounced increasing prison overcrowding, the practice of humiliating body searches and an emphasis on security rather than reinsertion. Michel Deléan reports.