Related keywords
The hitherto state-run French lottery operator Française des Jeux (FDJ) will begin opening up its capital to private investors as of November 7th, French economy and finance minister Bruno Le Maire has announced, amid expectations that the sales of shares will raise around 1 billion euros.
In an unusual alliance of the Left and Right, a vast majority of French opposition parliamentarians have this week launched a demand for a national referendum over the government's proposed privatisation of the Paris airports operator ADP. Such a move has never before been attempted, and must now be approved by the Constitutional Council. Martine Orange analyses the latest development in an increasingly strained relationship between parliament and the executive.
Lancement d'Ariane 5 © Arianespace
Control of Arianespace, the pan-European company that provides commercial launch services for spacecraft, is to be handed over to a joint venture between Airbus Group and French aero-engine maker Safran. The privatisation, via a transfer of majority shares in the company held until now by the French national space studies agency, the CNES, is expected to be formally detailed at the Paris Air Show which opens on Monday. The move has accentuated mounting tensions between staff and management of the company, amid fears of job cuts and the end of a 35-year collective public adventure that spearheaded the European space industry. Martine Orange reports on the deep malaise surrounding a controversial privatisation to be underwritten by taxpayers.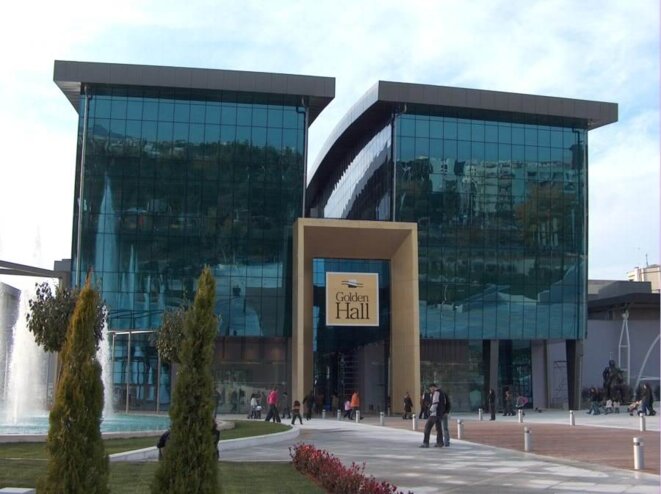 L'entrée du Golden Hall © dr
Has Greece become the new El Dorado for foreign investors? The country is currently busily selling off state-run enterprises, lucrative concessions in state monopolies and coastal resort sites, and has slashed labour costs. The result is that numerous overseas businesses and funds, including some from China, Russia and Qatar, are eager to pour cash into the crisis-stricken country despite local opposition to many of the sell-offs. Amélie Poinssot reports.
The national social security services of European Union member states are to be opened up to private sector competition according to the terms of a proposed European Commission directive on public procurement. The directive, presented in December 2011 by European Commissioner for Internal Market and Services, Michel Barnier, and due to be submitted to the European Parliament later this year, requires governments to launch a yearly invitation for tenders to manage sectors of their compulsory social security services, most of which until now have been managed according to the principle of social solidarity. Surprisingly, the proposal, contained in an annexe of the 246-page text of the directive, was until this month unnoticed by MEPs, several of whom have now mounted an urgent campaign to have it removed. Mediapart's Brussels correspondent Ludovic Lamant reports.