Paris Opera dancers, who have a bespoke pension plan dating back to the 17th century, gave an impromptu public performance of Swan Lake on the forecourt of the Palais Garnier in central Paris, with the backing of the Paris Symphony Orchestra, in a protest at President Emmanuel Macron's plan to introduce a universal pension scheme.
Marchers estimated to number 13,500 marched in Paris on Sunday following several recent incidents of Islamophobia in France, including an arson and shooting attack against a mosque in south-west France, while a number of leftwing parties did not take part arguing that organisers opposed the country's constitutional principles regarding secularity.
Firefighters held a march in Paris on Tuesday in protest over working conditions, including low staff numbers, poor pay and inadequate protection against violence increasingly directed against them, when unions claimed a turnout of between 7,000 and 10,000.
Protester hurt after trying to pick up a rubber pellet grenade; meanwhile home of head of National Assembly Richard Ferrand hit by arson attack.
Marches in Paris and other cities and towns across France in protest at public spending cuts and reform of the welfare system introduced by President Emmanuel Macron's government drew 300,000 according to labour unions, half as much according to the interior ministry. 
Police used tear gas to disperse farmers protesting about the loss of rights for agricultural land who blocked the Tour de France stage on Tuesday with bales of hay and sheep, but the spread of the gas vapours meant several riders needed medical treatment from the doctor's car at the rear of the peloton.
All of all of the Cannes Film Festival's female jury members, including its leader Cate Blanchett, along with many women actors, directors and producers held a protest on the red-carpeted entrance to the festival's Palis des festivals on Saturday to call for gender parity in the cinema industry, underling that Cannes had since its beginnings awarded 71 male directors with the coveted Golden Palm prize, but has given the honour to just two female directors.
Police out in force in Paris for demonstration over reforms following the recent May Day disturbance.
French pensioners held nationwide protests on Thursday over a recent rise in a levy imposed on them to fund the country's social security system, and which for many represents a yearly loss of several hundred euros. The demonstrations were organised by a united front of pensioners' unions, who dismiss the government's argument that the rise is necessary to finance a reduction in social security payments by young workers, what it calls a gesture of "inter-generational solidarity". While the pensioners' protest movement shows no signs of abating, some MPs among the ranks of Macron's normally loyal LREM party have begun voicing their unease over the measure. Manuel Jardinaud, Mathilde Goanec and Romaric Godin report.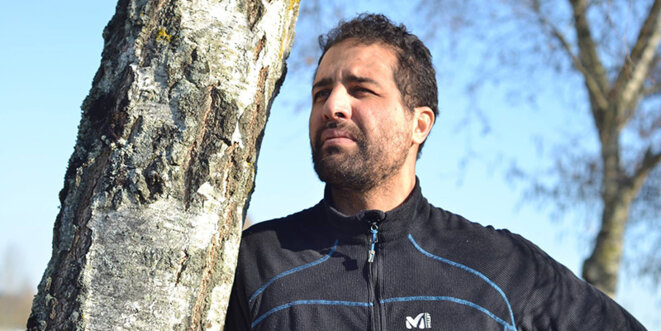 Kamel Daoudi. © DR
For ten years since serving a prison sentence for his part in a plot to attack the US embassy in Paris, Kamel Daoudi has lived under house arrest in France, the longest anyone has been subjected to in the country. Despite his apparent renunciation of his jihadist past, he must report to the police four times per day, every day, and abide by a night-time curfew. He has been ordered to move home on five occasions, and the last has separated him from his wife and three children. New legislation now allows for the restrictive sentence to continue indefinitely, prompting Daoudi to go on hunger strike earlier this month. Michel Deléan reports.
Group of campaigners has protested against new airport in western France since 2008; they now await president's 'final decision' on the project.
A group of eight Greenpeace militants broke into a nuclear plant at Cattenom in north-east France early on Thursday, where they let off fireworks in a filmed protest to highlight what the organisation says are inadequate security measures to prevent malicious attacks.
A protest in the town of Nantes, north-west France, by more than two thousand people against a planned visit there on Sunday by Front National presidential candidate Marine Le Pen ended in ugly confrontations with police, during which businesses were vandalised and several officers injured.
The teenagers, who were removed from the notorious 'jungle' camp in Calais and placed in a reception centre in south-west France, staged a protest at the refusal by British authorities to allow 39 of them to settle in the UK.