French pensioners held nationwide protests on Thursday over a recent rise in a levy imposed on them to fund the country's social security system, and which for many represents a yearly loss of several hundred euros. The demonstrations were organised by a united front of pensioners' unions, who dismiss the government's argument that the rise is necessary to finance a reduction in social security payments by young workers, what it calls a gesture of "inter-generational solidarity". While the pensioners' protest movement shows no signs of abating, some MPs among the ranks of Macron's normally loyal LREM party have begun voicing their unease over the measure. Manuel Jardinaud, Mathilde Goanec and Romaric Godin report.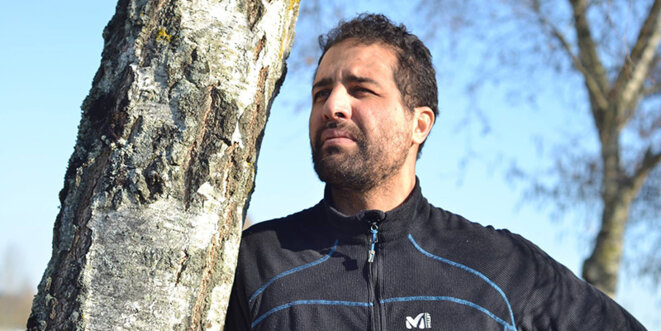 Kamel Daoudi. © DR
For ten years since serving a prison sentence for his part in a plot to attack the US embassy in Paris, Kamel Daoudi has lived under house arrest in France, the longest anyone has been subjected to in the country. Despite his apparent renunciation of his jihadist past, he must report to the police four times per day, every day, and abide by a night-time curfew. He has been ordered to move home on five occasions, and the last has separated him from his wife and three children. New legislation now allows for the restrictive sentence to continue indefinitely, prompting Daoudi to go on hunger strike earlier this month. Michel Deléan reports.
Group of campaigners has protested against new airport in western France since 2008; they now await president's 'final decision' on the project.
A group of eight Greenpeace militants broke into a nuclear plant at Cattenom in north-east France early on Thursday, where they let off fireworks in a filmed protest to highlight what the organisation says are inadequate security measures to prevent malicious attacks.
A protest in the town of Nantes, north-west France, by more than two thousand people against a planned visit there on Sunday by Front National presidential candidate Marine Le Pen ended in ugly confrontations with police, during which businesses were vandalised and several officers injured.
The teenagers, who were removed from the notorious 'jungle' camp in Calais and placed in a reception centre in south-west France, staged a protest at the refusal by British authorities to allow 39 of them to settle in the UK.
Angry French police officers on Saturday held a sixth day of national demonstrations in protest over dilapidated and inadequate equipment, undermanning, recurrent attacks on officers, and what they describe as the leniency of sentencing judges, all in a context of the exceptional demands placed on them for anti-terrorism operations. The movement, which has wrongfooted the government and taken even police union officials by surprise, was prompted by a horrific petrol-bomb attack on several officers earlier this month in a Paris suburb. President François Hollande has now announced he will meet with representatives of the officers next week. As Loup Espargilière reports, the angry protests illustrate a deep disquiet across the ranks which has now become a political hot potato ahead of next year's presidential and parliamentary elections.
Demonstrations against plans to change employment law came ahead of union meeting with French prime minister Manuel Valls.
Move by Paris police to ban Thursday's march could increases tension between socialist government and unions opposed to labour reforms.
Crowd torched police car in Paris, forcing occupants to flee, near police protest march over level of violence they face at demonstrations.
Police unions call a national protest on Wednesday over accusations of their violent behaviour during recent demonstrations against labour law reforms.
The Nuit Debout movement has unsettled France's political elite which is still fearful of the power of street protests.
New test of strength for President Hollande as protesters challenge plans to change labour laws in way that unions say favours businesses.
Up to 20,000 people brandishing slogans such as 'state of emergency-police state' marched against a measure they say curbs human rights.
About 50 migrants boarded the boat during incidents at a pro-migrant march by some 2,000 people before police evacuated them in early evening.