Related keywords
Proposed legislation to ban the dissemination on social or traditional media of police officers' faces, justified as protecting the safety of police staff, and which would apply to civilians and journalists alike, has prompted street protests in Paris and other cities across the country over what demonstraors say is a law which would gag disclosure of police abuses. 
There were more fierce protests and calls for a boycott of French goods in Muslim countries on Monday following President Emmanuel Macron's defence of the right to publish cartoons of the prophet Muhammad during  a homage to teacher Samuel Paty who was beheaded by a fundamentalist for showing the cartoons to his pupils in a lesson on civic rights and free speech.
Meanwhile the number of new COVID-19 cases in France rose by 10,561 on Saturday - the highest daily number since the pandemic began.
Protesters marched through Paris with signs reading "Laissez nous respirer" ("Let us breathe") in reference to George Floyd, and protests also took place in the UK.
A procession of around 15,000 people, according to official estimates, marched through central Paris on Saturday, along with several thousand in other cities and towns across France, protesting racism and police violence in the country and highliting the case of a black man who died in strikingly similar circumstances to Afro-American George Floyd in Minneapolis last month.
French interior minister Christophe Castaner said the case of Gabriel Djordjevic, 14, who sustained a fracture to his eye socket and four broken teeth after he claimed he was kicked by a police officer, was 'troubling'.
Protests around France continued on Thursday over alleged racist violence by police, prompted by a campaign by the family of Adama Traoré, a 24-year-old man of Malian origin, for a full investigation into his death in police custody allegedly from asphyxiation, and the outrage over the death in the US of George Floyd, 46, an Afro-American who was suffocated by a police officer during his arrest in Minneapolis.   
Algeria  singled out two documentaries broadcast on Tuesday by France 5 and the former colonial power's Parliamentary Channel, about the recent protests.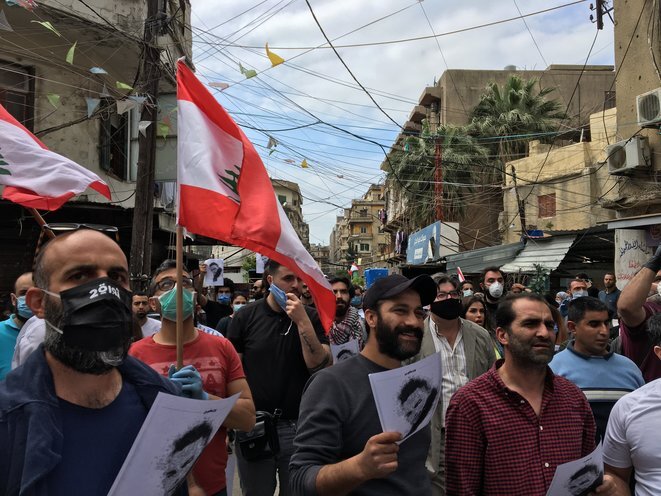 A march in the Lebanese city of Tripoli on April 3rd in homage to a demonstrator killed by security forces. © NMA
In Lebanon, the lockdown to contain the coronavirus pandemic came as the final blow to the Middle East nation's collapsed economy which has left half of the population living in poverty. Mass anti-government demonstrations which erupted last autumn have now flared up again amid food shortages and galloping inflation. Their anger has now turned on Lebanon's banks for having acted as the burning fuse for the financial meltdown. Justine Babin and Nada Maucourant Atallah report from the capital Beirut.
The now two-month long, union-led series of street protests and strikes against the French government's planned reform of the national pensions system saw another day of action with a march through Paris on Thursday, when  unions representing employees from the capital's transport network announced they would strike on February 17th during the draft legislation's passage through parliament.
Dozens of school close and rail services severely hit as demonstration enters 36th day and as talks over pension reforms are due to resume Friday.
After weeks of union-led strikes and protests against government plans to reform France's pension system, and which have severely disrupted transport services, notably in the Greater Paris Region, French President Emmanuel Macron is expected to finally relieve his prime minister on the political frontline by announcing measures to break the deadlock during the traditional presidential New Year's Eve TV address on Tuesday.
Demonstrations accompanying rolling strikes against pension reforms that began Thursday and the latest 'Yellow Vest' protests against social inequalities were held over the weekend across France, upping pressure on the government ahead of more walkouts and protests called for next week.
France's trades unions claimed a nationwide turnout of 1.5 million people, estimated at 860,000 by the interior ministry, in marches and demonstrations that marked a general strike on Thursday by mostly public sector, but also private sector, workers in protest against planned reforms to the pension system, and which brought public transport to a virtual standstill.