Related keywords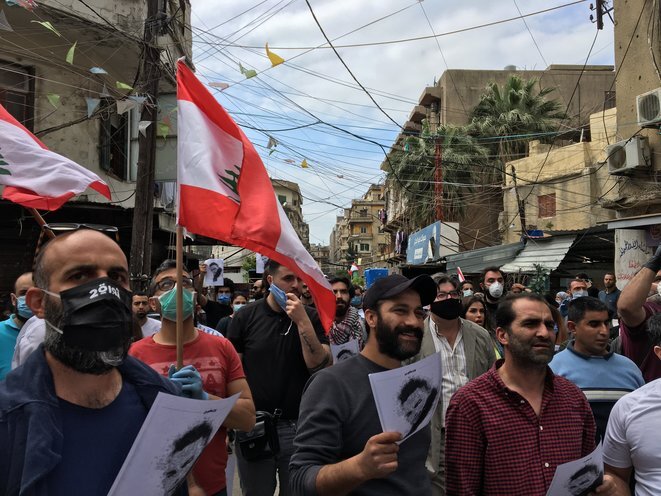 A march in the Lebanese city of Tripoli on April 3rd in homage to a demonstrator killed by security forces. © NMA
In Lebanon, the lockdown to contain the coronavirus pandemic came as the final blow to the Middle East nation's collapsed economy which has left half of the population living in poverty. Mass anti-government demonstrations which erupted last autumn have now flared up again amid food shortages and galloping inflation. Their anger has now turned on Lebanon's banks for having acted as the burning fuse for the financial meltdown. Justine Babin and Nada Maucourant Atallah report from the capital Beirut.
The now two-month long, union-led series of street protests and strikes against the French government's planned reform of the national pensions system saw another day of action with a march through Paris on Thursday, when  unions representing employees from the capital's transport network announced they would strike on February 17th during the draft legislation's passage through parliament.
Dozens of school close and rail services severely hit as demonstration enters 36th day and as talks over pension reforms are due to resume Friday.
After weeks of union-led strikes and protests against government plans to reform France's pension system, and which have severely disrupted transport services, notably in the Greater Paris Region, French President Emmanuel Macron is expected to finally relieve his prime minister on the political frontline by announcing measures to break the deadlock during the traditional presidential New Year's Eve TV address on Tuesday.
Demonstrations accompanying rolling strikes against pension reforms that began Thursday and the latest 'Yellow Vest' protests against social inequalities were held over the weekend across France, upping pressure on the government ahead of more walkouts and protests called for next week.
France's trades unions claimed a nationwide turnout of 1.5 million people, estimated at 860,000 by the interior ministry, in marches and demonstrations that marked a general strike on Thursday by mostly public sector, but also private sector, workers in protest against planned reforms to the pension system, and which brought public transport to a virtual standstill.
Yellow vest demonstrators held marches in towns and cities across France on Saturday, as the social protest movement against falling living standards for low- and middle-income earners marks one year of consecutive weekly action, when the interior ministry claimed a nationwide turnout of about 28,000, the highest since April, while in Paris groups of troublemakers who burned vehicles and attacked commercial property clashed with police in Paris who made more than 120 arrests.
French public hospital workers held protest marches in Paris and other cities across the country on Thursday over pay, working conditions and chronic underfunding of services which have led to a shortage of beds and vital equipment, and an exodus of staff towards the private sector.   
For the third day running, French university students continued to mount protests on Wednesday over poor living conditions, prompted by the self-immolation of a student in Lyon who had cited his financial problems as the reason for his act.
A premiere in Paris of Roman Polanski's latest film 'An Officer and a Spy' was cancelled after feminist militants blocked the cinema in a protest against the alleged impunity of the France-based director who, wanted in the US since 1978 for the sexual assault of a 13-year-old girl, and publicly accused of several rapes, now faces a fresh allegation that he raped a French actress in 1975.
Several hundreds of protestors gathered at five major public squares in Paris on Saturday where they lay on the ground for a 'die-in" protest at the number of murders of women in domestic violence crimes in France, holding photos of victims which activists say are among a total of 121 fatalities recorded so far this year, and calling on the government for rapid new measures to deal with the problem.   
French environmentalists took part in worldwide protests led by the 'Exctinction Rebellion' movement on Monday, blocking road traffic in Paris  at and around the place du Châtelet in their second demonstration after the occupation of a shopping centre in the city on Saturday, and promised a series of further actions throughout the week both in the capital and around the country.
Metro stations were closed and violent clashes with police broke out in Paris on Saturday when a march calling for firm action on climate change was infiltrated by what appeared to be so-called 'black bloc' anarchists, damaging a bank and setting fire to a barricade, following earlier tear gas charges on Yellow Vest demonstrators in the centre of the capital, where trades union members also marched in protest at planned pension reforms. 
Renewed 'yellow vest' movement demonstrations were held across France on Saturday, in protests againt President Emmanuel Macron's economic policies and in particular over falling living standards for low- and middle-income households, during which clashes erupted in the north-west town of Nantes.