Meanwhile environmental group will defy ban on demonstrations in nearby Bayonne with march carrying official portraits of President Macron.
There were violent clashes between demonstrators and police in Nantes, north-west France, on Saturday during a protest at the drowning of 24-year-old Steve Maia Caniço after a violent police charge against a techno party in the town in June, while other protests over his death were also held in Paris, Montpelier, Perpignan and Toulouse by supporters of the 'yellow vest' movement.  
The trade union event also brought both the 'yellow-vest' movement and so-called 'black blocks' of dark-clad protesters onto the streets.
Authorities fear this year's May 1 marches could be tense, barely a week after leaders of yellow vest movement angrily dismissed a package of tax cuts by President Emmanuel Macron.
Paris prosecution services have opened an investigation into reported jibes aimed at police by anti-government 'yellow vest' protestors in Paris on Saturday in which they allegedly shouted 'kill yourselves' in a reference to a police union revelation last week that 28 officers have committed suicide since January 1st.
The 'yellow vest' movement of anti-government, ant-elite protests over living standards for low- and middle-income earners held its 23rd day of nationwide demonstrations on Saturday, which passed off peacefully in many towns but was marked in Paris by violent clashes with police, while contested interior ministry estimates said fewer people took part than last weekend.
Rolling anti-government, anti-elite nationwide marches by the so-called 'yellow vest' movement, notably in protesrt iover falling living standards for low- and middle-income earners, continued into a 22nd day of action on Saturday, ahead of a much awaited televised address by President Emmanuel Macron on Monday. 
A major political controversy has erupted over a government decision to use French troops, normally deployed on streets in anti-terrorism patrols, to defend official buildings and free-up police numbers during anti-government 'yellow vest' protests this weekend, amid tensions  heightened by a ban on demonstrations in certain towns and cities.
They are the latest protests against Algerian President Abdelaziz Bouteflika's decision to run for a fifth term in office. 
France's so-called 'yellow vest' demonstrations against falling living standards among low- and middle-income earners, which since its beginnings in November has become a protest movement against the governement and the political elite, again drew tens of thousands of protestors nationwide on Saturday, which the interior mionisrty estimated to number 46,600, an increase on last weekend.
The French 'yellow vest' movement of revolt over falling living conditions for lower income households and against the political establishment held a 14th day successive day of action on Saturday, when contested interior ministry estimates said turnout across the country was around 41,500, down on last weekend.
Former professional boxer Christophe Dettinger, 37, who was filmed on January 5th throwing punches and kicking riot police officers during a 'yellow vest' protest in Paris against falling standards of living, has been sentenced to 30 months in jail, with 18 months suspended, in a court ruling that angered police unions.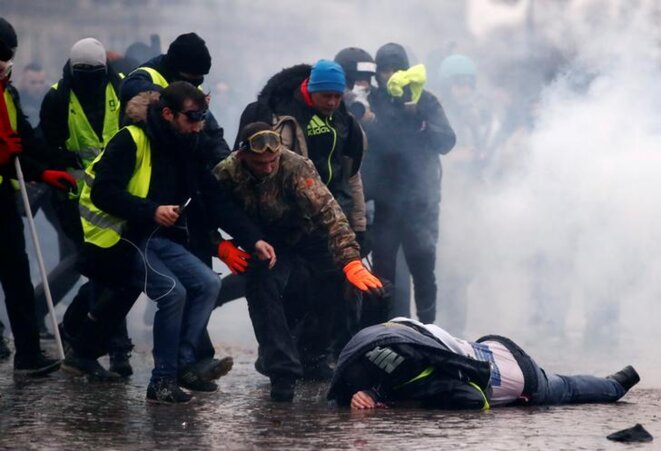 A 'yellow vest' protestor lies injured in Paris, January 12th 2019. © Reuters
France's 'yellow vest' protestors were back on the streets this weekend, as their movement calling for better living standards for low- and middle-income earners held its tenth nationwide day of action. While some demonstrations have been marred by violence from extremist groups, there is mounting criticism of aggressive police tactics. These notably include the widespread and often indiscriminate use of rubber bullets and stun grenades that have caused, according to several estimations, around 100 serious and life-changing injuries to protestors and bystanders. Mediapart co-editor Carine Fouteau argues here why these highly dangerous weapons, which France is one of very few countries to deploy in such situations, should be immediately banned from crowd-control policing.
The French interior ministry estimated around 84,000 people took part in nationwide 'yellow vest' marches on Saturday in protest at falling living standards for low- and middle-income earners, the same amount as last weekend and a show of force in the face of government measures aimed at appeasing the movement.
President Macron prepares for three-month public debate as 80,000 police mobilise across country for more weekend demonstrations.