The French 'yellow vest' movement of revolt over falling living conditions for lower income households and against the political establishment held a 14th day successive day of action on Saturday, when contested interior ministry estimates said turnout across the country was around 41,500, down on last weekend.
Former professional boxer Christophe Dettinger, 37, who was filmed on January 5th throwing punches and kicking riot police officers during a 'yellow vest' protest in Paris against falling standards of living, has been sentenced to 30 months in jail, with 18 months suspended, in a court ruling that angered police unions.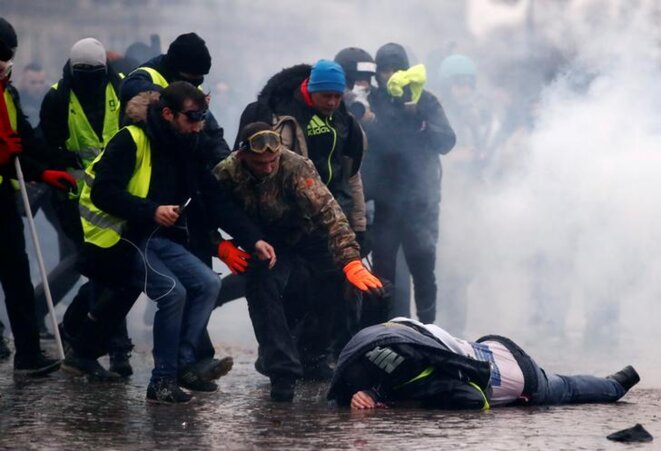 A 'yellow vest' protestor lies injured in Paris, January 12th 2019. © Reuters
France's 'yellow vest' protestors were back on the streets this weekend, as their movement calling for better living standards for low- and middle-income earners held its tenth nationwide day of action. While some demonstrations have been marred by violence from extremist groups, there is mounting criticism of aggressive police tactics. These notably include the widespread and often indiscriminate use of rubber bullets and stun grenades that have caused, according to several estimations, around 100 serious and life-changing injuries to protestors and bystanders. Mediapart co-editor Carine Fouteau argues here why these highly dangerous weapons, which France is one of very few countries to deploy in such situations, should be immediately banned from crowd-control policing.
The French interior ministry estimated around 84,000 people took part in nationwide 'yellow vest' marches on Saturday in protest at falling living standards for low- and middle-income earners, the same amount as last weekend and a show of force in the face of government measures aimed at appeasing the movement.
President Macron prepares for three-month public debate as 80,000 police mobilise across country for more weekend demonstrations.
Government spokesman Benjamin Griveaux escaped from office through back door after protesters broke into compound and smashed vehicles.
The sixth Saturday of nationwide protests organised by the grass-roots 'Yellow Vest' movement against falling living standards for low- and middle-income earners saw turnout significantly down on last weekend, according to the French interior ministry, which estimated the total number of demonstrators at 38,000.
Saturday marked a fifth weekend of nationwide protest action by the so-called 'Yellow Vest' movement against falling living standards for low- and middle-income earners, but the numbers of those who turned out were significantly down on last Saturday, both in Paris and across the country.
The so-called 'Yellow Vest' movement of protests at falling living stanadards among low- and middle-income earners is expected to continue with a fifth day of action across France on Saturday, notably with marches in Paris where previous protests have been marred by violence and vandalism by extremists and hooligans.
French government spokesman Benjamin Griveaux on Thursday called on the so-called Yellow Vest movement demanding better living standards for low- and midlle income earners not to hold another weekend of protests because of the strain placed on police and security forces after this week's terrorist attack in Strasbourg.
The continuing street demonstrations and blockades in France mounted by the so-called 'Yellow Vest' movement demanding an end to falling living standards for lower-income earners has become a 'catastrophe for our economy' said French finance minister Bruno Le Maire as he visited parts of Paris where commercial premises and vehicles were vanadlised during weekend protests.
French President Emmanuel Macron is to address the nation next week after a fourth day of nationwide protests by the so-called "yellow vests" movement against the falling living standards of low- and middle-income earners was held on Saturday in Paris and major towns and cities, when the interior ministry said a total of almost 1,400 people were arrested and 118 others injured amid scenes of vandalism and looting by troublemakers who joined the marches.
Ahead of what are forecast to be a major demonstrations on Saturday by a grass-roots movement of often violent protest over the living standards of middle-income earners, France's interior minister has announced 'large-scale security measures' in Paris, including the deployment of armoured vehicles, in face of what he said has become a 'monster' that has escaped the control of those who initiated the nationwide contestation.
One day after announcing a six-month freeze on the eco-tax that first prompted nationwide protets against his government's economic policies, and just hours after French Prime Minister Édouard Philippe said he was prepared to reconsider the tax if other solutions could be found, the Elysée Palace said that Philippe and President Emmanuel Macron "both wished the increase in the carbon tax be removed" from the budget for 2019.
A movement against fuel tax hikes which grew on social media and which claims no political alliances, has attracted several hundreds of thousands of protestors across France this weekend to block roads in what is fast transforming into a movement of protest against falling living standards among modest income earners.