Related keywords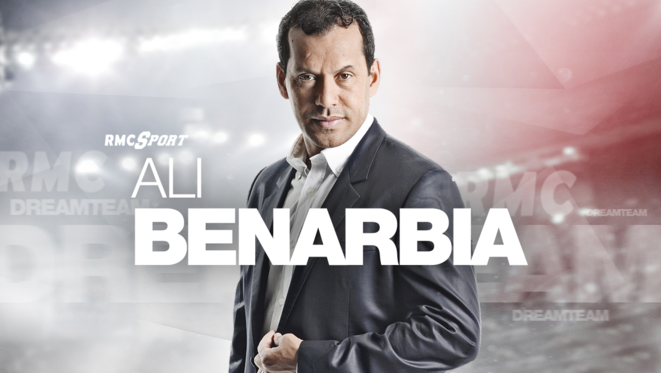 Ali Bernarbia was a member of the 'dream team' of football pundits on RMC Sport from 2010 to 2019. © RMC Sport
Ali Benarbia, the former Manchester City and Monaco player who became a prominent television sports pundit on French television and radio, has been told to pay back taxes of just under 4 million euros by the French tax authorities. Mediapart has learnt that the former Algerian international was paid via a fictitious company in Qatar and claimed to be living in the Middle Eastern country. In fact, he and his family were resident in Paris, tax investigators found. Yann Philippin and Matthieu Suc report.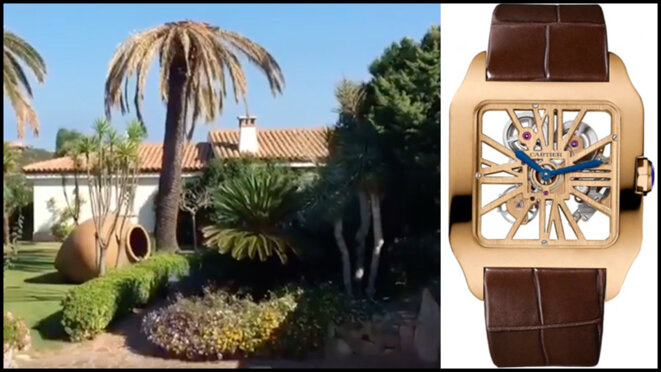 FIFA number two was gifted with free use of a villa in Sardinia, and a gold Cartier watch.
Shortly after a committee of world football governing body FIFA in February 2015 controversially recommended that the 2022 World Cup in Qatar could be played in winter, the then FIFA secretary general Jérôme Valcke secretly met with Qatari businessman Nasser al-Khelaifi, president of French football club PSG and chairman of beIN Sports, who was thanked by Valcke hours later for a gift of a watch worth 40,000 euros, according to phone text messages revealed here by Mediapart. Al-Khelaifi denies he was behind the gift. Swiss prosecutors, meanwhile, have dropped their probe of the two men over suspected bribery, which included Valcke's free use of a luxurious villa bought by al-Khelaifi in Sardinia. Yann Philippin reports.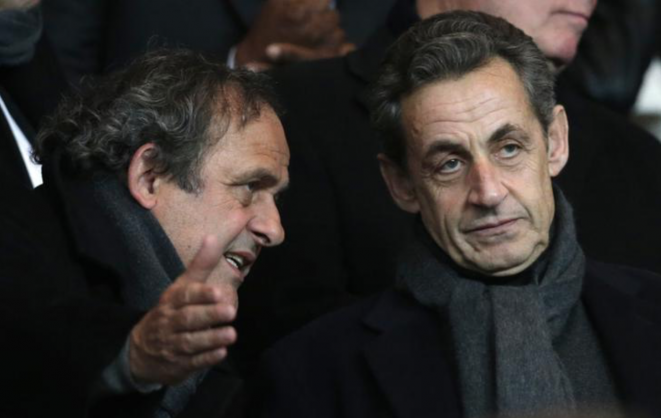 Michel Platini and Nicolas Sarkozy at the Parc des Princes football stadium in Paris for a PSG match on February 17th 2015. © Reuters
In June 2019 Michel Platini, the former head of European football's governing body UEFA, was interviewed by police as a witness over the circumstances of the award of the 2022 football World Cup to Qatar. Two former colleagues of Nicolas Sarkozy were also questioned about a lunch hosted for Qatar's crown prince by the French president in 2010, attended by Platini, just days before the controversial vote to give the tournament to the oil and gas-rich state. Now the French financial crimes prosecution unit has launched a judicial investigation into the affair over alleged "corruption", Mediapart has learnt. Former French football star Platini has strongly denied any wrongdoing. Yann Philippin and Antton Rouget report.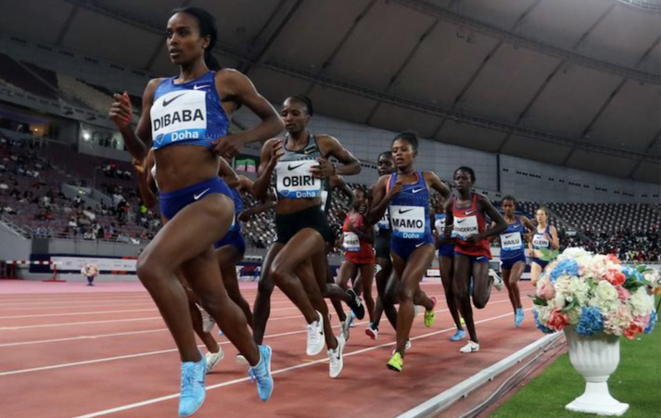 A race during the IAAF Diamond League competition on May 3rd 2019 in Doha. © Reuters
Qatar promised 37.5 million dollars to the International Association of Athletics Federations (IAAF) just hours before it won the right to stage the 2019 World Athletics Championships was awarded. Some 4.5 million of this was due to be paid to the son of the IAAF president at the time, Papa Massata Diack. The IAAF says that in the end that money was never paid to Diack. Yann Philippin and Antton Rouget report on the background to the awarding of the prestigious event now taking place at Doha in Qatar –and where the athletes have been sweltering in the heat.
In a confidential letter seen by Mediapart and the British daily newspaper The Guardian, the president of leading French football club PSG, Nasser Al-Khelaifi, requested the payment of a 2-million-euro commission to the agent of Argentine midfielder Javier Pastore in relation to the latter's transfer. The request was apparently made on the instructions of the current Emir of Qatar. If carried out, such a payment appears to breach both French football transfer regulations and the law. A company run by Al-Khelaifi's brother also asked for 200,000 dollars in 'expenses' over the transfer. Yann Philippin reports.
Confidential documents seen by Mediapart and British daily The Guardian suggest that the chief of staff of Qatari ruler Sheikh Tamim bin Hamad Al-Thani was involved in negotiating payments that are suspected by a French judicial probe of being used in a corruption plot for the attribution of the World Championships of the International Association of Athletics Federations (IAAF). It also suggests that Nasser Al-Khelaifi, the chairman and CEO of BeIN Sport media group and president of French football club PSG, played a greater role in the alleged plot than he has hitherto told the French judicial investigation. Yann Philippin reports.
Former UEFA boss Michel Platini was held in custody by anti-corruption police in Paris on Tuesday questioning, along with a former advisor to ex-president Nicolas Sarkozy and Sarkozy's close aide and former minister Claude Guéant, as part of investigations into the controversial  attribution to Qatar of the 2022 football World Cup in a vote by FIFA officials in 2010.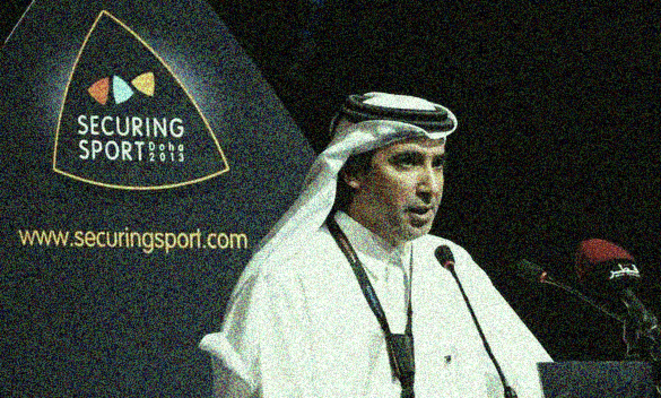 Mohammed Hanzab, president of the ICSS, based in Doha, Qatar. © ICSS
In just a few years the International Centre for Sport Security, an NGO based in Doha, has made a name for itself in the global fight against corruption in sport. But Football Leaks reveals a hidden side to this organisation which is funded by the Qatari state and which works with the United Nations, the Council of Europe and Sorbonne University in Paris. In April 2015 former police officers working for the ICSS went to Lausanne to tail one of the key figures in world sport, the Kuwaiti sheikh Ahmad Al-Fahad Al-Sabah. Mediapart's Antton Rouget and Mathieu Martinière and Robert Schmidt from independent journalistic collective We Report investigate.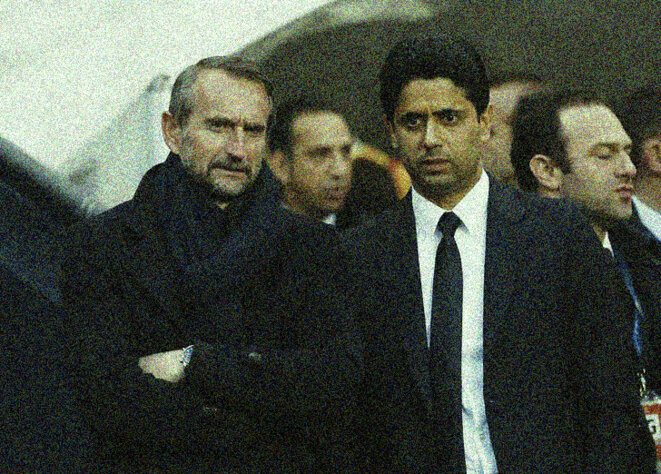 PSG general manager Jean-Claude Blanc (left) with the club's president Nasser Al-Khelaifi. © Reuters
Over several years, Qatar injected 1.8 billion euros into French football club Paris Saint-Germain (PSG) in a massive breach of the Financial Fair Play regulations of European association football's governing body UEFA. Mediapart reveals here the background to the affair and how the then president of UEFA, Michel Platini, and his secretary general, Gianni Infantino, who is now president of FIFA, helped cover up the fraud, allowing the club to escape exclusion from the prestigious and lucrative Champions League.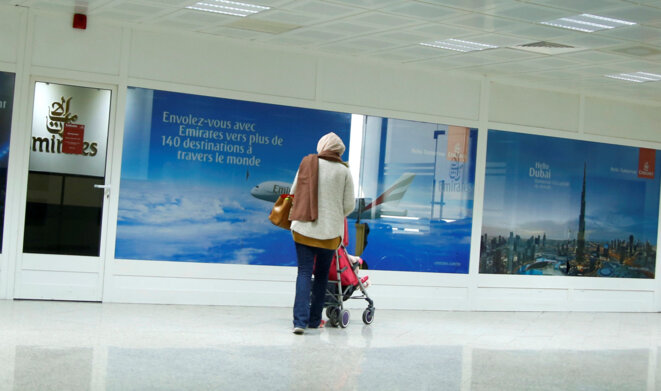 Grounded: Tunis-Carthage International Airport, December 25th. © Reuters
The United Arab Emirates (UAE) last Friday announced a ban on all women and girls travelling with Tunisian passports to the Gulf state on its national airline Emirates and sister carrier Etihad, citing fears of a terrorist attack. While the ban was lifted after just hours, following outrage in Tunisia and from passengers stranded worldwide, the Tunisian government responded at the weekend with a ban of all UAE flights to and from Tunis. But the events are far from an anecdotal spat, for behind the row is the far deeper conflict of a power battle in the Middle East. Lilia Blaise reports.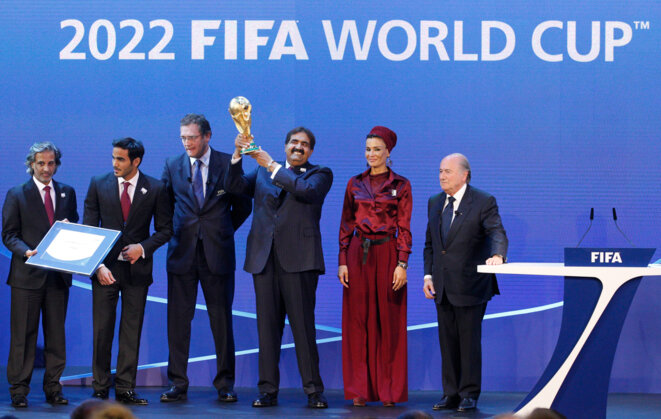 The celebrations after FIFA announced on December 2nd 2010 that Qatar would host the 2022 World Cup. © Reuters
US and Brazilian investigators have discovered a payment from Qatar of 22 million dollars made to a former executive committee member of world football governing body FIFA shortly after he and his colleagues controversially awarded the Gulf state the 2022 World Cup, well-informed sources have told Mediapart. The payment was made to Ricardo Teixeira, former head of the Brazilian Football Confederation and paid into his account with the Pasche Monaco bank in Monte Carlo, which was then a subsidiary of French bank Crédit Mutuel-CIC. Geoffrey Livolsi and Yann Philippin report.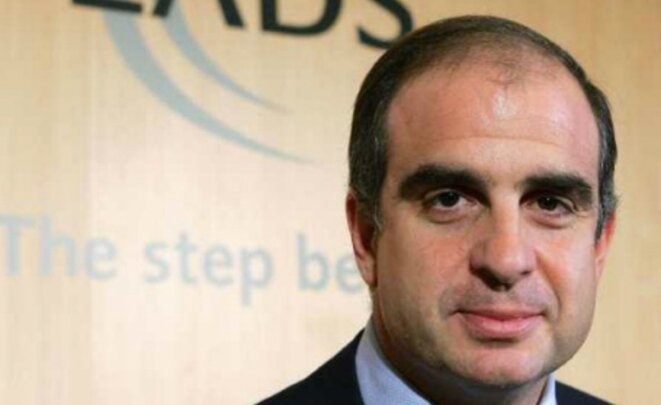 Jean-Paul Gut, director of EADS International and group strategy until June 2007. © dr
The former commercial director of EADS – now Airbus – Jean-Paul Gut, who set up the commercial and marketing system that is now at the centre of parallel corruption investigations by French and British police, received a 'golden parachute' of around 80 million euros, it can be revealed. A joint investigation by Mediapart and German weekly Der Spiegel also shows that the European aerospace group was willing to continue using Gut as a highly-paid consultant even after he left his lucrative post in 2007.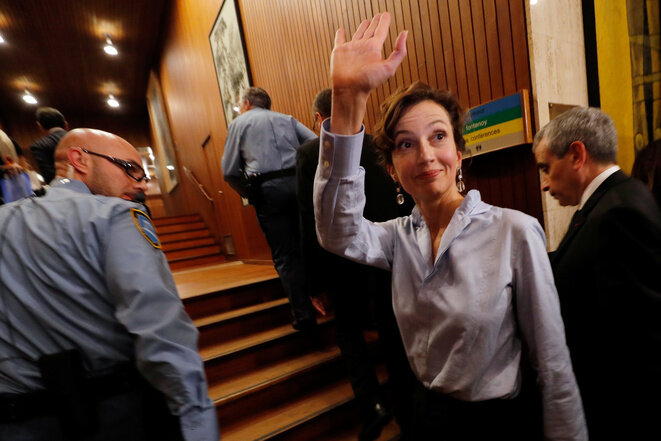 Audrey Azouley at UNESCO's Paris headquarters, October 13th 2017. © Reuters
Former French culture minister Audrey Azoulay was elected as the new director general of UNESCO on Friday, in a narrow victory over her Qatari rival Hamad bin Abdulaziz al-Kawari. Azoulay's election to the top post at the UN science, education and culture agency was the result of a profound divide among its Arab member states, and served a severe blow to Qatar's ambitions of influence on the world stage. René Backmann witnessed first-hand the tensions during the six rounds of voting, which at one point almost ended in a fist fight, and in this report of the events he analyses the tough tasks ahead for Azoulay amid the decision by the US and Israel to quit the organisation.
French foreign minister Jean-Yves Le Drian, speaking in Qatar, where he met with his counterpart Sheikh Mohammed bin Abdulrahman al-Thani, called on Saturday for the lifting 'as soon as possible' of the sanctions against Qatari nationals imposed by Saudi Arabia, the United Arab Emirates, Bahrain and Egypt which affect 'bi-national families that have been separated or students'.