Related keywords
France has long sought social justice through a commitment to universal ideals, but a younger generation is demanding recognition of racism  - and remedies for it.
A procession of around 15,000 people, according to official estimates, marched through central Paris on Saturday, along with several thousand in other cities and towns across France, protesting racism and police violence in the country and highliting the case of a black man who died in strikingly similar circumstances to Afro-American George Floyd in Minneapolis last month.
Police officers have mounted protests in Paris and other major French cities over a growing debate about violent behaviour and systemic racism in the force - and which has led to a ban on applying chokeholds during arrests - with symbolic displays of throwing their handcuffs to the ground outside police stations.
Olivier Marchal, who served more than ten years as a policeman before becoming a film and television director, railed at those in his own industry who offered opinions about the fierce current national debate over police violence and racism.
French interior minister Christophe Castaner said the case of Gabriel Djordjevic, 14, who sustained a fracture to his eye socket and four broken teeth after he claimed he was kicked by a police officer, was 'troubling'.
France's police force is to end using chokeholds as a technique to immobilise people, interior minister Christophe Castaner on Monday, although the controversail practice of officers pressing down on the chest of a person on the ground, and which is alleged to have caused deaths during arrests, remains legal.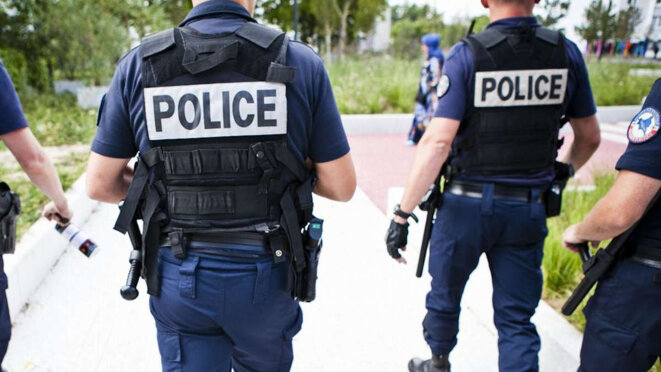 France's national police force: while officals talk of a few 'rotten apples' others see systemic racism. © AFP/Valery Hache
Amid a mounting debate over accusations of systemic racism within France's police force, this joint investigation by Mediapart and ARTE Radio reveals the vile exchanges between police officers on a WhatsApp chat group, in which they talk of "enemies of the white race" and of "niggers", describe women as "whores", Jews as "sons of bitches" who "govern the country", and gay men as "poofs". Camille Polloni reports on a case that came to light only due to the courage of one of their black colleagues and how, five months after his formal complaint, the men were still in their posts.
This week has been marked by numerous demonstrations, both in the US and across the globe, in protest at police violence following the killing of George Floyd, the 46-year-old Afro-American who was suffocated to death by an officer in Minneapolis. In this op-ed article, Mediapart publishing editor Edwy Plenel argues why, when the police is gangrened by racism, it is because the powers in place, a ruling class and its elites, hold a silent hate of democracy, the people and equality – and that this applies as much to France as it does to the United States.
Protests around France continued on Thursday over alleged racist violence by police, prompted by a campaign by the family of Adama Traoré, a 24-year-old man of Malian origin, for a full investigation into his death in police custody allegedly from asphyxiation, and the outrage over the death in the US of George Floyd, 46, an Afro-American who was suffocated by a police officer during his arrest in Minneapolis.   
The French government's spokeswoman called for calm on Wednesday after violent scenes at a demonstration by around 20,000 people on Tuesday evening against what they claim is a cover-up over the 2016 death of Adama Traoré, 24, who suffocated while he was pinned down by gendarmes during his arrest in July 2016, a case which the protesters likened to the killing in the US of George Floyd.
Two officers have been recorded on video using derogatory term against a man in Paris suburbs.
President Emmanuel Macron on Wednesday warned against a stigmatisation of the Muslim population in France and the shortcut of associating the Islamic religion with terrorism, as was illustrated in a string of recent events that have caused outrage and heated debate across the country. It was a tardy reaction by Macron who, Mediapart co-editor Carine Fouteau writes in this op-ed, has left the door open to precisely the problem he now identifies. It is his responsibility to strengthen the barriers against hatred, alongside the fight against terrorism.
The notion of 'anti-White racism' is an ideological construct aimed at downplaying the systemic, social and cultural racism endured by black people and people of North African origin in France. Mediapart publishing editor Edwy Plenel says that its emergence in public debate is a sign of how France has failed to face up to the issue of colonialism, to both its long past and its persistence today.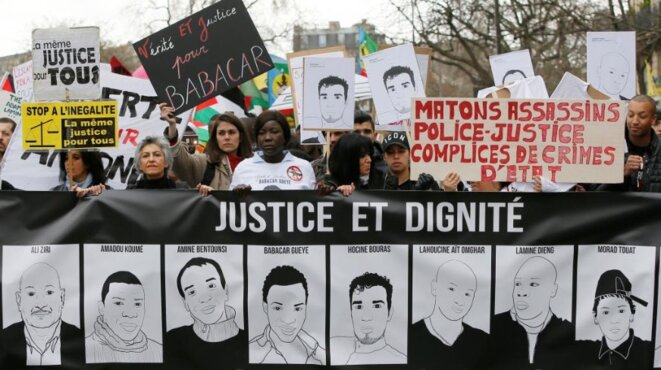 Nearly 7,000 demonstrators marched in Paris on March 19th, 2017, against police violence. © Reuters
The residents of France's working-class multi-ethnic areas abstained from the first-round elections in greater numbers than the national average. Yet if they turn out in force in Sunday's second round vote between Emmanuel Macron and Marine Le Pen they could yet have a big say in the outcome. Though fed up with being told who to vote for, many of the inhabitants come from immigrant backgrounds and already experience everyday racism they fear will only get worse if the far-right win power. However, many are also afraid Macron's liberal economic policies will make their lives even harder. Carine Fouteau assesses the mood in areas that have been largely overlooked in the French presidential campaign.