Related keywords
Row erupted after Basaksehir assistant coach Pierre Webo, the former Cameroon international, was shown a red card during a row on the touchline with staff from the Turkish club appearing to accuse the Romanian fourth official of using a racist term.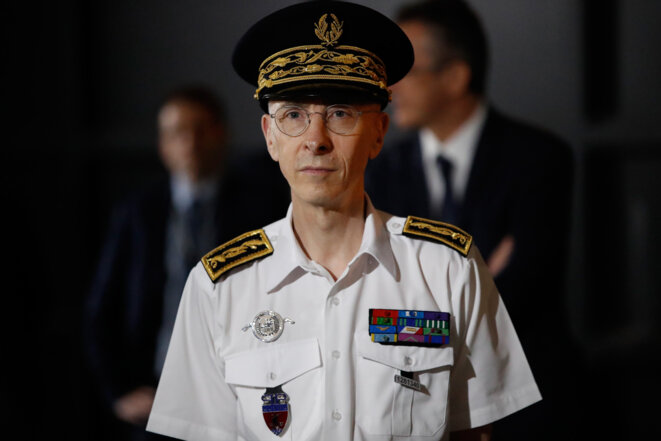 Didier Lallement in his prefect's attire, July 2020. © Thomas Coex / AFP
Paris police prefect Didier Lallement has courted controversy before and after his appointment last year as the capital's law and order chief. Despite his rough-and-tough policing strategy, notably of demonstrations, and his insensitive public comments, this adept of pomp and high-handed authority has survived thanks to the backing of the executive. But, as Camille Polloni reports, following the public and political outrage over separate shocking incidents last week of police violence, he may now be facing the door.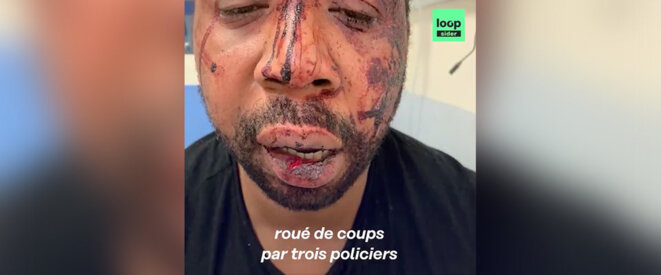 An image of Michel Zecler following the assault by three French police officers in Paris on November 21st. © Loopsider
There has been widespread outrage in France after video footage emerged of three police officers apparently gratuitously beating a black music producer in Paris, who was left with serious injuries from punches, kicks, baton blows and the explosion of a tear gas grenade in his studio last weekend. François Bonnet argues here that the events highlight how interior minister Gérald Darmanin has made a policy of flattering the most extremist fringes of the police, creating disorder amid heightened police violence. It is high time, he writes, for Darmanin to go.
French far-right weekly Valeurs Actuelles published a cartoon depicting black radical-left Member of Parliament Danièle Obono as a slave with a chain around her neck, prompting widespread outrage across the political spectrum at the vile racist jibe.
France has long sought social justice through a commitment to universal ideals, but a younger generation is demanding recognition of racism  - and remedies for it.
A procession of around 15,000 people, according to official estimates, marched through central Paris on Saturday, along with several thousand in other cities and towns across France, protesting racism and police violence in the country and highliting the case of a black man who died in strikingly similar circumstances to Afro-American George Floyd in Minneapolis last month.
Police officers have mounted protests in Paris and other major French cities over a growing debate about violent behaviour and systemic racism in the force - and which has led to a ban on applying chokeholds during arrests - with symbolic displays of throwing their handcuffs to the ground outside police stations.
Olivier Marchal, who served more than ten years as a policeman before becoming a film and television director, railed at those in his own industry who offered opinions about the fierce current national debate over police violence and racism.
French interior minister Christophe Castaner said the case of Gabriel Djordjevic, 14, who sustained a fracture to his eye socket and four broken teeth after he claimed he was kicked by a police officer, was 'troubling'.
France's police force is to end using chokeholds as a technique to immobilise people, interior minister Christophe Castaner on Monday, although the controversail practice of officers pressing down on the chest of a person on the ground, and which is alleged to have caused deaths during arrests, remains legal.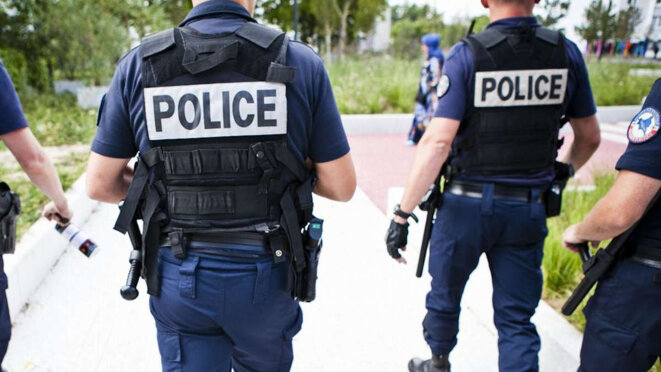 France's national police force: while officals talk of a few 'rotten apples' others see systemic racism. © AFP/Valery Hache
Amid a mounting debate over accusations of systemic racism within France's police force, this joint investigation by Mediapart and ARTE Radio reveals the vile exchanges between police officers on a WhatsApp chat group, in which they talk of "enemies of the white race" and of "niggers", describe women as "whores", Jews as "sons of bitches" who "govern the country", and gay men as "poofs". Camille Polloni reports on a case that came to light only due to the courage of one of their black colleagues and how, five months after his formal complaint, the men were still in their posts.
This week has been marked by numerous demonstrations, both in the US and across the globe, in protest at police violence following the killing of George Floyd, the 46-year-old Afro-American who was suffocated to death by an officer in Minneapolis. In this op-ed article, Mediapart publishing editor Edwy Plenel argues why, when the police is gangrened by racism, it is because the powers in place, a ruling class and its elites, hold a silent hate of democracy, the people and equality – and that this applies as much to France as it does to the United States.
Protests around France continued on Thursday over alleged racist violence by police, prompted by a campaign by the family of Adama Traoré, a 24-year-old man of Malian origin, for a full investigation into his death in police custody allegedly from asphyxiation, and the outrage over the death in the US of George Floyd, 46, an Afro-American who was suffocated by a police officer during his arrest in Minneapolis.   
The French government's spokeswoman called for calm on Wednesday after violent scenes at a demonstration by around 20,000 people on Tuesday evening against what they claim is a cover-up over the 2016 death of Adama Traoré, 24, who suffocated while he was pinned down by gendarmes during his arrest in July 2016, a case which the protesters likened to the killing in the US of George Floyd.