Balck Italian footballer Mario Balotelli, now playing with French team Nice, bitterly denounced racist chanting against him by fans of Corsican team Bastia, who he says directed monkey imitations at him during the Ligue 1 match between the two sides.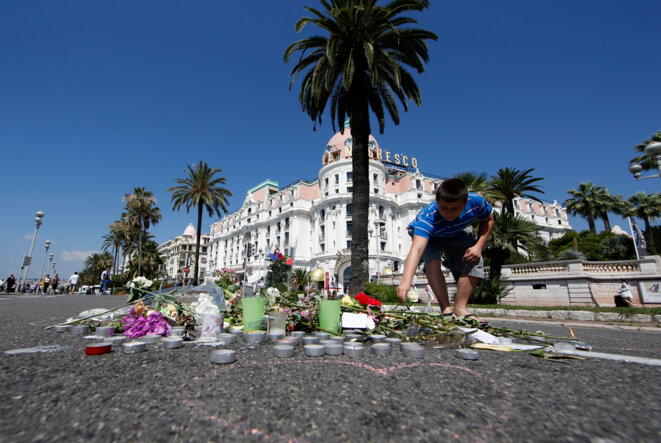 July 18th: tributes to the Bastille Day attack on the Promenade des Anglais in Nice. © Reuters
The Bastille Day attack in Nice, when a Tunisian immigrant from the city drove a truck into crowds walking the seafront Promenade des Anglais, killing 84 people, has heightened the already prevalent racial and social tensions in the Riviera capital. Ellen Salvi reports from Nice, where local politicians have long fuelled the fires of division that threaten to engulf the city.
The French forward, implicated in a sex tape scam, tells Spanish magazine he was left out of squad for Euro 2016 because of his North African origins.
The 'March of Dignity', headed by women, was held to protest against racism, police heavy-handedness and injustice.
Former French president Sarkozy came under fire for singling out two non-white female ministers in a largely white government as incompetent.
Reports says that discrimination is 'main source of inequality' in France for young men of sub-Saharan African or north African origins.
The former RUC policeman, 50, was identified as among a group of football supporters who pushed a black man off a metro train last week.
French police have given their British counterparts the images of seven suspects after a black man was pushed off a Paris metro train on Tuesday.
The Council of Europe's Commissioner for Human Rights, Nils Muižnieks, on Tuesday released a report entitled 'France: persistent discrimination endangers human rights'. The Latvian appears largely unimpressed with what he saw during a fact-finding mission to France last October, and denounces increasing anti-Semitism, anti-Muslim acts and racism in general, homophobia, a rise in "hate speech", the poor treatment of asylum seekers and the "social exclusion and marginalisation of persons with disabilities". Carine Fouteau reports on the Commissioner's conclusions.
From his alignment with the Israeli far-right to the banning of demonstrations in solidarity with the Palestinian people, and the suggestion that this show of solidarity is in fact anti-Semitism disguised as anti-Zionism, French President François Hollande has lost his way, writes Mediapart editor-in-chief Edwy Plenel. In this opinion article presented as an open letter to the head of state, he argues that Hollande has adopted a position of incoherence and hypocrisy that will bring him no political gain and which ignores the lessons of history.
Zaïr Kédadouche, France's man in Andorra, writes to President Hollande that he 'met the most abject racism' in elite diplomatic service.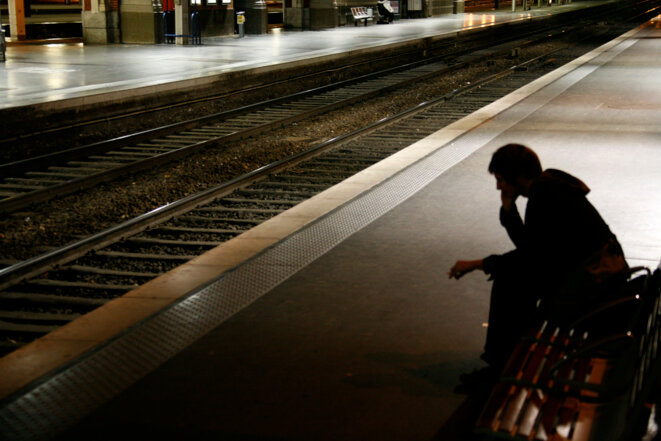 © Reuters
The internal police force run by state-owned railway company SNCF is supposed to protect both passengers and other rail staff from attack or abuse. But officers in one section of the force in the south of the France have been accused of sending a racist text message, playing neo-Nazi songs and mistreating passengers of North African origin. According to documents seen by Mediapart, senior management at SNCF is fully aware of the claims, yet has failed to take any action. Meanwhile one of the officers who was a victim of the taunts has been ostracised by colleagues. Michaël Hajdenberg reports.
The march, mirrored by smaller protests nationwide, follows recent racist outrages, including crude attacks on France's black justice minister.
After earlier racist jibes aimed at justice minister Christiane Taubira, an extreme-right weekly news magazine has now published a front cover containing a racial slur against her. Here Mediapart's editor-in-chief Edwy Plenel attacks the growing tide of racism in France, arguing that the main casualty is the French Republic itself. He traces the immediate roots of its resurgence and calls for a protest march on December 3rd against racism - and for equality.
Ministers examine moves to block publication of weekly far-right magazine that makes 'banana' jibe against justice minister Christiane Taubira.