Related keywords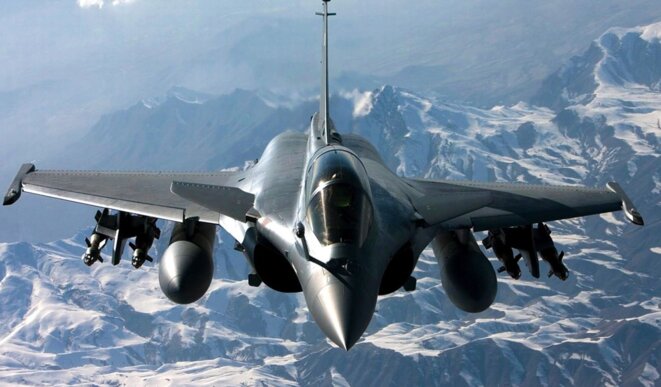 The Rafale fighter jet. © Dassault Aviation
The 8-billion-euro contract signed in New Delhi on Friday for the supply of 36 French-built Rafale fighter jets has been hailed by Paris as a major coup that underlines the technological prowess of the French aeronautical industry. But, Mediapart's India correspondent Guillaume Delacroix reports, the deal was struck after France agreed to massive discounts which virtually halve the total cost. But it also marks a new defence strategy by India, which now regards China as the principal threat to its security, and no longer Pakistan.
April deal for 36 of the French jets is hit by dispute over unit prices and degree of manufacturing to be carried out in India, say informed sources.
President François Hollande travelled to Doha to sign the Rafale deal, the fighter plane's third foreign contract after sales to Egypt, India.
Deal estimated in excess of €6bn is third such contract in under 3 months and highlights recent revival of the jet's commercial prospects.
Indian Prime Minister Narenda Modi said India had agreed to buy 36 Rafale jets which will be built in France, in a deal worth 4 billion euros.
Egyptian president said €3.2 billion of the €5.2 billion cost of buying France's Rafale fighter planes came from French government loan.
Following a recent breakthrough deal to sell the Dassault jets to Egypt, Jean-Yves Le Drian will attempt to shore up a $12 billion deal with India.
French defence minister Jean-Yves Le Drian and the CEO of the jet's maker Dassault travelled to Cairo to seal the multi-billion euro deal.
President François Hollande has confirmed a 5 billion-euro deal with Egypt for the off-the-shelf sale of the jets, a frigate and military equipment.
Dassault's hopes of a multi-billion-euro deal to sell its Rafale fighter jet to Brazil have been dashed after the contract was given to Saab.
The French defence minister says defence giant Dassault would halt production of its Rafale multirole fighter jet if it remains unable to sell any abroad.