Sushen Gupta, the Indian business intermediary paid several million euros for his role in helping French aircraft manufacturer Dassault Aviation conclude its sale to India of 36 Rafale fighter jets, provided remunerations to a former high-ranking Indian army officer and his daughter via offshore companies, involving questionable services and invoices. The retired officer and his daughter insist nothing illegal took place. Yann Philippin reports.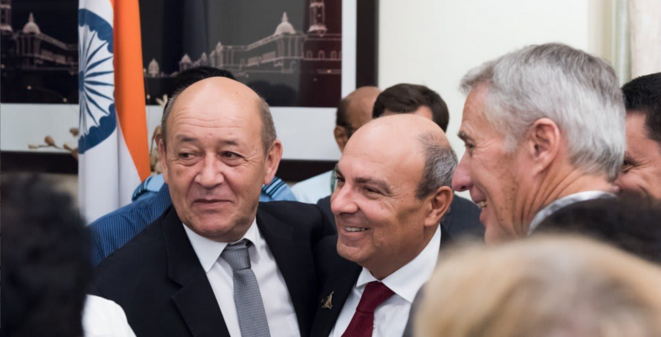 Then French defence minister Jean-Yves Le Drian (l) celebrates with Dassault CEO Dassault Aviation CEO Éric Trappier (c) the signing of the Rafale deal in September 2016. © Dassault Aviation
In this final report in a three-part investigation into the controversial sale by France to India of 36 Rafale fighter aircraft, Mediapart reveals, with hitherto unpublished documents, how an influential Indian business intermediary was secretly paid millions of euros by Rafale manufacturer Dassault Aviation and French defence electronics firm Thales. They succeeded in removing anti-corruption clauses from the fighter contract which was subsequently signed by then French defence minister, now foreign minister, Jean-Yves Le Drian. Yann Philippin reports.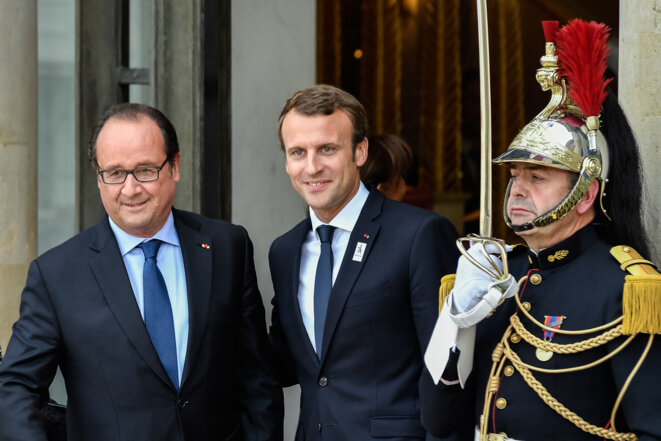 French President Emmanuel Macron and his predecessor François Hollande at the Élysée Palace in September 2017. © Julien Mattia / NurPhoto via AFP
In this second of a three-part series of investigations into the controversial sale by France to India of 36 Rafale fighter aircraft, Mediapart details how the then head of the French public prosecution services' financial crimes branch, Éliane Houlette, shelved investigations into evidence of corruption behind the deal, despite the contrary opinion of her colleagues. France's current president, Emmanuel Macron, and his predecessor, François Hollande, are cited in the allegations levelled in the case. Houlette has since justified her decision as preserving "the interests of France, the workings of institutions". Yann Philippin reports. 
The first five of 36 Rafale fighter jets ordered by India from French constructor Dassault have left France for the Asian sub-continent, accompanied by a French plane carrying 70 respirators, 100,000 test kits and 10 military health professionals to help Indian efforts to combat the Covid-19 pandemic.
A 64-year-old civilian who was invited as a back-seat passenger on a flight in a French air force Rafale fighter jet became so unsteadied by the g-force as his straps unloosened that he accidentally grabbed the ejector handle, rocketing him out of the aircraft when he parachuted – safely – to ground in north-east France, a probe into the incident has found.  
A deal for the supply by France to India of a further 36 Rafale fighter jets is to be discussed at a meeting between President Emmanuel Macron and Indian Prime Minister Narendra Modi ahead of this weekend's G7 summit in Biarritz, according to Indian media reports quoting unnamed sources.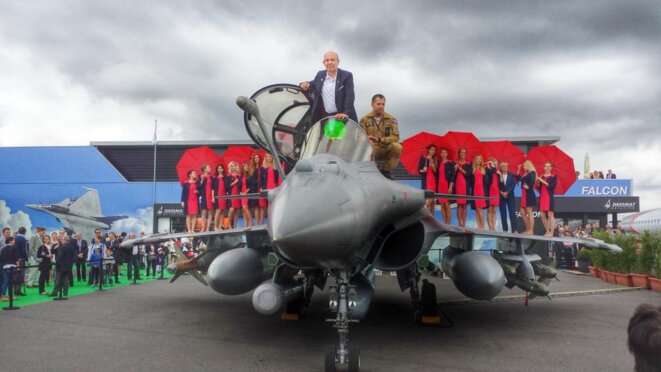 Éric Trappier, CEO of Dassault Aviation, standing on a Rafale jet fighter at the Le Bourget airshow near Paris in 2015. © Dassault
As India heads into tightly fought general elections on Thursday, outgoing Prime Minister Narendra Modi has become further engulfed in a suspected corruption scandal surrounding the sale by France to India of 36 Rafale fighter jets, built by French group Dassault Aviation, in a deal he signed in 2016. It emerged this weekend that, during negotiations over the contract, the French tax authorities extraordinarily wrote off a tax debt of more than 140 million euros owed by a French company belonging to Anil Ambani, an Indian businessman and friend of Modi's, whose company was made industrial partner in the deal in questionable circumstances. Meanwhile, anti-corruption NGO Sherpa has submitted further information to the French public prosecution services over numerous "irregularities" that implicate the different parties in the contract, worth 7.7 billion euros.
French aerospace and defence group Dassault Aviation has issued a statement insisting it 'freely' chose India's Reliance Group, run by a businessman close to Indian Prime Minister Narendra Modi, as its local industrial partner as part of the sale to New Delhi of 36 Rafale fighter planes, following the revelation by Mediapart of a document in which one of its senior executives is cited as saying the choice of Reliance was  'imperative and obligatory' in securing the contract. 
Speaking at a press briefing in Paris on Thurday, Indian defence minister Nirmala Sitharaman reiterated her government's claim that did not impose an Indian company run by a businessman close to Prime Minister Narendra Modi as local industrial partner for Dassault Aviation in the sale to New Delhi of 36 Rafale fighter planes, despite new evidence published by Mediapart suggesting that was the case.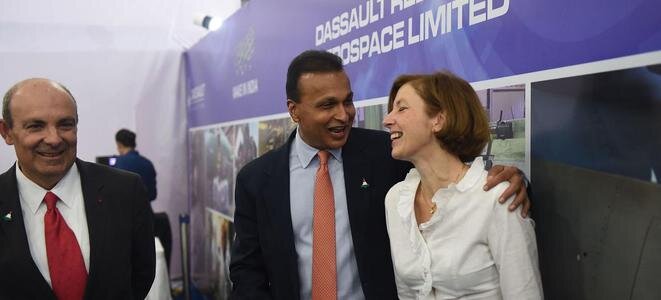 French defence minister Florence Parly with Reliance Group chairman Anil Ambani (centre) and Dassault CEO Éric Trappier (left), inaugurating the Nagpur joint venture plant, October 27th 2017. © Reliance Group
The sale to India by France of 36 Dassault Rafale jet fighters for close to 8 billion euros has become the centre of corruption allegations levelled against Indian Prime Minister Narendra Modi and his close friend, Indian businessman Anil Ambani, chairman of the Reliance Group which was handed the role of local industrial partner of Dassault to build parts for the jets despite no aeronautical expertise. The claim that Ambani was given the joint venture contract as a favour by Modi to save his struggling business is the subject of a complaint lodged this month with India's Central Bureau of Investigation. Now Mediapart has obtained a Dassault company document in which a senior executive is quoted as saying the group accepted to work with Reliance as an "imperative and obligatory" condition for securing the fighter contract. Karl Laske and Antton Rouget report.
Indian political opposition groups this weekend called on Prime Minister Narendra Modi to resign after a report in Mediapart on Friday in which former French president François Hollande's comments on an 8-billion-euro fighter deal with New Delhi suggested possible favouritism by Modi in the choice of the Indian partner in the joint venture.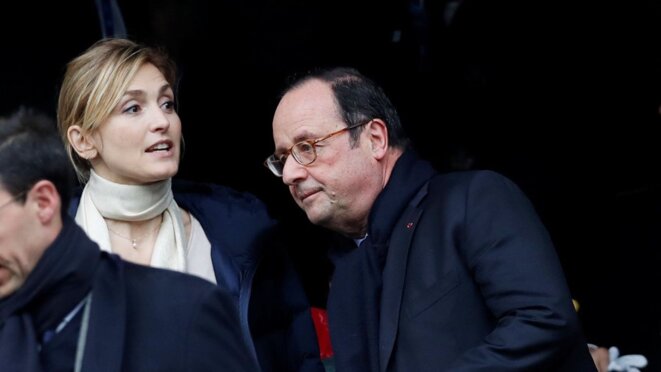 Julie Gayet and François Hollande. © Reuters
The sale to India by France of 36 Dassault Rafale jet fighters, signed during the presidency of François Hollande, is at the centre of a growing scandal in India where opposition parliamentarians have demanded a detailed investigation of the deal, alleging favouritism, mismanagement of public funds, and the endangering of national security. They are notably suspicious of the circumstances by which India's Reliance Group was assigned as Dassault's industrial partner in the jets deal. As Karl Laske and Antton Rouget report here, at the very time the deal was struck, Reliance provided funding for a film produced by Hollande's personal partner, the actress Julie Gayet.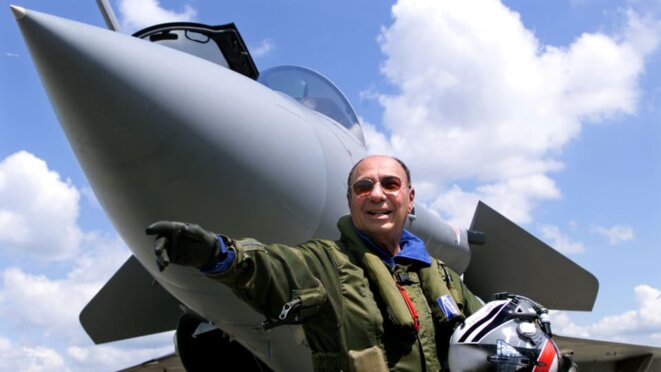 Serge Dassault in 1999 posing next to a Rafale jet at the Le Bourget air show north of Paris. © Reuters
Serge Dassault, who died on May 28th, 2018, at the age of 93, was a billionaire industrialist in the aviation sector, a former Senator and mayor, and the owner of the conservative daily newspaper Le Figaro. Prevented from having a major role the family business empire until the death of his father, Serge Dassault was driven by ambition and the desire to surpass what Marcel Dassault achieved. But despite his undoubted business successes, Serge Dassault's own legacy was tarnished by corruption affairs and allegations of buying votes, and he was convicted of tax fraud in 2017. Mediapart's Yann Philippin, who has spent many years reporting on the 'Dassault method', reports.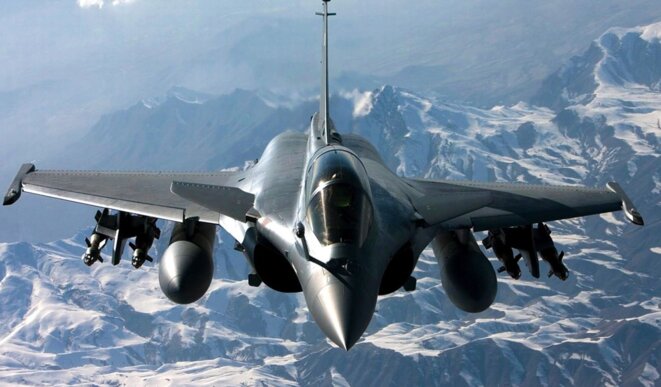 The Rafale fighter jet. © Dassault Aviation
The 8-billion-euro contract signed in New Delhi on Friday for the supply of 36 French-built Rafale fighter jets has been hailed by Paris as a major coup that underlines the technological prowess of the French aeronautical industry. But, Mediapart's India correspondent Guillaume Delacroix reports, the deal was struck after France agreed to massive discounts which virtually halve the total cost. But it also marks a new defence strategy by India, which now regards China as the principal threat to its security, and no longer Pakistan.