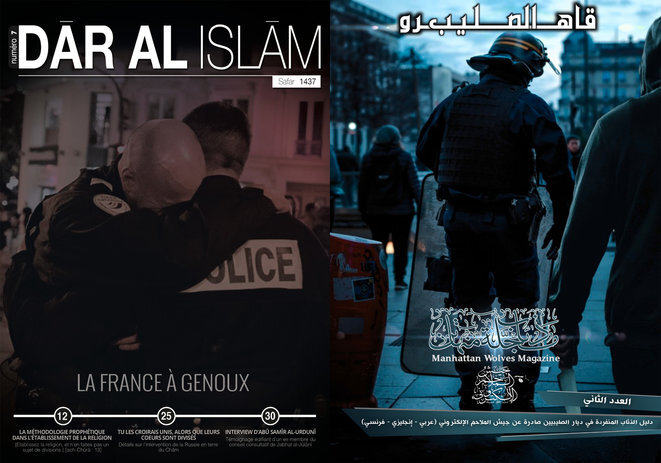 Jihadist propaganda publications often target the French police. © DR
The murder of a policewoman at Rambouillet, south west of Paris, on Friday April 23rd brought to 12 the number of members of the police and security forces who have been killed in terrorist attacks in France since 2015. Overall, attacks targeting police officers have grown in number over that period. This "French exception"  is a phenomenon which has become more prevalent since the collapse of Islamic State's self-styled 'Caliphate' in the Middle East. Matthieu Suc reports.
Anti-terrorism prosecutor Jean-François Ricard said police are questioning a cousin of the suspect after the murder of a policewoman at Rambouillet; the suspect's father, a couple who had provided him with an address for mail and other administration, and another cousin are also being questioned.
French president spoke after a female police officer was stabbed to death outside a police station south west of Paris by a suspected Islamist extremist from Tunisia who was then shot dead by the security forces.
Anti-terror prosecutors are leading probe into murder of 49-year-old unarmed female officer who was stabbed in the neck as she returned from her lunch break; her attacker was then shot dead.