Related keywords
Two police officers from the Paris 'anti-gang' squad went on trial on Monday accused of raping a Canadian tourist at their headquarters in the French capital in 2014, after they met her in a nearby Irish pub.
Georges Tron, a former French junior minster and Member of Parliament, and mayor of a town near Paris, has been acquitted by a trial jury of charges of raping two women employees of his town hall in sexual assaults abetted by his female deputy, after jurors found no evidence that the plaintifs did not consent to the events.
Police in France have opened an investigation after video images were published on Snapchat and Twitter apparently showing a young woman being raped near a nightclub in the south-west city of Toulouse, and which were blocked after the authorities were alerted by users of the social media.
Saad Lamjarred, a Moroccan singer and a star in his home country who fled bail in the US after being charged with beating and raping a woman in New York in 2010, and who was accused of another rape of a woman in Paris in 2016, has been refused bail on appeal after he was arrested in France for the alleged rape of a woman in the Rivierra resort of Saint-Tropez.
The popular Moroccan singer Saad Lamjarre, whose 2015 hit Lmaallem has become the most-viewed song by an Arab artist on YouTube, and who also jumped bail on rape charges in the US in 2010, has been detained in France after a third accusation of rape lodged against him, this time by a woman who says he forced himself upon her in a hotel in Saint-Tropez.
Critics say new version of French government's bill not only lessens protection of children, it also opens up a new legal loophole for child rapists.
The man, 57, from Pont-sur-Sambre near Belgian border, is said to have confessed during questioning to attacks on women dating back decades.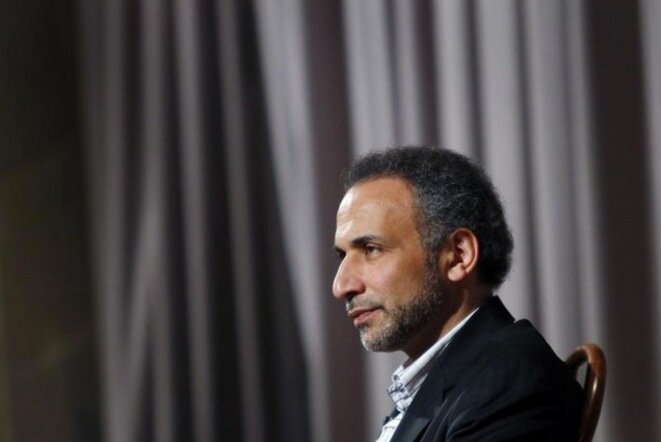 Tariq Ramadan, under investigation for rape and placed in preventive detention. © Reuters
Over the past two weeks a number of Muslim figures and organisations in France, together with anti-racist militants, have become increasingly vocal in calling for the release from preventive detention of prominent Islamic intellectual, scholar and preacher Tariq Ramadan, a professor of contemporary Islamic studies at the University of Oxford, who was earlier this month placed under investigation for two rapes. His supporters argue that he is subject to unusually harsh treatment, that his state of health has not been properly taken into account, with some also throwing doubt on the veracity of the accounts of his alleged victims. But, as Louise Fessard reports, the support leant to Ramadan has opened deep divisions among French Muslims, with questions raised over the motivations of the campaigners.
A preliminary investigation opened last month after a woman filed a lawsuit accusing budget minister Gérald Darmanin of raping her in 2009 has been dropped after no evidence was found of 'coercion, threat, surprise or violence' the Paris prosecution services announced on Friday.
French government colleagues of the budget and public accounts minister, Gérald Darmanin, have defended his right to remain in his post while awaiting the findings of an investigation into a complaint launched against him for his alleged rape in 2009 of a woman who had asked him for help in a legal case concerning her, an accusation he has denied.
Following recent acquittals in separate cases of men charged with raping 11-year-old girls, rulings justified by magistrates on the grounds that there was no evidence of violence or constraint, France's gender parity minister Marlène Schiappa said her government is to consider changes in the law that would automatically qualify sexual intercourse between an adult and a minor 'under a certain age' as rape.
French MPs to debate measures including a clear age of consent after court dropped rape charge in case involving an 11-year-old girl.
Police arrested a dozen people on a fourth night of clashes with youths on housing estates north of Paris, amid fury over the violent arrest.
Officers stopping youths in Paris suburb and asking to see identity papers allegedly forced a 22-year-old man to the ground and beat him.