Keyword: Rassemblement national
Related keywords
Following revelations of previously unseen footage of US President Donald Trump's former advisor Steve Bannon taking part in discussions in London with France's far-right Rassemblement National party, broadcast by a French TV current affairs programme and during which he was invited and accepted to discuss with the party's sympathisers from among France's high-ranking civil servants, has prompted calls for a parliamentary inquiry.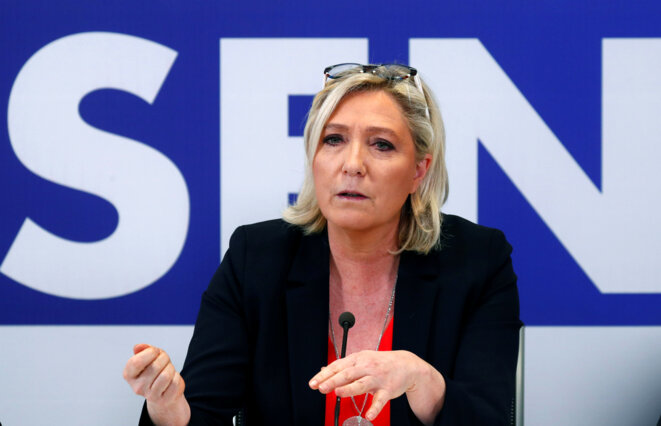 Far-right Rassemblement National party leader Marine Le Pen. © Reuters
To fund its campaign for this month's European Parliament elections, the French far-right Rassemblement National party (the renamed Front National) has raised around 4 million euros through so-called "patriotic" loans from its members and supporters, to who it has promised a 5% interest rate. The party will submit the amounts raised, with interest, in its application for a post-election refund of campaign spending that is granted to parties and paid out of the public purse. The generous interest payments paid to its lending members and supporters will cost the taxpayer around 200,000 euros, and the party says it plans employing the same strategy in future elections. Marine Turchi reports.
In a speech on Sunday to supporters of her Rassemblement National (National Rally) party in the southern French town of Fréjus, far-right leader Marine Le Pen said her party would campaign 'in liaison' with its Europe of Nations and Freedom party allies for next May's European Parliament elections, which President Emmanuel Macron has billed as a battle between anti-immigrant populists like Le Pen and pro-European Union progressives like himself.
The youth arms of France's Rassemblement national (National Rally) party, formerly called the Front National, and its far-right Italian ally, the League, staged a joint demonstration near the French-Italian border on Sunday to demand tough measures against what they said was the 'overwhelming' of Europe by migrants.
French judges have blocked the payment of more than £2 million in state subsidies to the far-Right party, newly named Rassemblement National.
Marine Le Pen's far-right party is now Rassemblement National or National Rally in bid to broaden appeal ahead of European elections next year.
Marine Le Pen unveils new name of 'Rassemblement National', which still needs final approval, saying current name was 'psychological barrier'.