Keyword: Recep Tayyip Erdogan
Related keywords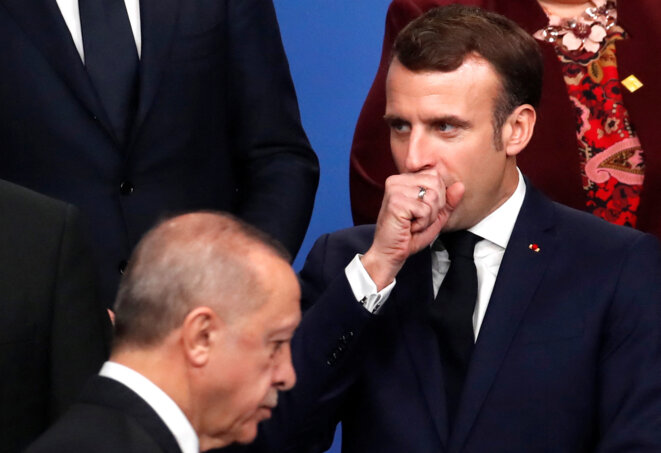 Emmanuel Macron and Turkish president Recep Tayyip Erdogan at the NATO summit on December 4th 2019. © CHRISTIAN HARTMANN / POOL / AFP
President Emmanuel Macron has championed measures against Islamic 'separatism' in French society, and legislation on the issue is currently going through the country's Parliament. This controversial move has handed Turkey's combative president Recep Tayyip Erdogan a fresh opportunity to portray himself as the leading Muslim leader standing up against Western Islamophobia. But as Nicolas Cheviron reports from Istanbul, behind the geopolitical considerations, Franco-Turkish Muslims have genuine concerns about the new measures in France.
In a wide-ranging TV interview the French president also touched on police brutality and the pandemic.
Les Contamines housing estate in Albertville, in the east of France, where the families of the arrested children live. © (FBt-Mediapart)
On November 2nd 2020 schools around France held a minute's silence in a national tribute to teacher Samuel Paty who was decapitated near his school two weeks earlier. The teacher had shown pupils caricatures of Muhammed as part of a lesson on freedom of speech. Three days after that national tribute four pupils in Albertville near the French Alps were arrested by police for "apologia" for or glorification of terrorism and for making death threats. Mediapart's Francois Bonnet spoke to three of the families who tell a very different story from the official accounts. Their stories suggest that the authorities' actions spiralled out of control, amid some confused statements from the local prosecutor.
France announced on Saturday that it was recalling its ambassador from Ankara after Turkish President Recep Erdogan said in a televised address to his compatriots that French President Emmanuel Macron had a 'problem' with Muslims and 'needs mental treatment'.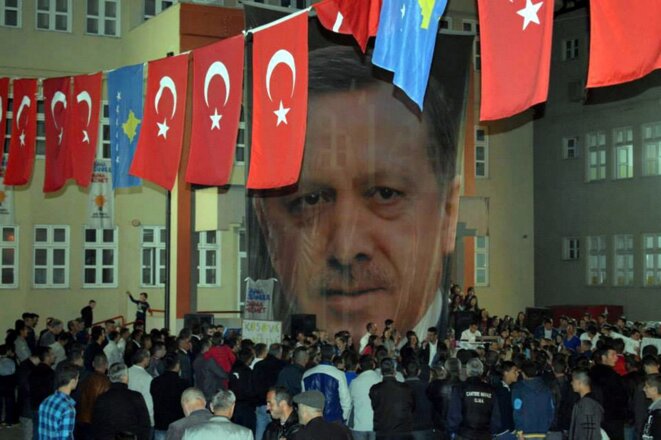 Turks from the Balkans gather at Pristina in Kosovo in March 2014. © Mamusa Municipality/Anadolu Agency/AFP
The recent decision by France to bolster its naval presence in the eastern Mediterranean because of controversial Turkish oil and gas exploration in disputed waters is a reminder of how Ankara has been starting to flex its muscles outside its borders. Meanwhile Turkey has been quietly extending its economic influence in the Balkans, an area it once controlled under the Ottoman Empire but where it lost power after wars in 1912 and 1913 and then World War I. Jean-Arnault Dérens looks at Turkey's growing influence in the region a century after the end of its empire.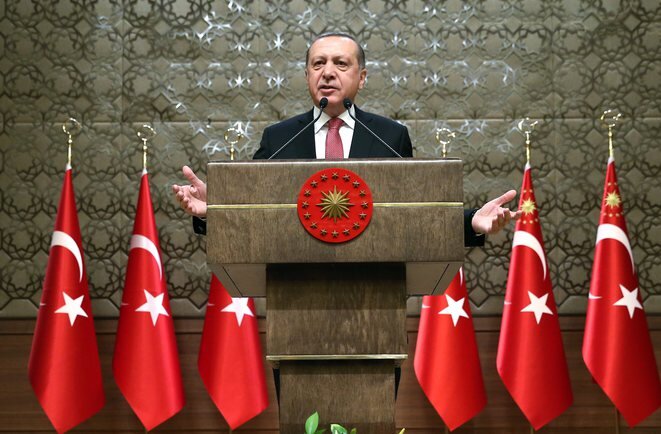 Strongman: Turkish President Recep Tayyip Erdogan. © Reuters
Since the re-election in June of Turkey's president Recep Erdogan, the country has adopted a constitutional system that hands new and vast executive and legislative powers to the authoritarian head of state. Mediapart's correspondent in Istanbul Nicolas Cheviron reports on the essential changes that spearhead the construction of Erdogan's 'New Turkey'.
Talks at Elysée set to cover Syria and EU-Turkey relations, but host Macron is also likely to voice concern over Erdogan's post-coup purges.
Recep Tayyip Erdogan's trip comes the day before a commemoration of the murder of three Kurdish activists in Paris five years ago.
French President Emmanuel Macron has held a phone conversation with his Turkish counterpart Recep Tayyip Erdogan and 'expressed his concern about the case of Loup Bureau, a journalism student detained in Turkey, and his desire to see our compatriot return to France as soon as possible' said a statement by the Elysée Palace.
French officials said Turkish President Recep Erdogan has said he will examine the case of French photographer Mathias Depardon, arrested  earlier this month while on an assignment for National Geographic magazine in south-east Turkey, after French President Emmanuel Macron raised the issue with him ahead of a NATO summit in Brussels.
Conservative and far-right presidential candidates sharply criticised the socialist government for allowing Turkey's foreign minister to attend a meeting in France to rally support for proposed changes to his country's constitution which will strengthen the powers of Turkish President Recep Tayyip Erdogan.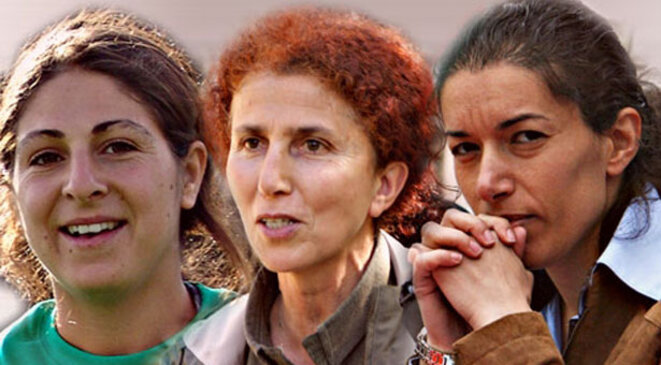 The three Kurdish activists killed in 2013: Leyla Saylemez, Sakine Cansiz, Fidan Dogan.
In January 2013 three female Kurdish activists were gunned down in cold blood at their offices in Paris. The chief – and only - official suspect will stand trial in France early this year for their murder. However, despite an investigation by three examining magistrates the people who ordered the killings have never officially been identified. Instead, political, diplomatic and security concerns appear to have blunted the French judiciary's probe. Nonetheless, writes Jacques Massey, it is clear that the confrontational approach adopted by Turkish president president Recep Tayyip Erdogan towards the Kurds lies behind the shootings.
Pro-democracy and minority groups protested PM Recep Tayyip Erdogan's visit to meet with Turkish expats ahead of presidential poll.
Official visit by president aimed to promote trade ties and also heal rifts with Turkey over issue of EU membership and Armenian genocide.