French Prime Minister Édouard Philippe on Tuesday anounced his government's raft of measures to overhaul the unemployment benefits system, which he claimed would lower the jobless rate and save 3.4 billion euros over three years, and which will include extending the period people have to work before being eligible for aid, a cut in indemnities for high-income earners, ensuring benefits are lower than job pay, and the  penalizing of companies which repeatedly use short-term contracts.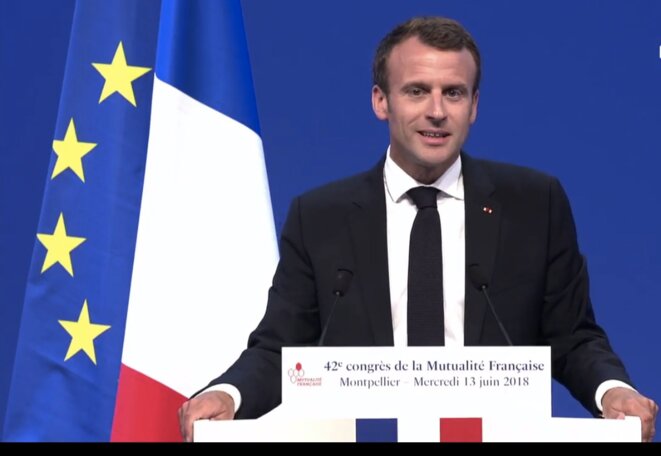 Emmanuel Macron speaking in Montpellier, June 13th 2018. © DR
French President Emmanuel Macron this week presented a broad outline of a future reform of the country's welfare system, in a speech to a congress of health insurance companies. Beyond an announcement of measures to facilitate access to certain types of healthcare and boost the prevention of illness, Macron said the current welfare system, which he described as "moth-eaten", was a failed model, but insisted the solutions to its problems "cannot be budgetary". Attacking poverty, he said, can only succeed by making people "responsible" for their lives. Manuel Jardinaud analyses the president's speech and concludes that behind the catchphrases and carefully avoided issues emerges Macron's strategy for the dismantling of France's cherished social protection system.
French Prime Minister Edouard Philippe on Monday announced a raft of measures aimed at ending "bureaucratic inflation", including the 'right of error' on tax returns and similar charges by businesses and individuals and a reduction in administrative paperwork.
Following recent acquittals in separate cases of men charged with raping 11-year-old girls, rulings justified by magistrates on the grounds that there was no evidence of violence or constraint, France's gender parity minister Marlène Schiappa said her government is to consider changes in the law that would automatically qualify sexual intercourse between an adult and a minor 'under a certain age' as rape.
He proposes a 'common defence force,' two agencies handling counter-terrorism intelligence and new talks about a tax on financial transactions.
Speaking before the French senate on plans for territorial reorganisation in France, President Emmanuel Macron said his government would this autumn move a reform to 'drastically simplify' the administrative structure of the Greater Paris region where a population of about ten million people governed by a patchwork of independent authorities.
Former economy minister, who quit last week, said Hollande's government made choice 'not to launch a second wave of economic reforms'.
The bill, which has prompted weeks of nationwide protsests from unions and student groups, would free up hire and fire conditions for employers.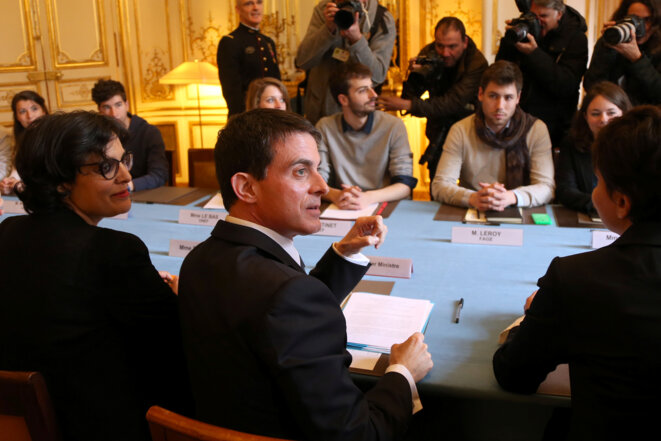 Manuel Valls, with labour minister Myriam El Khomri (l) and education minister Najat Vallaud-Belkacem, meeting with student representatives on Monday. © Reuters
François Hollande's expected bid for a new term of office in presidential elections next year is facing a serious threat from growing student anger over his government's proposed new labour law. A string of national protests have brought student and trades unions onto the streets in recent weeks against what they see as a pro-business, retrograde reform that heightens job insecurity at a time of record unemployment. The perspective of a spring revolt prompted the government to present a package of measures for the young on Monday, worth a yearly 500 million euros and aimed at easing access to the labour market and to provide financial aid for the worst off. But while the measures were broadly met with approval, the student unions vowed to continue the battle against the reform. Faïza Zerouala reports.
School and university students took to the streets across France to protest government's proposed reform to free-up the labour market.
President François Hollande, already deeply unpopular, faces growing anger from left-wing youth organisations that would usually back him.
French MPs this week voted in favour of the government's proposed reforms of France's constitution, which include enshrining into fundamental law state of emergency powers and the stripping of French nationality from convicted terrorists. The highly controversial bill will next month be debated by the Senate, and must finally be presented to an extraordinary 'Congress' meeting of both houses. Mediapart editor François Bonnet argues here that the proposed reform of the constitution carries a triple menace that threatens the heart of French democracy, the future of the socialist party, and also President François Hollande's ambition to gain a second term of office.
French lower house approves by a margin of 14 votes the measure to be written into the constitution and which has divided ruling socialist camp.
The move would bar legal challenges to search and detention powers and the stripping of French citizenship from dual nationals convicted of terrorism.