In January 2016 the number of regions in France will be reduced from 22 to 13 as part of a major reform of local government. Last week the government announced the names of the capital cities of these larger regions. But as Feriel Alouti reports, the debate over the way this reform was carried out and the likely impact of the changes still continues.
Addressing what some see as a flaw in the euro, the French president calls for 'a specific budget' and parliament 'to ensure democratic control'.
Thousands of teachers are expected to take to the streets on Tuesday over planned reform of France's middle schools or collèges.
The Paris march was against a bill of law by which doctors consultation fees are paid in arrears by health fund, instead of upfront by patients.
Under a reform to help worst-off receive proper medical care, family doctors must claim back their consultation fees from the public health fund.
Former French finance minister says Paris cannot use low inflation as a 'screen' to postpone the 'necessary efforts on public spending'.
The number of French regions is to be cut from 22 to 14 in a reform that looks set to attract strong opposition on both the Left and Right.
All new registrations of private-hire cabs are suspended after a series of protests by street taxi drivers angry at a breach of their monopoly.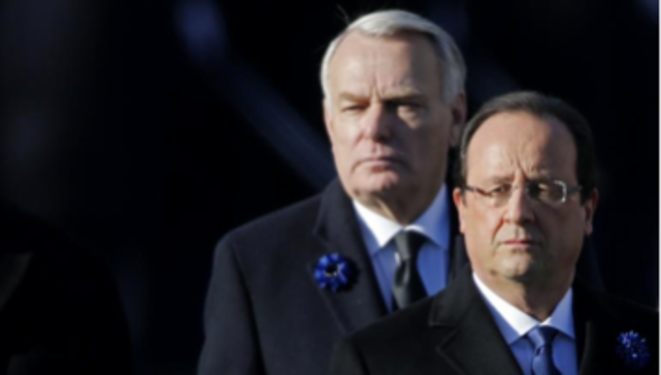 François Hollande et Jean-Marc Ayrault le 11 novembre 2013. © Reuters
After 20 months in power, relations between French President François Hollande and Prime Minister Jean-Marc Ayrault are showing cracks. Despite a public show of solidarity, in private the two men are at odds over the management of economic and social policies, and Ayrault's future appears increasingly uncertain. Lénaïg Bredoux traces how the two men have begun drifting apart and hears the views from insiders close to both, one of whom insists: "François Hollande fired Ayrault in December, but no-one knows."
Anti-abortion protestors claimed 40,000 rallied against a bill of law that will remove a mother's 'situation of distress' as a condition for aborting.
Central bank boss says France has made 'big efforts' but competitiveness is 'insufficient' and country is over reliant on tax hikes to cut deficits.
Prime minister Jean-Marc Ayrault rules out liberalisation of Sunday trading but promises to clear up 'inconsistencies' in current law.
Commission gives guarded blessing to 2014 budget but says French plans are only 'partly adequate' for getting grip on public finances.
Feminists express outrage at a move by well-known journalists, actors and lawyers to attack proposed changes in prostitution laws.  
Measure has attracted little street protest at home but international critics say it does not go far enough.