Nationwide street protests called by public sector workers' unions against government plans to reduce 120,000 jobs by 2022 drew between around 110,000-250,000 demonstrators according to, respectively, interior ministry estimates and those of unions, ahead of draft legislation due to be debated before parliament next week.
PM Édouard Philippe and his team spent a day coming up with concrete measures to improve daily life in response to yellow vest protests.
New measures to address 'yellow vests' protests  include tax cuts, a reform of the civil service and the introduction of proportional representation.
Macron to hold first-ever full domestic news conference to outline series of reforms drawn up in response to the 'yellow vest' protests.
At a meeting of European Union (EU) ministers on Tuesday, France and Germany said they were concerned over reforms of the Polish judicial system, which are regarded as politically intimidating for the country's courts and a threat to their independence, voicing their support for EU Commission infringement procedures which could in theory result in Poland losing its EU voting rights.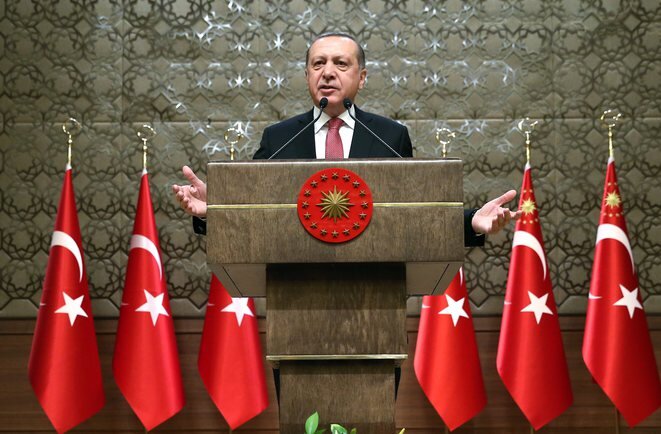 Strongman: Turkish President Recep Tayyip Erdogan. © Reuters
Since the re-election in June of Turkey's president Recep Erdogan, the country has adopted a constitutional system that hands new and vast executive and legislative powers to the authoritarian head of state. Mediapart's correspondent in Istanbul Nicolas Cheviron reports on the essential changes that spearhead the construction of Erdogan's 'New Turkey'.
French President Emmanuel Macron held a post-holiday cabinet meeting of ministers ahead of challenging months ahead when he faces stern opposition to his planned reforms of the pensions system, an overhaul of the public healthcare system and a shake-up the highly unionized public sector, amid forecasts that economic growth is slower than expected.
One of the several railway workers' unions that have held two-day rolling strikes since April against the French government's reforms of the state-run network, ahead of the introduction of private competition, has vowed to continue the disruption despite parliament's final approval of the reforms on Thursday.
A so-called 'tidal wave' of nationwide street demonstrations called for by radical-left party 'France Unbowed' together with one of the country's biggest trade unions, the CGT, and dozens of left-leaning associations on Saturday in protest at French President Emmanuel Macron's public sector reforms and tax breaks for the wealthy drew fewer numbers than hoped for, with the largest march, in Paris, numbering an estimated 32,000 people according to independent estimates, 5,000 less than a similar demonstration on May 5th. 
In a fresh round of negotiations on Friday between the French government and rail union officials leading rolling strikes in protest at planned reforms to shakeup the publicly-owned SNCF railways company, including the introduction of private competition, Prime Minister Edouard Philippe has proposed that the state will absorb most of the company's debts of 47 billion euros in return for an end to the dispute.
French public sector workers held a one-day strike on Tuesday against reforms planned by President Emmanuel Macron's government, which include the shedding of 120,000 jobs, notably disrupting transport, educational and energy services in a third day of action that also saw 130 demonstrations across the country.  
A Paris university student union leader involved in current protests against a reform of university entrance criteria has dismissed as 'pathetic' and 'quite comical' criticism by government ministers who accuse her of 'provocation' and promoting 'political Islam' by wearing a headscarf during media appearances. 
French railways operator SNCF has warned that the latest in a series of rolling two-day strikes will cause severe disruption to services on Monday, as unions heighten protest action against planned government reforms to prepare for the introduction of private competition on the railways and an end to job contract protections. 
Turnout in nationwide street protests in France on Thursday against the government's programme of economic reforms, notably in the public sector and of the state-run railway system in particular, was significantly lower than a similar day of demonstrations in March, with police estimating around 110,000 people took part, while unions claimed the figure was 300,000.