French President Emmanuel Macron appeared in a lengthy interview on national television on Thursday, speaking from a school classroom in a village in north-west France, when he said that despite protests over his railways reforms, and also growing opposition to reforms of university selection procedures and the justice system, he and his government will stand firm with its policies 'because the world around us is speeding up, going through great changes, and because our country must be able to choose its destiny and live better'.
Workers in transport and other public sectors plan strikes amid fears of protests in the run-up to the 50th anniversary of the May 1968 uprising.
State sector employees, and notably railway workers, staged one-day strikes and demonstrations across France on Thursday in protest at planned government reforms that will see spending cuts and job reductions and which President Emmanuel Macron's government intends introducing by decree and without parliamentary debate.
Unions have called an across-the-board strike by public sector employees on Thursday against President Emmanuel Macron's economic reform programme, in a key test of strength that is likely to severely affect transport, education, hospital and administrative services in particular.  
Thomas Cazenave, 39, a former telecoms executive whom President Emmanuel Macron has charged with reforming the public sector, has advised that Chatbots, software that can answer users' questions with a conversational approach, or algorithms helping the taxman to target potential tax evaders, were some of the possibilities offered by technology to reduce France's bureaucracy.
In his New Year's wishes to the French people, the president said he would seek to jolt Europe into reforming too. 
Street protests organised by trades unions in cities and towns across France on Thursday against President Emmanuel Macron's social and economic policies, notably reform of labour laws, were reported to have drawn a lower turnout than in previous demonstrations in September, with police claiming that 8,000 demonstrators joined marches in Paris against union estimates of 40,000. 
A delegation from the International Monetary Fund, which has met with French government ministers and business figures in Paris, on Monday praised President Emmanuel Macron for what it called an 'ambitious', 'comprehensive' and 'balanced' economic reform plan, which will begin this autumn with an overhaul of labour market regulations.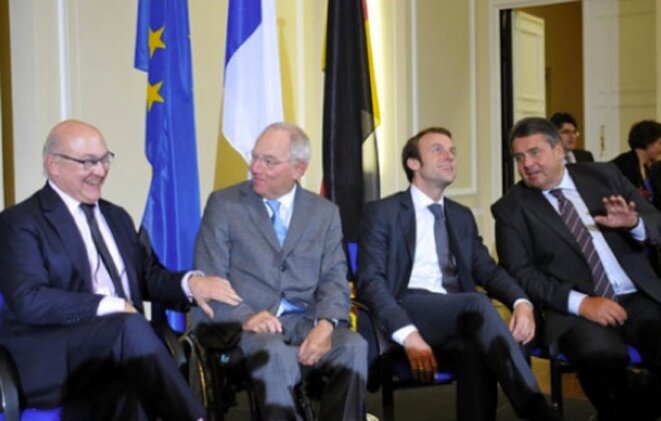 Crucial meeting? French and German finance and economy ministers meeting in Berlin, October 2014. © france-allemagne.fr
The French government's labour law reform bill, now being debated in the Senate, has prompted fierce opposition from several trades unions, massive demonstrations across the country, and a deep political and social crisis. Opinion polls show a majority of the population are opposed to the bill, which reduces current protection for employees with measures that include easing conditions for firing staff and placing a ceiling on compensation sums awarded by industrial tribunals. But the government is adamant it will not negotiate the bill's contents. Martine Orange investigates the reasons for its unusual intransigence, and discovers evidence that the most controversial texts of the bill were demanded by European Union economic liberals.
Violence flared in latest nationwide protests by students and workers over proposed labour law reforms, which are set to continue on Wednesday.
Early reports were of a lower than expected turnout for the protests against proposed reforms that reduce rights and safeguards for employees. 
If adopted definitively, the bill will enshrine state of emergency into France's constitution and strip French nationality from convicted terrorists.
Following the European debacle of the Greek crisis, French President François Hollande has called for reforms to the eurozone that include giving it budgetary powers and a parliament, and will soon meet with European Central Bank president Mario Draghi to discuss the issue which he hopes to place on the agenda of a European leaders' summit in October. Lénaïg Bredoux reports.
After Greek government submits new reform plan to international creditors, French finance minister says the list is 'better than last time'.
Though ruling socialists lost heavily in Sunday's polls, Hollande says priorities are supporting investment and 'social justice by promoting work'.