The UN's special rapporteur for housing, Leilani Farha, has spoken out at the 'inhuman or degrading treatment' of migrants and refugees living without proper shelter in France, notably in and around Calais where, she said, 'people are being compelled to live in really dire circumstances, having already endured harrowing journeys there'.
Populists in Italy have accused France of continuing to colonise many African states.
New arrivals in France lack rights and help in navigating minefield of bureaucracy, French MPs have been told.
Spanish refugees arriving across the French border in the village of Le Perthus, February 1939. © David Seymour. Musée national de l'histoire et des cultures de l'immigration
A move to include the 150th anniversary of the birth of the notorious French anti-Semitic and far-right author Charles Maurras in official ceremonies across France this year caused such an outcry that it was struck off the agenda, calling into question the criteria employed by the country's learned national commemorations committee. Amid the farce over Maurras, historian and Mediapart contributor Nicolas Lebourg argues here that a truly worthy commemoration sorely missing from the official calendar is that of the plight, and unsung contribution to France, of the hundreds of thousands of Spanish Civil War refugees who, in the runup to World War II, crossed into the country seeking refuge from the Franco regime.
French President Emmanuel Macron on Tuesday visited the Channel port of Calais, which for years has been a magnet for thousands of migrants from Africa and the Middle East seeking a passage to Britain from makeshift camps set up around the town. While his presence was ostensibly to address the local crisis, Macron's visit also served as a platform to present his government's proposed toughening up of immigration laws. But the planned clampdown on so-called economic migrants, who face mass deportations, has met with outrage not only from organisations defending migrants' rights, but also from Macron's own allies.
After the mass displacement last year of thousands from the notorious makeshift 'jungle' camp near the French Channel port of Calais, where for years migrants gathered while hoping for a clandestine passage to the UK, smaller numbers have begun returning to the zone where people-smuggling gangs are again closing in.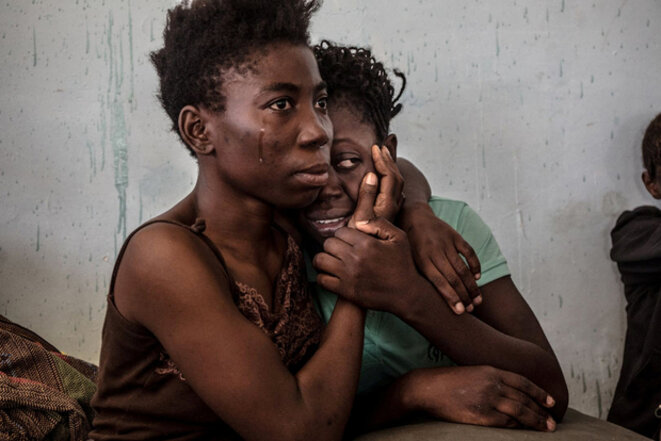 Nigerian migrants in a detention centre in Surman, Libya, August 2016. © Reuters
A report published this week by UN bodies UNICEF and the International Organization for Migration highlights the shocking treatment meted out to child migrants along their journeys to Europe. The most at risk are those from sub-Saharan countries travelling north to the Mediterranean through Libya, where they are exposed to sexual exploitation and forced labour, and who are especially targeted, the study finds, because of racism. Carine Fouteau reports.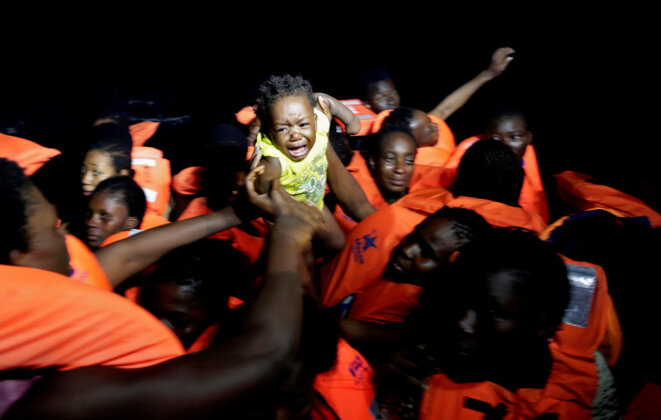 Migrants rescued from the Mediterranean Sea on October 20th 2016. © Reuters
Last week a court in Nice handed down a suspended prison sentence to a farmer convicted of helping the illegal entry of three Eritrean migrants into France. Meanwhile, the Italian authorities this month adopted a hostile approach to NGOs operating missions to rescue migrants from perilous conditions in the Mediterranean, accusing them of aiding illegal immigration. In this op-ed article, Mediapart publishing editor Edwy Plenel denounces what he says is an outrageous criminalisation of fundamental acts of humanity, which illustrates both moral bankruptcy and a gross ignorance of the reality behind the migrant crisis.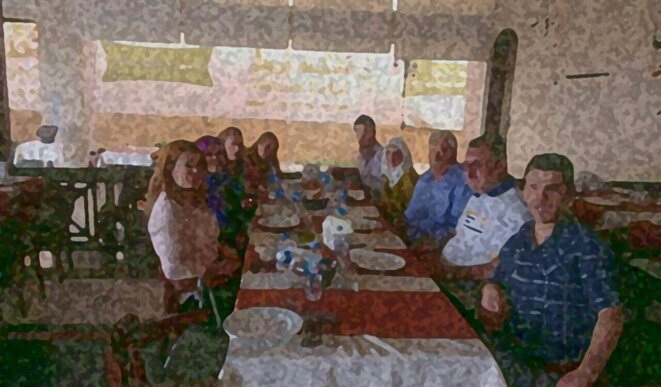 The family at the Grand Station restaurant in Aleppo before the war: the photo has been altered to protect their identity.
Many Syrian refugees living in Turkey have gone to the French Consulate in Istanbul in the hope of obtaining a visa that will allow them to travel to France in safety. But only a small number ever get granted this precious document. Mediapart's Carine Fouteau tells the story of one Kurdish family from Syria who were twice forced to flee the fighting and who are now desperately waiting for a visa from the French authorities that would restore hope to their shattered lives.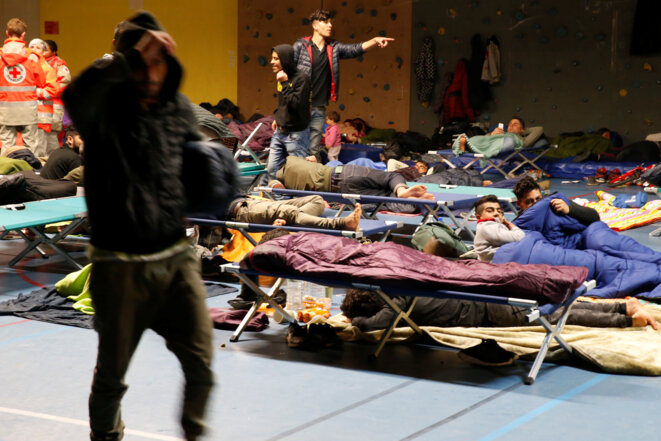 Displaced migrants from the destroyed Grande-Synthe camp were offered shelter inside one of the town's gymnasiums. © Reuters
A migrant camp close to the Channel port of Dunkirk, in north-east France, which housed about 1,500 people in wooden sheltered accommodation, was razed to the ground in a huge blaze on Monday that was started during fighting between groups of Iraqi Kurds and Afghans. The events have further fuelled anti-immigrant rhetoric from candidates campaigning in the French presidential elections, and placed in question the outgoing socialist government's already reluctant support for the site. But, as Carine Fouteau reports, the local mayor behind the creation of the camp, which opened only last year, has pledged to rebuild it.
In an operation beginning with French-language courses, the 80 former inhabitants of the now-demolished squalid Channel port migrant camp were required to have already been students in their home countries and to demonstrate interest in the university courses on offer.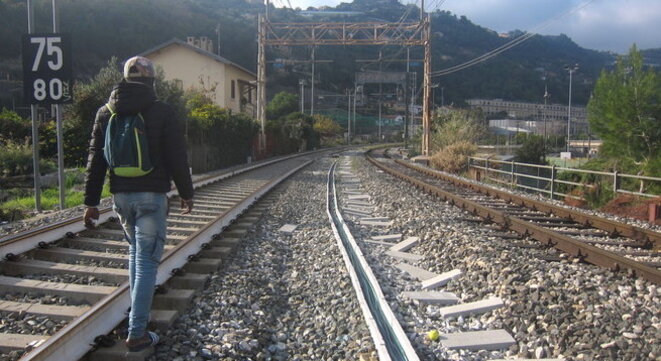 A migrant heading to France from Italy along railway tracks out of Ventimiglia. © LF
The Riviera coastal area in south-east France surrounding the border with Italy has become a major crossing point for migrants from Africa and the Middle East trying to reach northern Europe.  Despite a crackdown on the clandestine crossings by French and Italian police, many migrants continue to attempt the journey, either by by train or the perilous route of railway tracks, despite a series of fatal and serious accidents. French rail employees are increasingly under pressure from both their company and the police to help with the hunt for the migrants. Louise Fessard met with railwaymen who refuse to collaborate with operations that one described as resembling scenes from the WWII German occupation.
Germany's newly appointed foreign minister Sigmar Gabriel made his first official trip to meet with his French counterpart Jean-Marc Ayrault in Paris on Saturday, when the two men said US president Donald Trump's four-month ban on refugees from entering his country 'can only worry us' and goes against western values.
As winter bites in the French capital, three humanitarian associations allege the police have been harassing migrants on the streets of Paris and in some cases tear-gassing them as they queue at the refugee centre. And following the destruction of the so-called Jungle migrant camp in Calais, a local association says remaining migrants there are also suffering harassment. Carine Fouteau interviewed Corinne Torre of Médecins Sans Frontières to find out more.