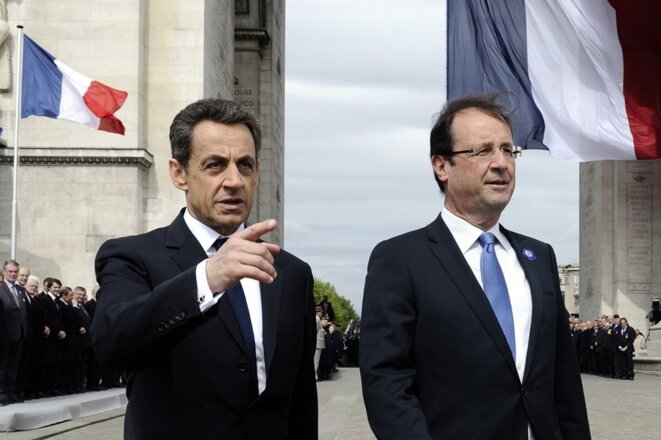 Nicolas Sarkozy with then-president François Hollande at a ceremony marking V-E Day on May 8th 2013. © Reuters
The placing under investigation of Nicolas Sarkozy on Wednesday for corruption, embezzling public funds and illegal electoral funding by the regime of late Libyan dictator Muammar Gaddafi has come about as the judicial investigation is in its fifth year, and seven years after Mediapart first revealed the former conservative president's dealings with Tripoli. During the entire period, which includes five years of socialist government, the political powers have regularly turned their backs on the disturbing questions raised by the mounting evidence of Sarkozy's dubious relations with the dictator, and also the circumstances of France's subsequent military intervention in Libya, to the point of dismissing repeated calls for a parliamentary inquiry. Antton Rouget reports.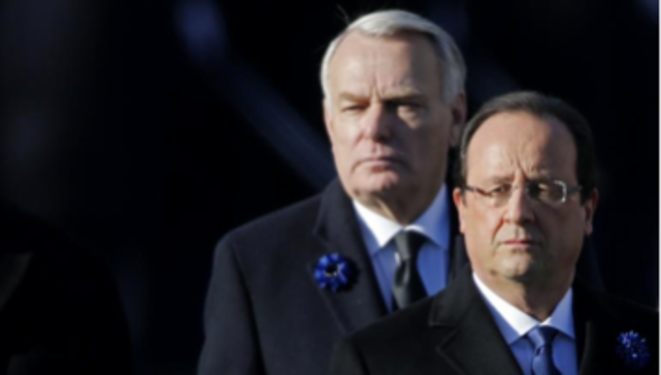 François Hollande et Jean-Marc Ayrault le 11 novembre 2013. © Reuters
After 20 months in power, relations between French President François Hollande and Prime Minister Jean-Marc Ayrault are showing cracks. Despite a public show of solidarity, in private the two men are at odds over the management of economic and social policies, and Ayrault's future appears increasingly uncertain. Lénaïg Bredoux traces how the two men have begun drifting apart and hears the views from insiders close to both, one of whom insists: "François Hollande fired Ayrault in December, but no-one knows."
Allegations that African presidents secretly paid French politicians is of little surprise to observers of France's relationships south of the Sahara.