Related keywords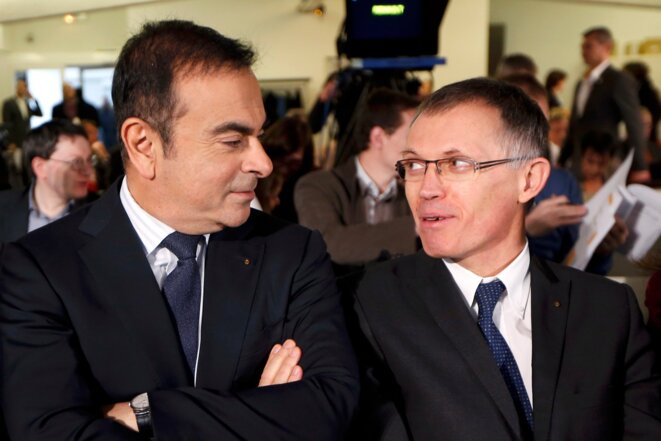 Carlos Ghosn, left, the CEO of Renault, and Carlos Tavares, chairman of the board at PSA Peugeot Citroën. © Reuters
Confidential documents obtained by Mediapart and the European Investigative Collaborations (EIC) show that the French car makers Renault and PSA Peugeot Citroën artificially inflated the already high cost of spares parts for motorists around the world. The manufacturers made use of a special software to increase the prices by an average of 15%. It is estimated the practice cost consumers  around 1.5 billion euros over nearly ten years. Yann Philippin reports.
Shares rose in the firm after the French state said it had sold a 4.7 percent stake in Renault for 1.2 billion euros.
The French carmamker has announced that 50 percent of its new vehicles will be powered by all-electric or hybrid engines by  2020, when it also hopes to be producing five million cars per year, almost two million more than in 2016, chiefly through increased sales in China and Russia.

Last month an investigation in which Mediapart was a partner showed how three key players in the French economy, Renault, Peugeot-Citroën and Auchan, used lax laws in Malta to reduce their tax bill in France. Now, other documents in the Malta Files investigation reveal that Groupe April, an insurance firm created by entrepreneur Bruno Rousset 30 years ago, is also using the Maltese tax loophole to avoid paying French corporate tax. Rousset has previously publicly stated that he believes his company should serve the "general interest". Mediapart's Yann Philippin and Sylvain Morvan from investigative website Mediacités report.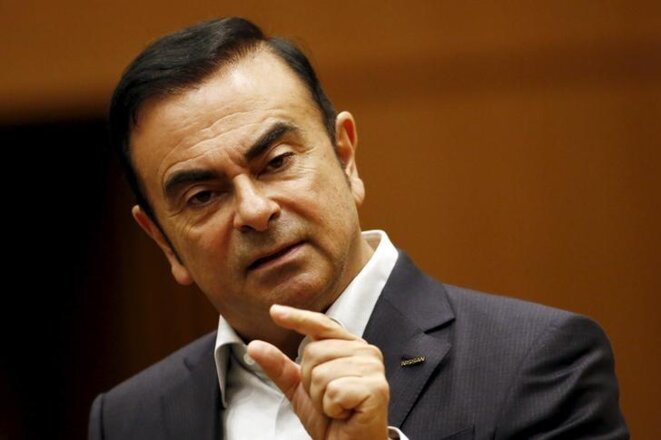 Carlos Ghosn, Chairman and CEO of Renault, one of the French groups using a legal tax avoidance set-up in Malta. © Reuters
Three major French firms, carmakers Renault and PSA Peugeot Citroën plus retailer Auchan, have set up insurance companies in Malta to save themselves from paying tens of millions of euros in taxes in France. The revelation comes from Malta Files, a four-month investigation by Mediapart and its partners in the European Investigative Collaborations journalistic collective (EIC) into one of Europe's lesser-known tax havens. Although what the three firms are doing is legal, the two car firms are successfully avoiding paying tax to the French state even though it is a major shareholder in each of them. Yann Philippin reports.
Renault on Saturday confirmed it had been "affected" amid the cyberattacks that targetted organisations worldwide beginning on Friday, with several manufacturing plants in France closed down, while a union official said the company's production lines in Sandouville, Normandy, were directly hit.
A French consumer fraud watchdog has said the managerial responsibilty of Renault boss Carlos Ghosn is engaged in an alleged emissions-cheating scam to disguise true pollution levels of the French carmaker's diesel engines, following an investigation prompted by Volkswagen's exposure in 2015 for US diesel test-cheating.
French car firm denies any suggestion it cheated on tests for diesel engines making the vehicles dangerous for human or animal health.
Last Friday, the board of French carmaker Renault insisted it would pay chief executive Carlos Ghosn a package of 7.2 million euros for his services in 2015, despite a revolt by shareholders who disapproved of the deal which economy minister Emmanuel Macron on Tuesday denounced as "excessive". In this opinion article, Mediapart's economic affairs correspondent Martine Orange argues that Ghosn, who is also paid a yearly 8 million euros as head of Nissan, is typical of a new caste of cynical oligarchs who are unaccountable to anyone, even to the very shareholders who first launched them on a path of greed.
Just over half of investors voted against boss Carlos Ghosn's annual €7.3m package in a non-binding vote at the carmaker's AGM in Paris.
The announcement follows French inspectors' raids on three Renault sites this month in a probe into the veracity of the carmaker's emissions claims.
Renault shares fell sharply on news that inspectors raided three sites near Paris, but carmaker and energy minister insisted no 'defeat device' was found. 
Economy minister Emmanuel Macron unhappy at plans to dilute French government's shareholding in favour of Renault's partner Nissan.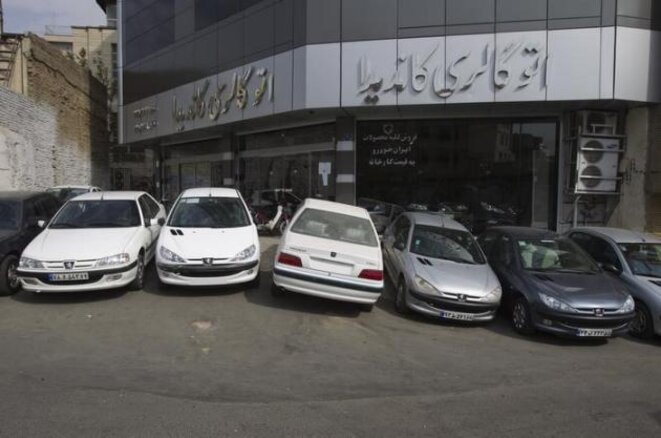 Devant un concessionnaire Peugeot-Citroën à Téhéran © Archives Reuters
The ink on the Iran nuclear deal is barely dry and no one is even yet sure if it will hold. But already France has joined other countries in the hunt for lucrative business deals with the oil-rich state and its market of 80 million inhabitants. But as René Backmann reports, there are potential pitfalls to overcome before French firms can hit the Iranian jackpot.