Related keywords
French carmaker Renault on Thursday appointed outgoing Michelin boss Jean-Dominique Senard as chairman and its former second in command, Thierry Bolloré, as CEO, after Carlos Ghosn, who held both posts, resigned late Wednesday while in detention in Japan where has been held since November on financial misconduct allegations. 
The case of the arrest and continued detention in Japan of Renault chairman and CEO Carlos Ghosn over alleged financial misconduct has revealed the severity of the Japanese judicial system, which again denied him bail at a hearing in Tokyo this week. But it has also illustrated the situation of impunity granted in France to numerous high-placed individuals like Ghosn, writes Mediapart co-founder Laurent Mauduit in this opinion article. For while it now appears that the French government is finally moving towards his replacement as head of the French carmaker, economy and finance minister Bruno Le Maire has until now done his utmost to protect Ghosn, even declaring that there was 'nothing in particular to report' on his tax situation in France, when in fact the boss of one of France's biggest industrial corporations has been a tax resident in the Netherlands since 2012.
Hundreds queue at Tokyo court for chance to see former chairman of Nissan and current Renault boss respond to financial misconduct claims.
Carlos Ghosn, chairman and CEO of French carmaker Renault, and former chairman of Nissan, has been re-arrested in Japan over new allegations of financial misconduct, ending his hopes of a release from custody today after his arrested last month on suspicion of tax fraud.
The French government is looking for candidates to replace Renault's boss Carlos Ghosn, currently detained in Japan over financial misconduct allegations, after several of the carmaker's board of directors, led by Cherie Blair, the wife of former British prime minister Tony Blair, urged Ghosn's dismissal amid deep strains his arrest has caused in Renault-Nissan-Mitsubishi alliance, according to an exclusive report by news agency Reuters.
French car manufacturer, of whom Ghosn is also chairman and CEO, had wanted Japanese partner firm to delay removal of boss after arrest.
Carlos Ghosn, chairman of Nissan and also chairman and chief executive of its French partner Renault, is said to have under-reported his income.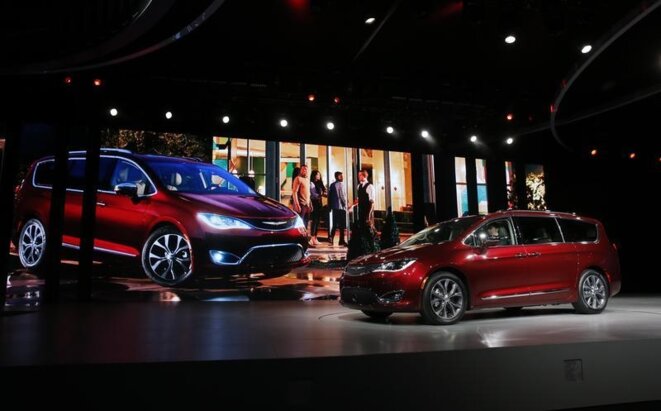 Chrysler cars at the Detroit car show in January 2016. © Reuters
Renault and PSA Peugeot Citroën are not the only car makers to have used the same software to increase the prices of their spare parts. Mediapart, working with the European Investigative Collaborations (EIC), Reuters and Belgian daily De Standaard, can reveal that 31 different car makers were approached to use the software and that at least three of them, Nissan, Jaguar Land Rover and Chrysler, have employed it to boost revenue. Between them these five huge automobile manufacturers have raked in an extra 2.6 billion euros from motorists around the world. Yann Philippin reports.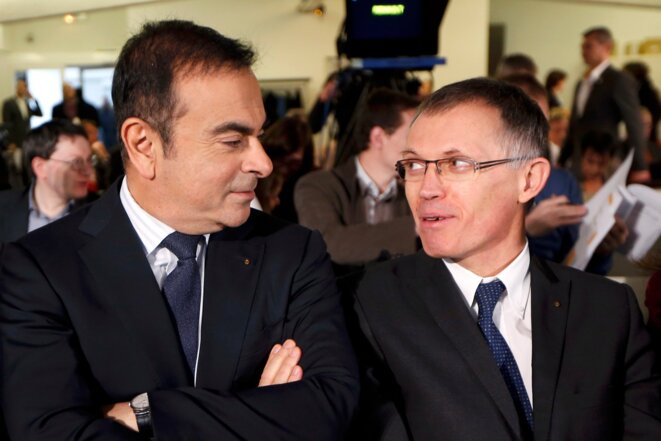 Carlos Ghosn, left, the CEO of Renault, and Carlos Tavares, chairman of the board at PSA Peugeot Citroën. © Reuters
Confidential documents obtained by Mediapart and the European Investigative Collaborations (EIC) show that the French car makers Renault and PSA Peugeot Citroën artificially inflated the already high cost of spares parts for motorists around the world. The manufacturers made use of a special software to increase the prices by an average of 15%. It is estimated the practice cost consumers  around 1.5 billion euros over nearly ten years. Yann Philippin reports.
Shares rose in the firm after the French state said it had sold a 4.7 percent stake in Renault for 1.2 billion euros.
The French carmamker has announced that 50 percent of its new vehicles will be powered by all-electric or hybrid engines by  2020, when it also hopes to be producing five million cars per year, almost two million more than in 2016, chiefly through increased sales in China and Russia.

Last month an investigation in which Mediapart was a partner showed how three key players in the French economy, Renault, Peugeot-Citroën and Auchan, used lax laws in Malta to reduce their tax bill in France. Now, other documents in the Malta Files investigation reveal that Groupe April, an insurance firm created by entrepreneur Bruno Rousset 30 years ago, is also using the Maltese tax loophole to avoid paying French corporate tax. Rousset has previously publicly stated that he believes his company should serve the "general interest". Mediapart's Yann Philippin and Sylvain Morvan from investigative website Mediacités report.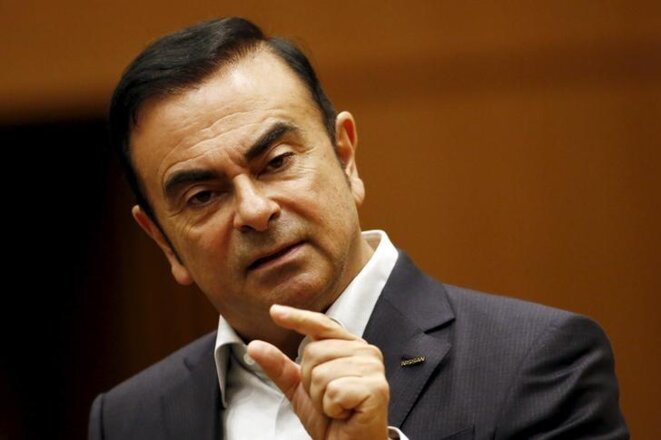 Carlos Ghosn, Chairman and CEO of Renault, one of the French groups using a legal tax avoidance set-up in Malta. © Reuters
Three major French firms, carmakers Renault and PSA Peugeot Citroën plus retailer Auchan, have set up insurance companies in Malta to save themselves from paying tens of millions of euros in taxes in France. The revelation comes from Malta Files, a four-month investigation by Mediapart and its partners in the European Investigative Collaborations journalistic collective (EIC) into one of Europe's lesser-known tax havens. Although what the three firms are doing is legal, the two car firms are successfully avoiding paying tax to the French state even though it is a major shareholder in each of them. Yann Philippin reports.
Renault on Saturday confirmed it had been "affected" amid the cyberattacks that targetted organisations worldwide beginning on Friday, with several manufacturing plants in France closed down, while a union official said the company's production lines in Sandouville, Normandy, were directly hit.