Related keywords
A report by a French Senate commission of inquiry into the implications, and possible cover-up on high, of the unfolding scandal surrounding President Macron's former personal security aide Alexandre Benalla, has ofund top Elysée officials may have withheld information from the commission, that Benalla lied to it and that Macron's security and 'the nation's interests' were compromised by Benalla's business dealings with Russian oligarchs.
A recommendation by leading French think tank Institut Montaigne that teaching of the Arabic language in schools should be developed to counter the increasing popularity of Arabic courses offered by radical Islamists in mosques and schools was welcomed by education minister Jean-Michel Blanquer, but has met with strong cticism from conservatives and the far-right.
Migrant girls, mostly from sub-Saharan Africa, attempting to cross into France from Italy are being exploited by would-be smugglers offering to drive them across the on the countries' common Riviera border in exchange for sex acts, says a report by the Italian branch of the charity Save the Children.
A report published by NGO Oxfam says its interviews with migrant children trying to cross from Italy to France on the Riviera border found complaints of being 'physically and verbally abused, and detained overnight in cells without food, water or blankets and with no access to an official guardian', and also claims that some children had the soles of their shoes cut off before being sent back to Italy.
A confidential French justice ministry report, revealed by daily Le Monde, based on a study of court cases involving women returning to France from Syria where they had joined the ranks of the Islamic State group, has found that a majority held active roles within the organisation, and that only one third of those who joined the jihadists did so accompanying their families.   
Environmental group Générations Futures has released a report based on France's official food safety agency figures that show almost three-quarters of fruit and more than two-fifths of non-organic vegetables on sale in the country contain pesticide residues, wand that 3.5 percent of vegetables and 2.7 percent of fruit are contaminated above officially recognised safety levels.
The French education ministry has released a report prepared by leading French mathematician and MP Cédric Villani, who was awarded the coveted Fields Medal, detailing measures to improve teaching of mathematics which it says has produced 'catastrophic' levels of competence in the subject, recommending better maths training for largely arts-orientated primary school teachers and less reliance by pupils on calculating machines.
A leaked internal report says the national cultural differences between the airline group's Dutch and French staff is so acute that it is uncertain 'whether the alliance can survive given the long-standing mutual incomprehension'. 
A programme aimed at de-radicalising Islamist extremists in France, launched by President François Hollande after the country was hit by a series of terrorist attacks, has been an 'amateurish' flop driven by a government that 'panicked', a cross-party parliamentary commission of enquiry has reported.
A report published this week by the Greens-EFA group in the European Parliament presented the conclusions of a study of tens of thousands of documents provided by the Offshore Leaks platform of the International Consortium of Investigative Journalists, and which identified the principal intermediaries behind tax evasion. The report demonstrates that many of them are well-known names among banks and financial institutions, operating in countries across Europe as the vehicle for the transfer of huge sum to tax havens. Dan Israel reports.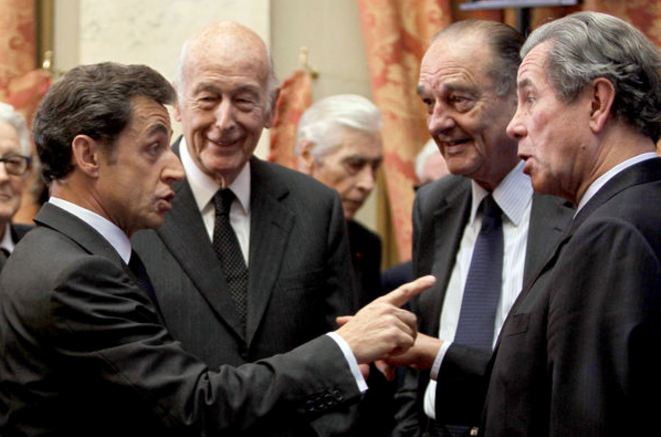 (L-R): former presidents Nicolas Sarkozy, Valéry Giscard d'Estaing and Jacques Chirac with Jean-Louis Debray, former head of the Constitutional Council. © Reuters
A confidential report submitted to President François Hollande two years ago and never made public, authored by the heads of France's Court of Audit and State Council, estimates the total annual cost of specific perks paid to the country's three surviving former presidents, plus the provision of personal security protection, at 10.3 million euros, Mediapart can reveal. The 26-page document, published here, recommends that the lavish privileges accorded to them be reduced for reasons of "modernization, transparency and control of public spending". Mathilde Mathieu reports.
French probe into Alps crash caused by suicidal co-pilot advises doctors inform authorities when a patient's health is likely to affect public safety.
The upward social mobility of the children of blue collar workers in France varies significantly depending upon the region in which they are born, and has little to do with local economic opportunities, concludes a study, the first of its kind, published this month by a French government agency advising on national development policies. Mathilde Goanec reports.
Internal probe finds staff on Thalys train, accused of leaving passengers to deal alone with gunman, had in fact showed "best possible" reaction.