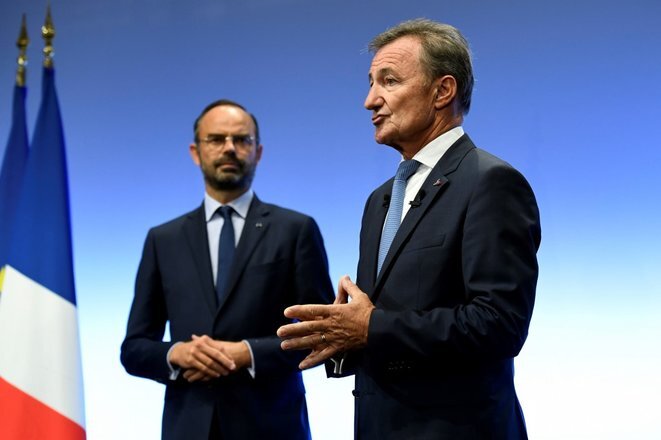 Bernard Charlès (right), boss of Dassault Systèmes, France's top-earning executive in 2019 with 24.7 million euros. © Bertrand Guay/AFP
The latest annual report by investors' advisory agency Proxinvest on the remunerations paid to the chief executives of France's 120 most traded stock exchange companies reveals a staggering increase in payments in 2019. In this op-ed article, Mediapart economy and finance correspondent Laurent Mauduit details the figures and argues why they represent a serious injustice when millions of French households face an economic crisis that threatens to plunge them into poverty.  
French weapons sales abroad rose between 2015-2019 by 72 percent on the previous five years according to a report by the Stockholm International Peace Research Institute, which said the latest total represented almost 8 percent of global arms exports during the same period.
A major explosion under a building in Paris in January which killed four people, including two firefighters, and injured 66 others was caused by a broken gas pipe which was cracked by ground subsidence which had been insufficiently investigated by city hall staff and a private company, according to a commissioned experts' report revealed by the Paris prosecution services on Monday, 
According to estimations published this month by France's national institute of statistics and economic studies, INSEE, social inequalities in the country rose to a higher level in 2018 than at any time since 2011 while, in parallel, the numbers of those in poverty also increased. Mediapart's economics correspondent Romaric Godin analyses the gloomy figures and concludes that they are the direct result of the economic and budgetary policies of President Emmanuel Macron's government.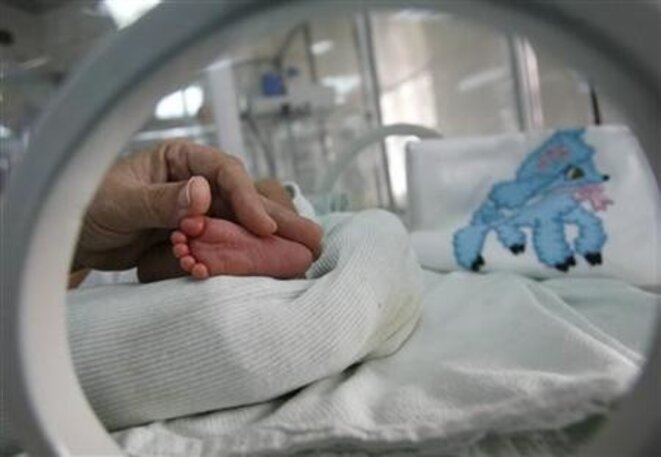 Expert panel member Dr. Alexandra Benachi: "We don't know what we're looking for". (File photo). © Reuters
A French health ministry experts' study into reported clusters of babies born with missing or malformed upper limbs in three separate regions of rural France has failed to establish the cause. "We don't know what we're looking for," said one of the panel of experts. The study has caused outrage among families of the malformed infants, born without arms or hands, after it decided one of the clusters did not meet the medical criteria of the term, and ruled out a number of proposed measures to further research into the problem at a national level. Amid speculation that environmental factors, such as pesticides, may have played a role, the experts said there was "currently insufficient" knowledge of the issue to draw a conclusion. François Bonnet reports.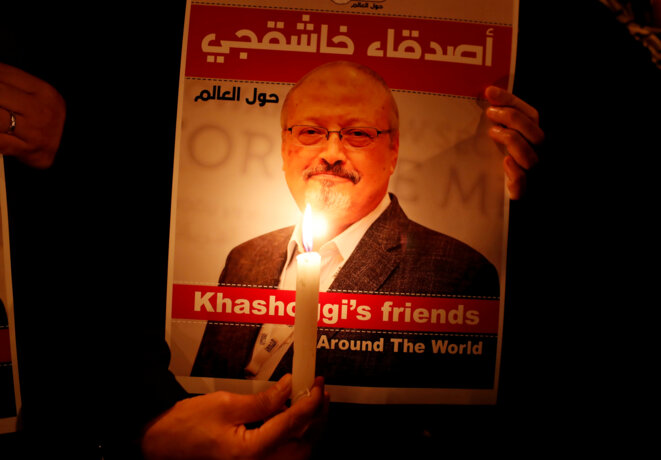 A scene at a homage to Jamal Khashoggi held outside the Saudi consulate in Istanbul, October 25th 2018. © Reuters
In a 100-page report published last week on her investigation into the murder of Saudi journalist Jamal Khashoggi, the United Nations Special Rapporteur on extrajudicial executions, Agnès Callamard, concluded that "Mr Khashoggi has been the victim of a deliberate, premeditated execution, an extrajudicial killing for which the state of Saudi Arabia is responsible under international human rights law", and recommended that Saudi Arabia's ruler, Crown Prince Mohammed bin Salman, should be investigated for his responsibility in the crime. In this interview with Mediapart, she details her investigation and its findings, and and calls on states to take a "serious" stand on press freedom.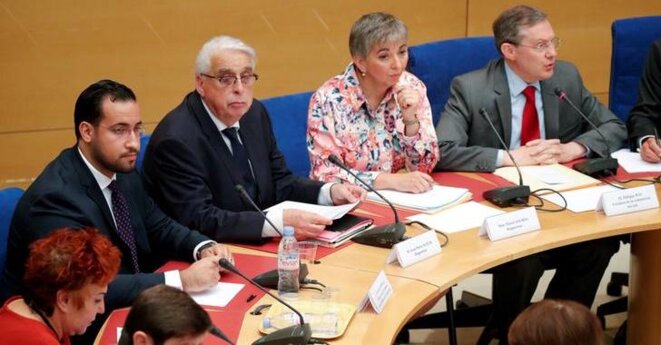 Alexandre Benalla (left) appearing before the French Senate's commission of inquiry, September 19th 2018. © Reuters
A damming report published this week by a French Senate commission of inquiry set up to investigate the scandal surrounding President Emmanuel Macron's disgraced former security aide Alexander Benalla was dismissed on Thursday by French Prime Minister Édouard Philippe as being politically motivated. The senators found that the events behind the scandal, which began when Benalla was filmed assaulting people on the sidelines of a May Day march last year, and which have been followed by Mediapart's revelations that the maverick aide has been negotiating personal security deals worth 2.2 million euros with Russian oligarch's close to the Kremlin, are the result of "major failings" at the heart of the Élysée Palace, which placed at risk "the security of the head of state and, beyond this, the interests of our country".
A report by a French Senate commission of inquiry into the implications, and possible cover-up on high, of the unfolding scandal surrounding President Macron's former personal security aide Alexandre Benalla, has ofund top Elysée officials may have withheld information from the commission, that Benalla lied to it and that Macron's security and 'the nation's interests' were compromised by Benalla's business dealings with Russian oligarchs.
A recommendation by leading French think tank Institut Montaigne that teaching of the Arabic language in schools should be developed to counter the increasing popularity of Arabic courses offered by radical Islamists in mosques and schools was welcomed by education minister Jean-Michel Blanquer, but has met with strong cticism from conservatives and the far-right.
Migrant girls, mostly from sub-Saharan Africa, attempting to cross into France from Italy are being exploited by would-be smugglers offering to drive them across the on the countries' common Riviera border in exchange for sex acts, says a report by the Italian branch of the charity Save the Children.
A report published by NGO Oxfam says its interviews with migrant children trying to cross from Italy to France on the Riviera border found complaints of being 'physically and verbally abused, and detained overnight in cells without food, water or blankets and with no access to an official guardian', and also claims that some children had the soles of their shoes cut off before being sent back to Italy.
A confidential French justice ministry report, revealed by daily Le Monde, based on a study of court cases involving women returning to France from Syria where they had joined the ranks of the Islamic State group, has found that a majority held active roles within the organisation, and that only one third of those who joined the jihadists did so accompanying their families.   
Environmental group Générations Futures has released a report based on France's official food safety agency figures that show almost three-quarters of fruit and more than two-fifths of non-organic vegetables on sale in the country contain pesticide residues, wand that 3.5 percent of vegetables and 2.7 percent of fruit are contaminated above officially recognised safety levels.
The French education ministry has released a report prepared by leading French mathematician and MP Cédric Villani, who was awarded the coveted Fields Medal, detailing measures to improve teaching of mathematics which it says has produced 'catastrophic' levels of competence in the subject, recommending better maths training for largely arts-orientated primary school teachers and less reliance by pupils on calculating machines.