Related keywords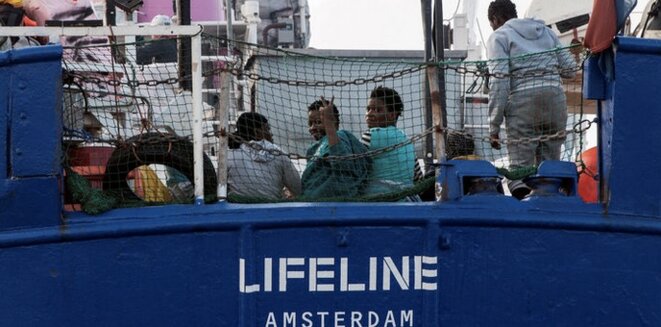 Rescued migrants on board the MV Lifeline shortly before disembarking in Malta. © Reuters
Late in June, after days of diplomatic wrangling, 234 migrants rescued off the Libyan coast while attempting to reach Europe in flimsy dinghies were finally allowed to disembark in Malta after several countries agreed to receive quotas from the group. Earlier this month, 51 of them arrived in France. Mediapart travelled to Toulouse, where some were given provisional accommodation, to listen to the harrowing stories of their experiences in Libya, where black Africans are subject to endemic racism and many become the prey and prisoner of vicious local militias. "If an Arab catches you, he sells you," said one of the survivors. "When you are black, you are a commodity, you're bought and sold on." Mathilde Mathieu reports. 
Elisabeth Revol, rescued by an elite group of Polish climbers who scaled part of the 8,125-metre-tall Nanga Parbat mountain in darkness overnight Saturday and Sunday to reach her, when she and her since-disappeared Polish companion ran into difficulties, has arrived back in France where surgeons will attempt to save her from amputation of frost-bitten fingers and toes.
Skiers stranded for hours on broken-down gondolas at the at the Chamrousse resort resort in the French Alps, swaying in the wind at heights of up to 25 metres above ground, were rescued after helicopters dropped rescuers who winched the passengers safely to ground.
Jewish officials and police in France say US magazine's report that special forces rescued Michel Gugenheim from synagogue in 2014 was untrue.
The 24-year-old is recovering from dehydration, sunburn and exhaustion after being swept out to sea during late-night paddle to see 'supermoon'.
Round-the-world sailor had been in a life raft in the ocean for three days after his yacht lost its mast and its hull was damaged in rough weather.