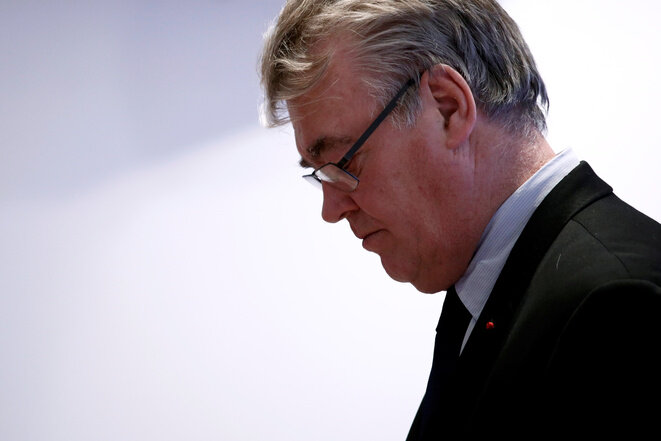 Jean-Paul Delevoye, who was forced to resign his post as France's High Commissioner for Pensions on Monday. © Reuters
Hundreds of thousands of demonstrators took part in nationwide union-led protests in France on Tuesday against the government's proposed reform of the pension system, while strike action disrupted many sectors including transport, education institutions, postal services and power supplies. Meanwhile, the government suffered a severe blow in its showdown with the unions after the forced resignation on Monday of the man regarded as the architect of the reforms, the High Commissioner for Pensions Jean-Paul Delevoye, for having failed to register as required by law ten of his present or recent outside professional activities. Now Mediapart can reveal yet another: his membership until 2017 of the London-based Brazzaville Foundation, which is in effect a propaganda arm for the strongman president of the Republic of the Congo.
In an open letter published in the press, 660 French public hospital doctors have threatened to resign unless the health ministry opens urgent talks to redress funding shortfalls that have caused severe disruption to services and the departure of staff towards the private sector.
Jean-Paul Delevoye, the High Commissioner for Pensions and one of President Emmanuel Macron's most trusted allies, has resigned his post after failing to publicly declare more than a dozen posts he held in addition to his cabinet job, just as union-led strikes in opposition to the reforms he was charged with seeing through reach a hightened stand-off with government this week.
François de Rugy leaving the environment ministry on July 17th 2019 following his resignation. © Reuters
Mediapart's revelations earlier this month of the use of public funds by French environment minister François de Rugy for his dinner parties and decorations of his grace and favour apartment led to his resignation last week. Amid accusations from some complacent quarters of a media 'witch-hunt', Mediapart's publishing editor Edwy Plenel sets the record straight here: the means, the residences, the funds and the personnel of France's institutions, he writes, do not belong to those elected representatives and members of government who are momentarily at the service of the state. By revealing the persistent lack of probity, Mediapart's investigations are firmly in the public interest.
French environment minister François de Rugy resigned on July 16th following Mediapart's revelations of his use of public funds to host with his wife grand dinner parties with fine wines and food when he was speaker of the National Assembly, and later to redecorate his grace and favour apartment as environment minister at a cost to the public purse of more than 60,000 euros. The revelations prompted two administrative inquiries, which were published on Tuesday. Far from the claims by the ex-minister, once an outspoken campaigner for greater transparency in public office, that he has been exonerated, their findings confirm the events and amounts reported in Mediapart's investigations.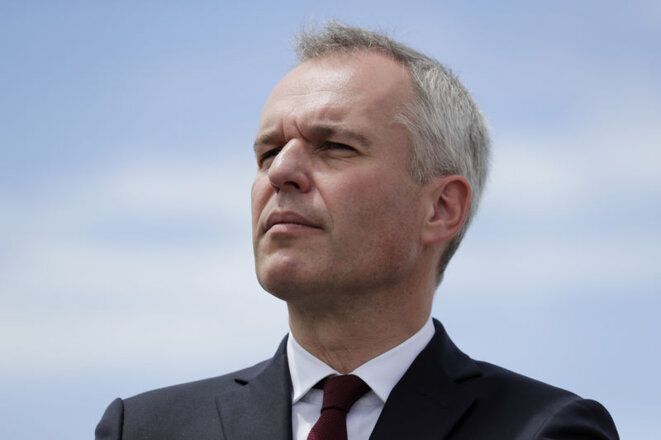 Environment minister François de Rugy has resigned from the government. © Reuters
François de Rugy, the environment minister and number two in President Emmanuel Macron's government behind prime minister Édouard Philippe, resigned on Tuesday 16 July following a string of revelations by Mediapart about his lifestyle as a minister, including grand dinners paid for out of the public purse. De Rugy quit just as Mediapart was about to make fresh revelations about his use of expenses as an MP. Michaël Hajdenberg, Antton Rouget and Fabrice Arfi report.
French Roman Catholic cardinal Philippe Barbarin, the archbishop of Lyon, who has appealed his conviction this month for failing to report allegations of abuse of boy scouts committed by a priest, said on Tuesday that Pope Francis has refused his offer to resign his post.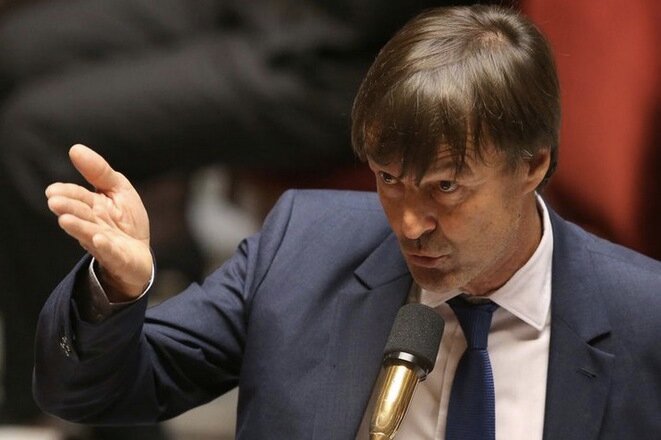 Nicolas Hulot addressing French parliament in September 2017. © Stéphane Mahé/Reuters
French environment minister Nicolas Hulot dramatically resigned from government on Tuesday, announcing his surprise decision during a live radio interview. Mediapart publishing editor Edwy Plenel argues here that it represents a salutary electroshock that highlights the impasse of economic policies leading to an ecological catastrophe, and also puts an end to the illusion that the will of a supposedly providential man alone can bring about a sudden turnaround in approach to environmental issues. Hulot's resignation, he says, resonates as a call for society to mobilise itself in favour of a veritable political alternative.       
French environment minister Nicolas Hulot, one of the most popular ministers, resigned during a live radio interview, citing 'an accumulation of disappointments' with the environmental 'mini-steps' decided by President Emmanuel Macron and his government which he said were too influenced by lobbyists.
French President Emmanuel Macron on Thursday visited a major airbase in southern France when he addressed a crowd of servicemen and spoke of his 'deep respect' for the military, just 24 hours after armed forces' chief-of-staff General Pierre de villiers resigned amid a bitter spat over  defence budget cuts. 
Emmanuel Macron and General Pierre de Villiers. © Reuters
After a glowing political honeymoon on the international stage, President Emmanuel Macron was on Wednesday engulfed in his first crisis since his election in May after the chief-of-staff of France's armed forces, General Pierre de Villiers, resigned amid a row between the two men over defence budget cuts. But while there is widespread outrage from the Left and Right at Macron's humiliating treatment of de Villiers, who he rebuked in public over opposition to the cuts for a military the general says is at "breaking point", the controversy has widened to the new president's apparent contempt for parliament's right to information. Lénaïg Bredoux reports.
Sylvie Goulard, who is second minister to go in 24 hours, steps down over allegations her MoDem party misused European funds.
French interior minister Bruno Le Roux resigned on Tuesday just hours after a TV report said he had employed his two then-teenage daughters as parliamentary assistants during their secondary school holidays and also when both were supposedly engaged in other activity, paying them a total of 55,000 euros from parliamentary funds.
The French utility giant's shares fell on the news Thomas Piquemal had resigned amid internal divisions over feasability of UK EPR project.