Keyword: 'responsibility pact'
Related keywords
French president says his priority is economic reform and he aims to 'support business, reduce household taxes and cut public spending'.
Two unions said they will shun crucial talks scheduled for Tuesday, accusing President Hollande of siding with employers over job creation plans.
On Monday July 7th the French government began the third of its so-called 'social conferences' in which employer and worker representatives debate plans to tackle the country's social and economic problems. At stake this time is President François Hollande's much-vaunted but controversial 'Responsibility Pact' aimed at giving a 40-billion-euro incentive to the country's bosses to hire staff and thus cut the jobless total. Here Mediapart looks at the main economic and social indicators which all illustrate the challenges faced by the government; rising unemployment, growing poverty and financial hardship, and the destruction of industrial jobs. Yannick Sanchez and Thomas Saint-Cricq report.
Unions have threatened boycott of the talks on job creation, accusing government of failing to make employers keep their end of the bargain.
When the man at the helm of the French bosses' organisation calls for wage restraint and suggests paying young workers less than the legal minimum wage, it would seem reasonable to expect him to be prepared to take a dose of his own medicine. Instead Pierre Gattaz, president of the employers' association MEDEF, has just awarded himself a 29% pay rise. He is far from being the only culprit in France's corporate world. But, says Martine Orange, the symbolism bodes ill for President François Hollande's bid to cut business costs in exchange for creating jobs, a policy on which the president has staked his political future.
Paris police say 10,000 people joined demonstrations over Hollande's 'responsibility pact' which aims to slash labour costs, unions claim 60,000.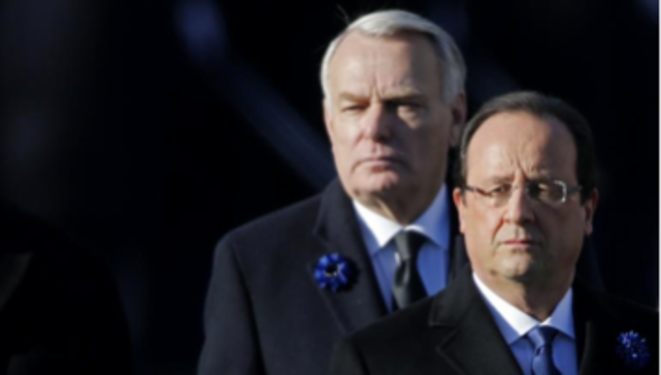 François Hollande et Jean-Marc Ayrault le 11 novembre 2013. © Reuters
After 20 months in power, relations between French President François Hollande and Prime Minister Jean-Marc Ayrault are showing cracks. Despite a public show of solidarity, in private the two men are at odds over the management of economic and social policies, and Ayrault's future appears increasingly uncertain. Lénaïg Bredoux traces how the two men have begun drifting apart and hears the views from insiders close to both, one of whom insists: "François Hollande fired Ayrault in December, but no-one knows."
French president used yearly address to employers and unions to insist firms must invest and hire young and older workers to get the labour tax break.
The French president announces plan to cut 50 billion euros from public spending and a pact to reduce the tax and regulatory burden on companies.