The skulls of 24 Algerian fighters who were shot and decapitated by occupying French forces during the 19th-century campaign to colonize the country, and which had since been kept in a Paris museum until their return to Algeria this weekend, were buried amid an emotional ceremony at a cemetery close to the capital Algiers on Sunday.
The mayor of Paris and her colleagues from towns around the capital have called upon the French government to delay the re-opening of schools, planned to begin gradually with the lifting of lockdown measures planned for May 11th, because of the lack of practical and legal preparedness for the return of classes.
David De Pas, coordinator of France's 12 anti-terrorism examining magistrates, said that it would be "better to know that these people are in the care of the judiciary" in France "than let them roam free".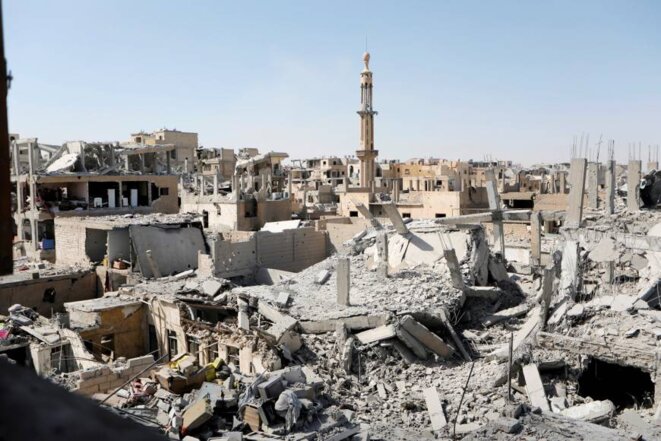 Ruins in the Syrian city of Raqqa, once a bastion of Islamic State. © Reuters
Following the military rout of the Islamic State (IS) group in Syria and Iraq, large numbers of French jihadists were forecast to return home. But in fact, those who have made the journey back represent relatively few of the estimated 700 who joined the ranks of IS in the Middle East. Since 2016, just 64 men and women jihadists have returned – and only seven so far this year. One principal reason is the logistical difficulties for those fleeing the zone and the high fees demanded by people smugglers. But the situation presents a potential security threat in that those who escape by their own means can become invisible to intelligence services.   Matthieu Suc reports.
The French government has appointed a French art historian and a Senegalese scholar to lead a feasibility study into an initiative by  President Emmanuel Macron to return African cultural artefacts currently held by museums in France, a move that one French historian said will 'make European curators quake in their boots'.
Award-winning cellist Ophélie Gaillard was robbed by a knife-wielding thief of her 18th-century cello, estimated to be worth 1.3 million euros, outside her home in the Paris suburb of Pantin on Thursday, but after an impassioned appeal for its return relayed by social media she received an anonymous call to inform her it had been placed in a car in front of her house, where she found it.
After the mass displacement last year of thousands from the notorious makeshift 'jungle' camp near the French Channel port of Calais, where for years migrants gathered while hoping for a clandestine passage to the UK, smaller numbers have begun returning to the zone where people-smuggling gangs are again closing in.
Arnaud Montebourg, 53, who lost his ministerial post for outspoken anti-austerity criticism of socialist government, has announced his return to political fray.
Before performing at U2 gig, the US band paid hommage at Bataclan theatre where terrorists killed 90 people during their performance.
The Hermione, whose namesake carried the Marquis de Lafayette to fight the British, received a hero's welcome on return to Brest after US tour.
French shipbuilder DCNS said the 400 sailors training on a helicopter carrier that France is refusing to deliver to Russia would soon return home.
Three French alleged jihadists expelled by Turkey arrived unchecked in France after they were sent on a flight to Marseille instead of Paris.
Former French president used Facebook to declare his bid to become head of the opposition UMP party, ahead of presidential elections in 2017.
French president Francois Hollande personally greets priest and praises his 'courage' during seven weeks captivity in hands of armed group.