Related keywords
Protester hurt after trying to pick up a rubber pellet grenade; meanwhile home of head of National Assembly Richard Ferrand hit by arson attack.
Most of the MPs representing French President Emmanuel Macron's new centrist party LREM are political novices, and a number are complaining of their comparatively reduced salaries and long working hours, prompting the party's parliamentary group leader to tell them to keep their "useless babble" and "qualms" to themselves.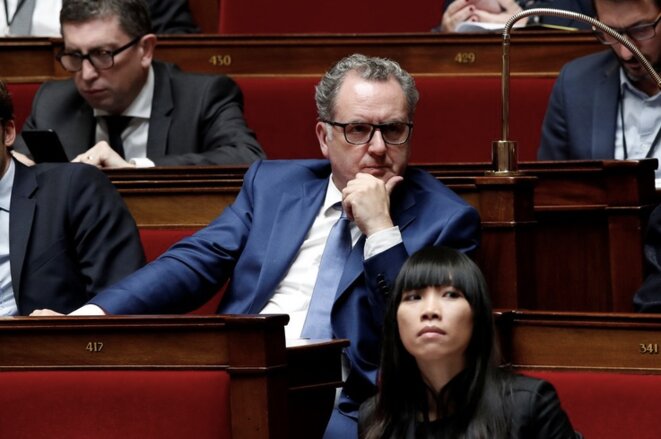 Richard Ferrand, centre, head of the Parliamentary group of Emmanuel Macron's LREM party. © Reuters
According to information seen by Mediapart an architect friend of senior politician Richard Ferrand won several public contracts from a local authority at the start of the 2000s just after the latter was elected to that council. Earlier this year Ferrand, a close ally of Emmanuel Macron and currently head of the president's La République en Marche party at the National Assembly, faced questions over a property deal by his partner involving a mutual health firm of which he was then managing director. The prosecution authorities later dropped their investigation. Mathilde Mathieu reports on the latest revelations.
End of the affair? Richard Ferrand, head of the Parliamentary group of Emmanuel Macron's LREM party. © Reuters
When prosecutors announced in October 2017 that they were not pursuing an investigation into the financial allegations surrounding Richard Ferrand, who is now president of Emmanuel Macron's political party at the National Assembly, it seemed the end of the matter. However, an analysis of the preliminary investigation report by Mediapart shows that from start to finish Ferrand looked after his partner's interests in a property deal with a mutual health firm, even though he was managing director of that company at the time. Now anti-corruption groups are calling for an independent judge to re-open the case and investigate. Mathilde Mathieu reports.
Prosecutors in the north-west town of Brest have wound down their investigation into former Socialist Party member Richard Ferrand, a key figure behind Emmanuel Macron's succesful bid for the French presidency, who was forced to stand down from government in June after the probe was opened into allegations he used his position as head of a local public health trust to hand his partner a lucrative property deal.  
MoDem leader François Bayrou among four ministers to have quit in 48 hours as new French president appears to turn back on centrist allies.
Sylvie Goulard, who is second minister to go in 24 hours, steps down over allegations her MoDem party misused European funds.
French president faces embarrassment as key legislation is launched on day his key ally Richard Ferrand is urged to resign over property deal.
Prime minister Édouard Philippe said despite the 'exasperation of the French' minister Richard Ferrand would remain in the government.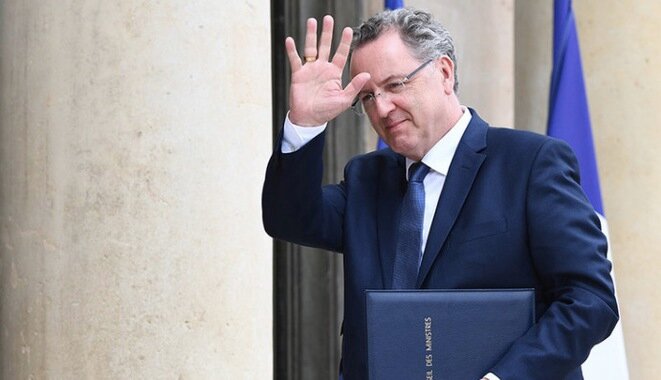 Richard Ferrand, Minister for Territorial Cohesion, at the Elysée Palace. © Reuters
Richard Ferrand, appointed to President Emmanuel Macron's first government as Minister for Territorial Cohesion, has become engulfed in a controversy over the employment of his son as his parliamentary assistant and alleged favouritism in a 2011 property deal handed to his wife by a mutual insurance company when Ferrand was its managing director. The allegations against Ferrand, a socialist MP who last year became secretary general of Macron's En March! movement, are a major embarrassment for the new government which is about to introduce legislation aimed at cleaning-up political life. But, Mediapart's political commentator Hubert Huertas argues here, Ferrand's political opponents would do well to think twice about their calls for his dismissal.
French weekly Le Canard enchaîné revealed that Richard Ferrand, newly appointed territorial cohesion minister and a close ally of President Emmanuel Macron who has pledged to clean out corruption in politics, rented office space from his partner from 2011 for health insurance companies he headed, as well as also employing his son as a parliamentary assistant.