It has requested two additional Canadair water bombers to add to the 19 aircraft currently battling the flames.
Hundreds of homes were evacuated as a precaution as the island of Corsica, the town of Carros near Nice and Saint-Tropez were badly hit.
President François Hollande visited the region and expressed the 'solidarity of the nation' to those affected by the flooding tragedy.
Travel magazine survey put Marseille, Cannes and Nice in the top 30 of the world's least tourist-friendly destinations on the planet.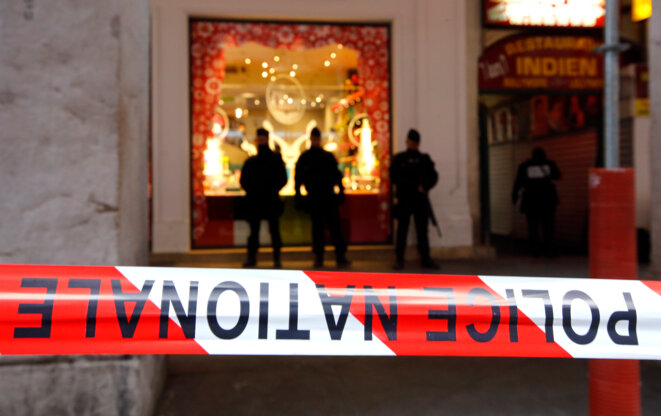 © Reuters
In 2013, the French police internal investigation agency, the IGPN, opened a branch in Nice, the capital of the French Riviera where an environment of organised crime, prostitution and drugs trafficking feeds accusations of corruption within the local police. But the actions of the IGPN branch, and notably the methods of its commander, have shaken the morale of officers and sparked an internal inquiry into what one drugs squad chief called "unspeakable and unjust procedures, bordering on harassment". Hélène Constanty reports.
A book published earlier this month by Mediapart contributor Hélène Constanty, entitled Razzia sur la Riviera, focuses upon the hidden side of the Côte d'Azur region of south-east France, detailing the corruption, criminality and excesses behind the exotic image of the sun-soaked Riviera. One chapter deals with a problem that many in France ignore, namely the deep-rooted presence in the region of the Italian Mafia. The phenomenon is increasingly worrying Italian anti-Mafia investigators, in particular because they consider that the extent of the problem is insufficiently recognised by the French judiciary and police. Mediapart publishes here translated extracts from Constanty's book detailing examples of the presence of the Italian crime syndicates, and in which Italy's most senior anti-Mafia prosecutor, Franco Roberti, warns: "France doesn't measure the gravity of the problem."
Authorities are serving notice to owners of 'private beaches' on France's coastline that buildings must be pulled down once permit comes to an end.
Maurice Agnelet was acquitted in 1985 of murdering Agnès Le Roux, then freed by European Court of Human Rights after 2007 conviction.
A coffee ordered with the phrase 'bonjour, un café s'il vous plait' will only cost €1.40, against €7 for just grunting 'un café' to staff at Nice café.